Snuggle season is here, so it's time to set the mood with a cosy autumn bedroom. Colour and texture are key when it comes to creating a space worthy of hibernating in through the winter, so we pulled together our top tips for an on-trend, autumn aesthetic bedroom makeover.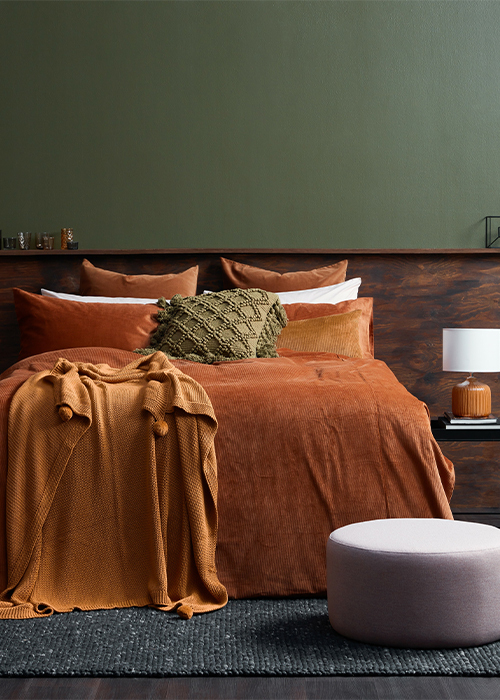 1. Update your bedding
The most important part of a bedroom is, of course, the bed, so you'll want to take notes on these autumn bedding ideas when looking for new
bed linen
. When it comes to materials that look like they can swallow you up into a cosy cocoon, trending materials like linen, flannelette and velvet are your number one choice.
The relaxed look of linen keeps your bed looking soft like a cloud, plus its thermoregulating properties will keep you warm into winter. If you need any more persuading, read our
5 reasons to love linen article here
to get all the info.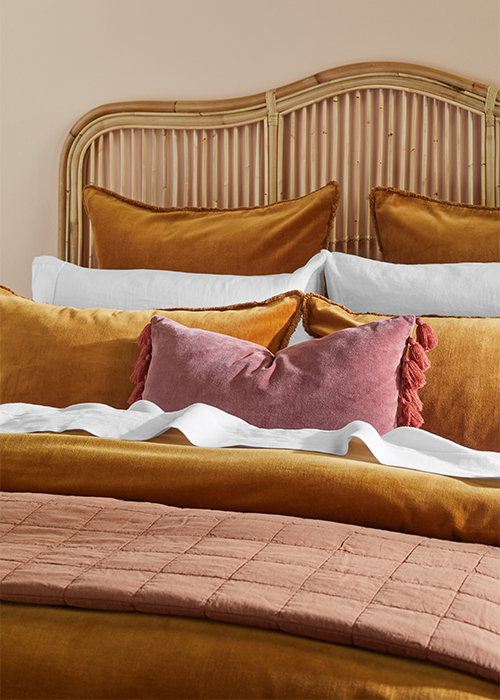 Not only does flannelette have the fuzzy texture that begs to be touched, it also has incredible insulating properties. It's durable, so will last more than one winter, and while it does retain heat (so your bed will stay warm even if you have to do a midnight bathroom run), its loose, breathable weave and moisture-wicking properties will keep you from overheating and those dreaded sleep sweats.
This oh-so-soft raised pile exudes luxury and with proper care will last for decades. Velvet can be made from many materials, so brush up on your knowledge with our
guide to velvet bedding
to make sure you get the right kind for the perfect night's sleep.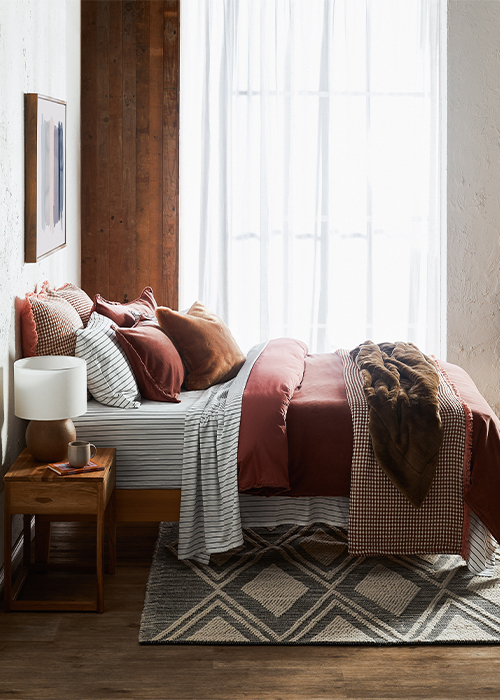 2. Add in some layers
Cosy autumn bedroom styling is all about mixing in different textures, so don't be afraid to amp up the layers. Drape
throw rugs and blankets
or a
bedspread
over your bed in on-trend materials like wool and cashmere to give it that plush, warm feel.
Faux fur
adds a touch of elegance, whereas
chunky knit
is a classic option for a laid back look. Get creative with
velvet
,
textured
and
patterned
cushions to break up any solid colours and add visual interest. Tufting is where it's at this year, and you can incorporate this with blankets, throws, cushions, bedspreads as well as your
quilt cover
.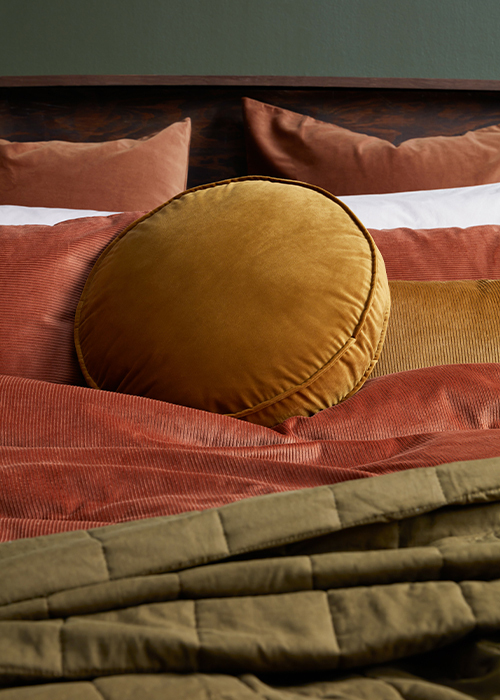 3. 2022 autumn colours for the bedroom
Warm browns inspired by nature will reign supreme this season, highlighted by more muted shades or burnt orange, oatmeal, mustard and buttercup yellow, and olive. We tend to lean into the darker shades to create cosy spaces, but don't be afraid to play with patterns to add a bit of life. Tartan, tweed and moody florals in navy, emerald and rust will be making a splash, so play around with what suits your style best.
Pantone has also announced some more vibrant shades will be coming into vogue for the autumn/winter 2022 season
, but if you're not ready for the vivid
Waterspout
aqua or intense
Rose Violet
, take inspiration from their more settling tones like
Martini Olive
,
Caramel Café
and
Midnight
.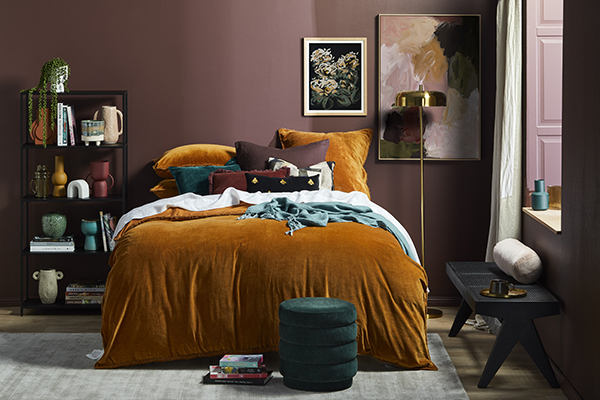 4. Don't discount textural wall decor
Wall art
can completely transform a space, and
acrylic
and
oil paintings
can add texture in a more subtle way that makes your space feel like it's reaching out to give you a warm hug. When traditional wall art won't cut it,
fabric wall hangings
are a great way to incorporate inviting visual texture.
Tapestry wall hangings
add a little fun to the cosiness without being too overbearing. And while they may not strictly be wall decor,
bedheads
give added dimension to your walls. Wavy designs and arches in plush
fabrics
such as boucle are making waves at the moment, so why not give them a try.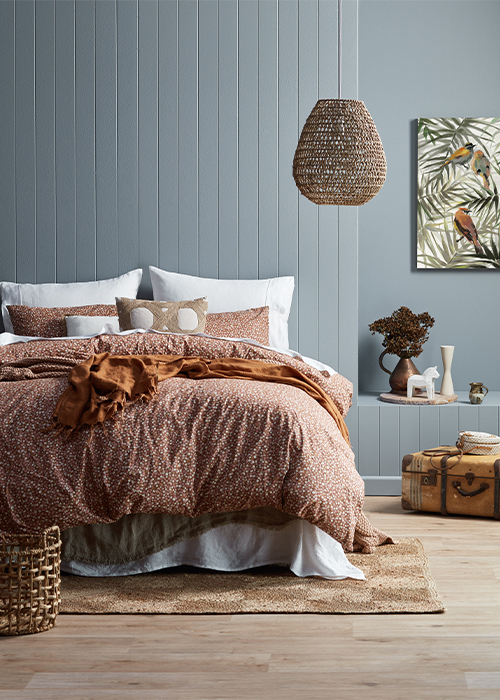 5. Make your storage stylish
You're always going to need a few
boxes and baskets
to hide away the bedroom clutter, but that doesn't mean you can't turn it into a styling moment. Add dimension with a
rattan or wicker
weave, or create a cosy forest vibe with grainy
timber
. For a more classic style, you can't go past the
leather look
that really takes you back to the pre-industrial revolution period.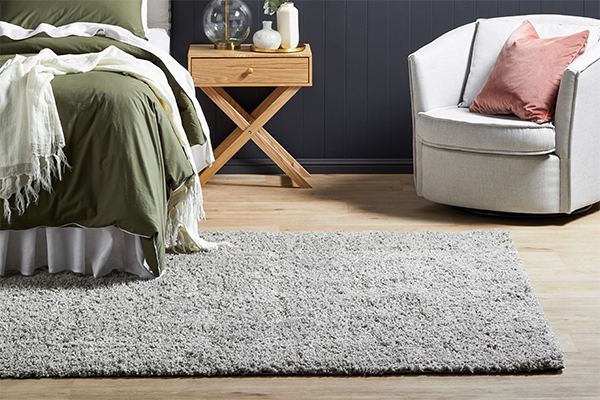 6. Soften the space with rugs
Don't let your feet miss out on all the plush, cosy goodness, they deserve a soft embrace after a long day holding you up. What's more,
rugs
help to ground your space and add depth to your overall palette. Go for a more subdued colour in either a
shag rug
, or tufted or high-pile
wool
to even out the room, or choose a
patterned rug
in autumnal colours for a bit more visual interest.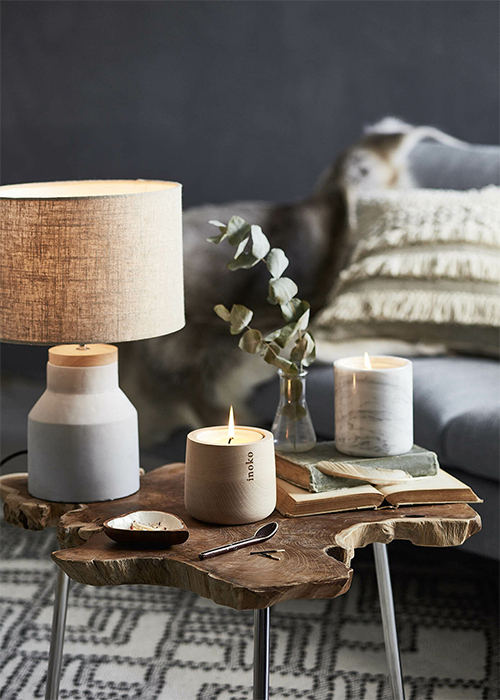 7. Set the mood with lighting
You'll want to incorporate a warm glow to your space with a mixture of lamps and candles. The right lamp can make or break your lighting vibe, so read through our
Lamp Buying Guide
to ensure you find exactly what you're looking for. It's also important to note that lampshades and light bulbs are key factors for creating that glowy feel, so find out
how to choose lamp shades
and
how to choose light bulbs
here.
Candles
not only give you that authentic fireside ambience but can enhance the atmosphere with your favourite scent. For a more on-trend look, go for
pillar or column candles
or more sculptural shapes featuring fluting, contemporary shapes or human figures.