It doesn't get more personal than the home, and finding dynamic
decor
pieces that reflect who we are can be a total thrill⁠—until someone else steps in. Whether you're shacked up with a partner or live with friends who sway in a different aesthetic direction, trust us when we say that successfully merging interior styles can yield results everybody loves. Here, we chat with the couples and housemates who've made it work.

Stylist Drew and his partner Nick.

Nick and Drew
Relationship status:
Partners.
Style:
Eclectic art collector meets stylish neat freak.
Interior influences:
"I love art and design, which gives me lots of inspiration," says Drew. "Working as a stylist, I dip in and out of many interior styles and tend to pick and choose the things I love from the looks that resonate the most."
Meanwhile, Nick likes to focus on function as well as form, noting that he is "more about how I will use the space or specific piece. I am also a very neat person, so clutter is hard to deal with!"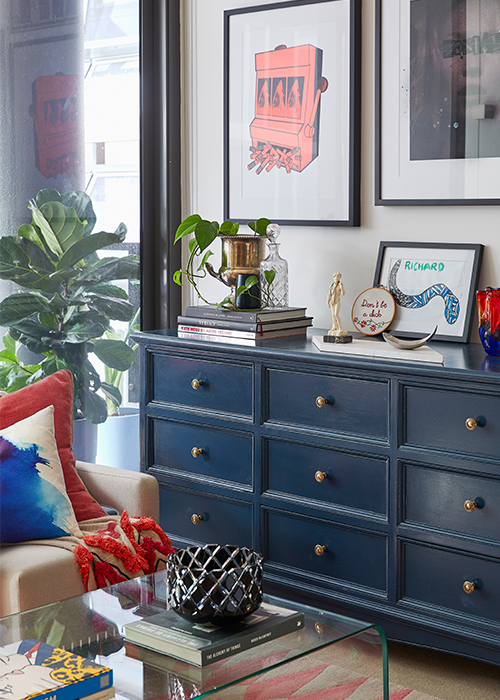 A high-contrast colour palette features throughout the living room.

Personal preferences: "
Luckily, both of us tend to like a high contrast look, such as deep colours against a more minimal base," explains Drew. "We just painted our interior the perfect shade of greige, so now our
artwork
and
decor
really make a statement." Drew is also a collector, big on vintage glassware and Scandinavian art glass.
Nick fluctuates between being drawn to moody tones and light and airy hues, "but always with a pop of colour, texture and personality," he adds. "I love using
plants
to soften up a space and
bring the outdoors in
, and style-wise, I'm drawn to
mid-century modern
pieces, but I'm not afraid of mixing them with elements from varying decades."
Styling together:
Drew prefers buying bigger pieces of
furniture
and
art
for their home but says that he "always sends images of things I love to Nick, so nothing comes as a shock if it appears." The couple have found a great balance with Nick taking charge of
bedding
and tableware styling, which Drew gets his fill of at work most days. "It's amazing that Nick does it on the home front," he says.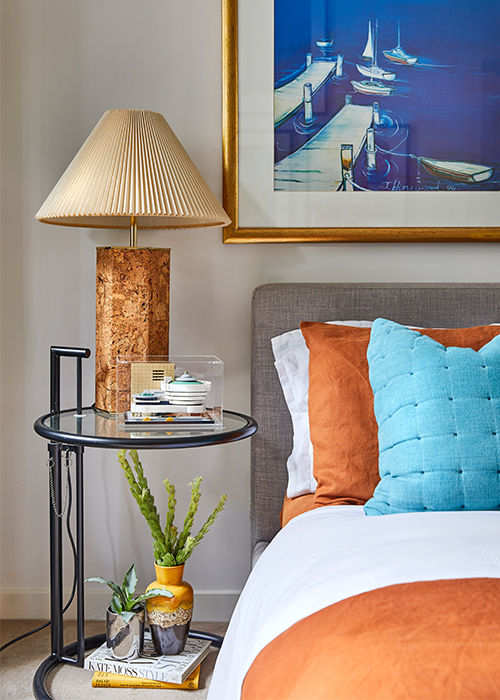 A perspex box fitted over Nick's Lego transforms it into a piece of art.

On compromise:
"I owned quite a few
artworks
that I loved when we met, and after six years, I think Nick has grown to love them too," says Drew. "Nick has a collection of Lego that he wanted to display, which I was against, so we came to the compromise that he would choose his favourites pieces, and we had perspex boxes made to fit over them. It gives the Lego a sculptural art feel that fits right into our place!"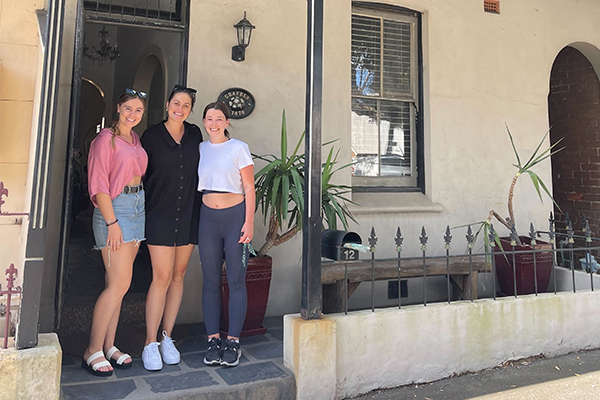 Tiarna, Rhi and Rubi outside their coastal terrace house.
Rubi, Tiarna and Rhi
Relationship status:
Housemates.
Style:
Boho greenhouse meets Victorian-era heritage.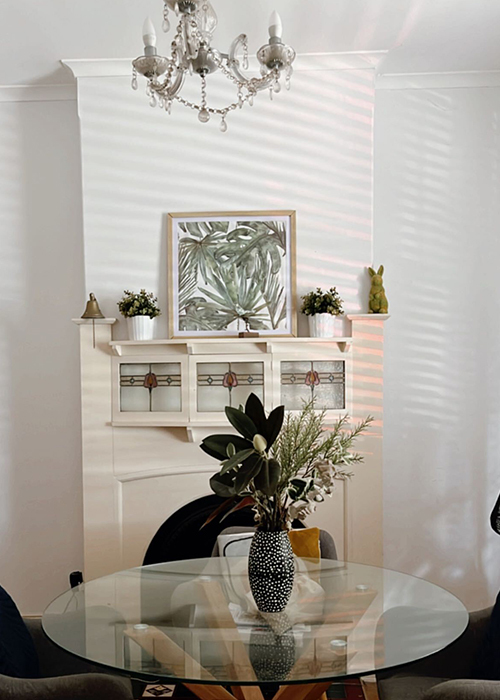 Greenery gives the old-school interior a fresh feel.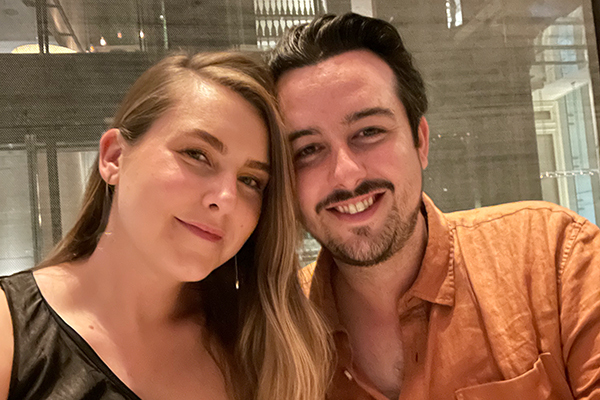 Sabina and Lewis.
Sabina and Lewis
Relationship status:
Partners.
Style:
Mid-century meets contemporary.
Interior influences:
"We love to entertain friends and family, so creating an inviting atmosphere for our guests is important to us," explains Sabina. "We also have two dogs, so we need to keep it practical."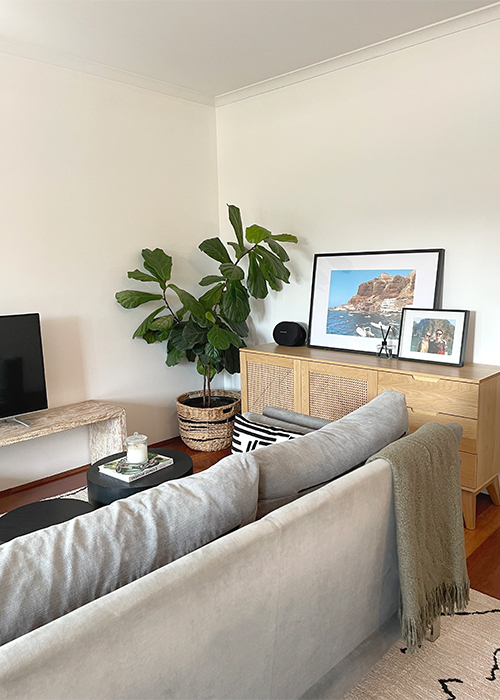 Showcasing mementoes from their overseas trips helps create a homey vibe.
Personal preferences:
Lewis likes to focus on function over form, but when it comes to looks, he is drawn to dark earthy tones. "I appreciate pieces with old-timey character and enjoy blending them with modern elements for a fresh look," he says.
Sabina also likes to lean into dark tones. "I love contrast," she says, adding, "black is definitely a feature colour for me at the moment. I also enjoy a relaxed, homey vibe and love collecting interesting
decor
from our overseas trips and featuring it throughout our home."
Styling together:
"We often share inspirational
Instagram
accounts or specific products that we like to gauge how the other person feels before we purchase," says Sabina. "I've also been known to put together a mood board or two to pitch a purchase to Lewis⁠—it really helps sell it!"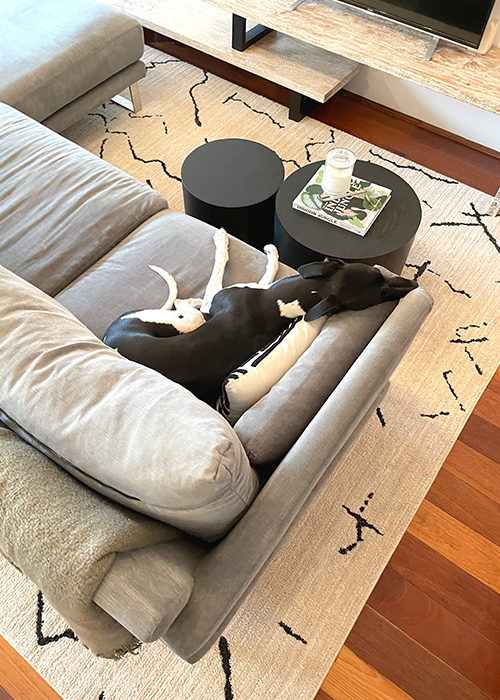 Benji the whippet takes a snooze in front of the couple's new coffee tables.
On compromise:
"Ah yes, the recent
c
offee-table
debate. We purchased a pair of reclaimed wood stools to use as small coffee tables as we don't have a lot of space in our apartment," explains Sabina. "I was really into them and thought they matched our overall style, however, Lewis wasn't happy with the functionality of these 'unstable' handmade items. So we compromised and went for a larger, more sturdy option in black, which is perfect."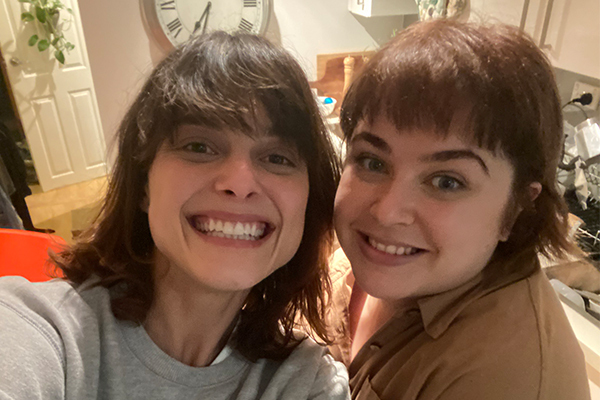 Housemates Sophia and Caitlin.
Caitlin and Sophia
Relationship status:
Housemates.
Style:
Colour, colour and more colour.
Caitlin is drawn to eye-catching pieces, such as her standout orange dining chairs.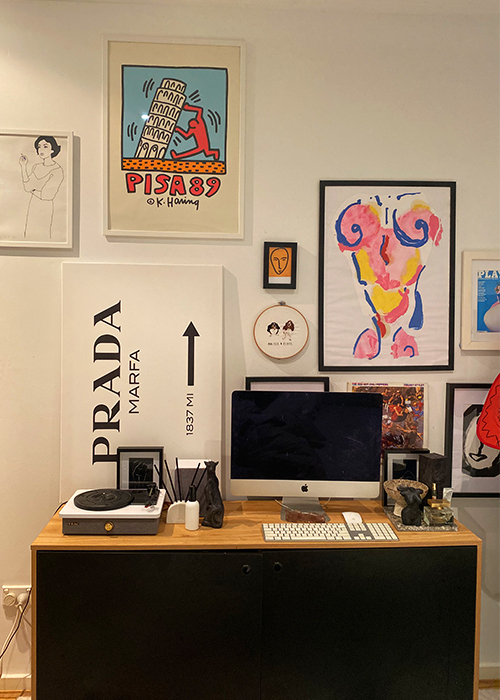 The friends love looking to artists for inspiration, including Ken Done, Yves Klein, Kandinsky, Basquiat and Keith Haring.
Tips on how to blend decor styles
Be prepared to compromise
When there's another person involved, you're not always going to get everything you want, so try to find a middle ground throughout the decorating process to ensure you end up with a home that makes everyone feel comfortable.
Create a mood board
A mood board is a great way to visualise how your styles work together before attempting the real thing. You can afford to be adventurous here, so jumping on
Pinterest
will also help you explore the different ways your tastes can combine to create a look you both love.
Decide on colours
Look for commonalities between styles like overlapping colour palettes, which can help unite disparate decor. If you're all about clashing colours and they love neutrals, you can always start with a neutral base and introduce vibrant accents through accessories.
Decorate room by room
Tackling the whole house at once is a big job, so start gently with a single room, and you'll soon figure out how you best work together.

Embrace the style mix
The best thing about mixing styles? You'll land on a unique look that feels far from one-note, so embrace it! Plus, bringing together your variety of outlooks will lead to a style that feels warm and welcoming because it genuinely reflects its residents.