Sometimes when a
lamp
has seen better days, all you really need is to switch out the
lamp shade
for a fresh new look. When it comes to choosing the right shade to suit the
lamp base
that you have, there are a few things to consider. We take you through lamp shade materials and shapes, and share handy styling tips so you can pick the perfect lamp shade.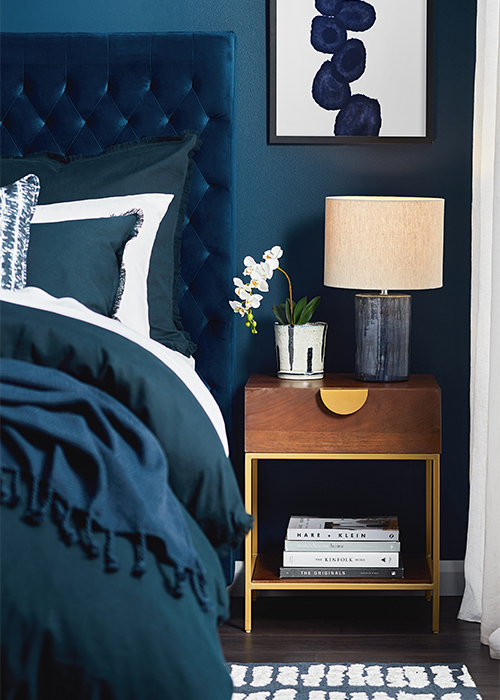 Hard back shades vs soft back shades
The two main types of shades are 'hard back' (also known as laminated) shades, and 'soft back' (also referred to as handmade) fabric shades. From the outset, it needs to be said that all lampshades are "handmade". While the laminated shade has a high level of machine work in its construction, it is still ultimately finished by hand.
Hard back or laminated shades
Hard back shades are the more popular shade type, offering a contemporary look. Typically, a laminated shade is straight-sided (the top and bottom measurements are the same) or tapered (the top dimension is smaller than the bottom).
​
The most common construction for a laminated shade is a fabric bonded to a card or poly backing, glued to a wire frame. The edge of the shade is typically "rolled" around the wire (called a rolled edge) or a "cuff" of the fabric is made and attached to the bottom edge (called a cuffed edge).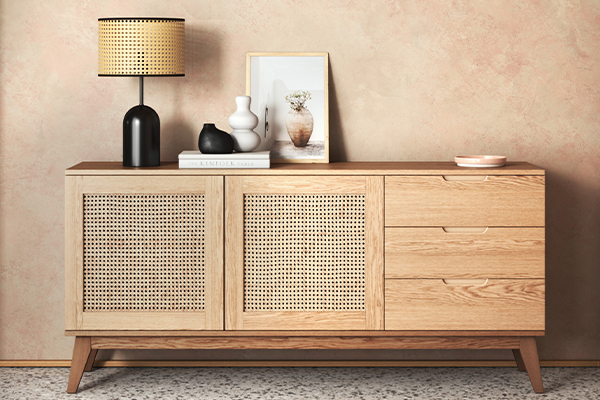 Soft back or handmade shades
Soft back shades are the other category of lamp shades. The standard most simple shape is usually referred to as the 'empire' shade. This shade is a simple waisted shade made from panels of fabric, cut on the bias and sewn together to form the shape of the shade. This is stretched over the frame, sewn or glued into place. Most of these shades are lined and have a cuffed edge. The straight empire shade can be given a different look with a scalloped frame. (See below for the various shapes of lamp shades).
Lamp shade shapes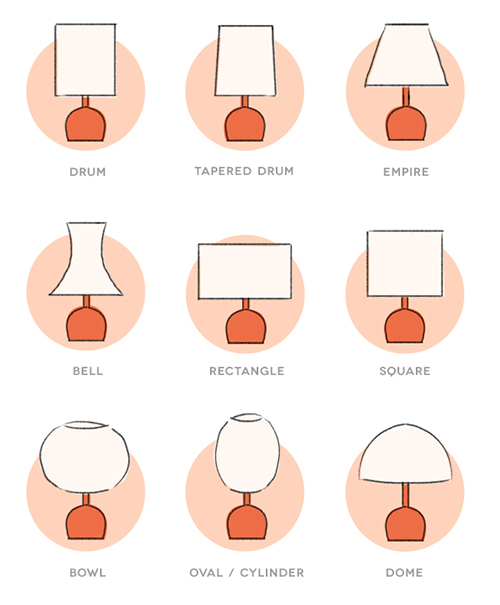 Lamp shade materials
Lamp shades come in a variety of materials, with colours, patterns and features being distinct to each one. Carefully consider the placement of your lamp, what room it will go in, and where it will be in the space, to help you make your decision.
Fabric lamp shades can come in materials such as linen, jute and cotton, and are usually layered over PVC or card to give structure and shape. Fabric shades give you the option to play with many different colours, patterns and styles, with some featuring ruching and gathering.
Whether polished, brushed, matte or shiny, metal lamp shades add industrial sophistication to any space. Due to the density of metal, these shades only allow light to emit from below a domed shade, or from the top and bottom of a cylindrical shade.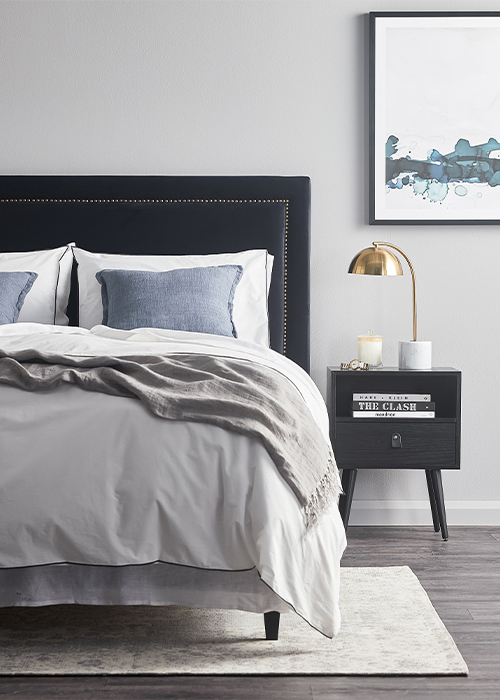 Rattan gives you the option to add visual interest with different kinds of weaves and shapes, with light being allowed to pass through depending on how tight the weave is. Rattan lamp shades give a tropical, beachside vibe and give your lighting a more natural glow.
Plastic shades give a similar amount of choice and freedom as fabric shades, with plenty of colours and patterns to choose from. Some shades even have frosted elements that give a similar effect to frosted glass and are more durable.
Glass adds a luxurious element to any space, and clear glass is great for allowing the maximum amount of light to filter throughout the room while diffusing the bulb ever so slightly.
Elegance is taken to the next level with frosted glass, emitting a soft glow from the bulb in all directions and bathing the room for optimal ambience. The open space beneath the shade will also produce a more concentrated area of light, making frosted glass perfect for a desk or reading space.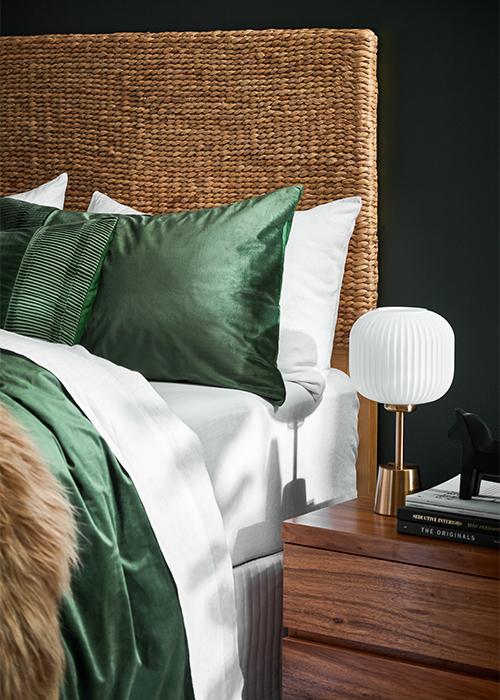 Lamp shade styling tips
Now that you've got the rundown on all things shapes and materials, we take you through some styling tips so you can pick the best shade to complement your lamp base and space.
Complementing your lamp base
A heavily patterned or bright base is best paired with a white or neutral shade.
For a clean, understated look, mimic the shape of the base with the shade, so match a square base with a square shade, or a round base with a round shade. If you're after a more eclectic look, mix it up.
Get your proportions right: the lamp shade should be 5-8cm shorter than the base, or about one-third of the base's height, so the whole piece is evenly balanced.
Consider the size and weight of your lamp base. If you have a thin, rod-like base, consider a smaller, bowl-shaped lamp shade, but if you have a more voluptuous, vase-like base, you can afford to go bigger and bolder with the shade.
​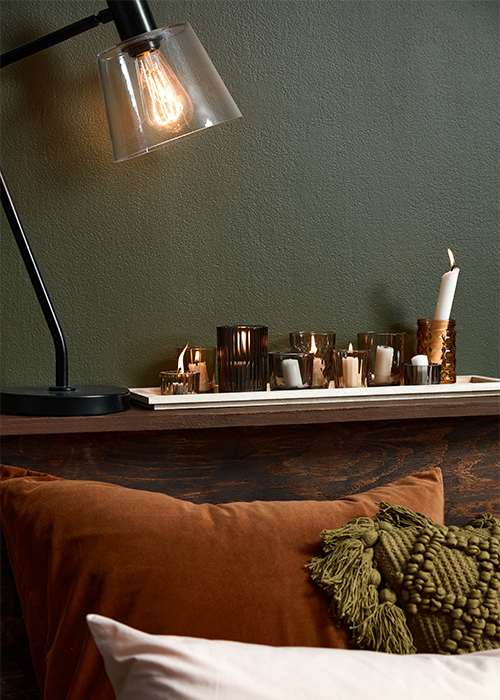 Complementing your space
If you want to brighten an entire room, opt for a white or rattan lamp shade that lets out ample light. Dark-coloured or metal shades work well for intimate spots of light throughout a space, creating mood lighting.
Decide if you want the lamp to be a feature or just a light source. If you want it to blend in, pick a shade that blends in with wall colours or surrounding decor. For an eye-catching vignette, go for a patterned shade, a colour that stands out from the rest of the space or a larger shade.
Bell-shaped shades immediately elevate a space with a more sophisticated look, whereas bowl and rectangular-shaped shades give a more modern feel.
​Shop our range of lamp shades and give your lamp a whole new look.