Find the world of
light bulbs
overwhelming? Not sure which light bulb to get for bright task lighting and which one to get for atmospheric mood lighting? Check out our handy guide to decipher the right light bulb base, light bulb size and light bulb type based on the requirements of your light fittings and lighting scheme.
How to tell what light bulb you need?
If you go to your light fitting where the light bulb is inserted, there is often a sticker there that will tell you the type of light bulb base and the maximum wattage that you'll require. There are two types of light bulb bases.
Light bulb bases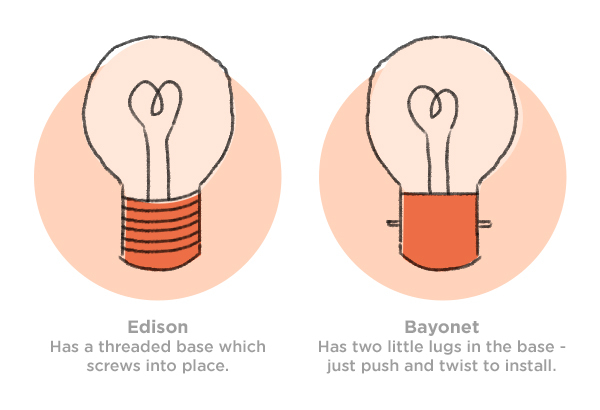 Wattage
Wattage refers to the power usage, not the output of light or brightness of the bulb (for that, look for the lumens indicator; see Lighting FAQs further below).
Many energy-efficient bulbs list the equivalent wattage for a traditional bulb. For example, a 13W CFL may be equivalent to a 60W incandescent.
Many table lamps and pendants will list a maximum wattage between 40 and 60W. This does not mean that you need to use the maximum wattage in order to have a bright light. Using an LED or CFL bulb with a lower wattage will achieve the same result as an incandescent or halogen bulb with a similar brightness.
Remember: Never install a bulb with a higher wattage than the recommended maximum. It will produce excess heat and could damage the light fixture or become a fire hazard.
Light bulb names
When you buy light bulbs, you'll see all sorts of letters and numbers associated with the bulbs. The letters and numbers refer to the fitting (B for Bayonet, E for Edison) and the size of the light bulb base in millimetres.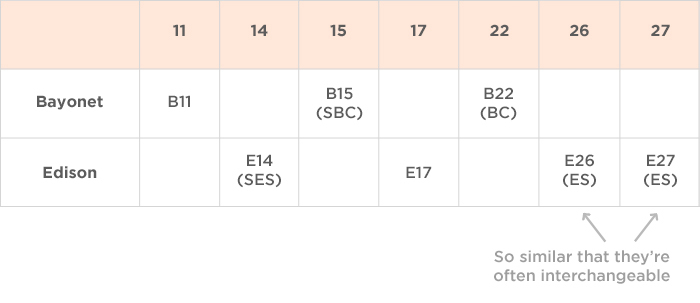 Types of light bulbs
Once you work out what light bulb base, wattage and size you require, you need to decide what type of light you want. Bayonet and Edison bases are available in all the light bulb types below and you can filter your search on our site using the following light bulb type names.
Incandescent Bulbs are the most commonly used type of light bulb for households. They're often warm toned and can be used with a dimmer which are flattering for skin tones and creating atmospheric mood lighting.
LED Bulbs emit a bright light and are great for directional task lighting, but not diffused or soft lighting. Some can be used with a dimmer and some require a special LED dimmer.
CFL Bulbs offer a variety of colour tones from warm to cool. They're not recommended for outside and they sometimes struggle in cold climates. They're good for infrequently used light sources that are not switched on and off regularly.
Halogen Bulbs provide a white light, similar to natural daylight, and can be used with a dimmer. These light bulbs are great for recessed lighting and down lighting such as for under cabinets and stairwells.
Still not sure which type of light bulb to choose? Check out the handy table below to weigh up your options.
​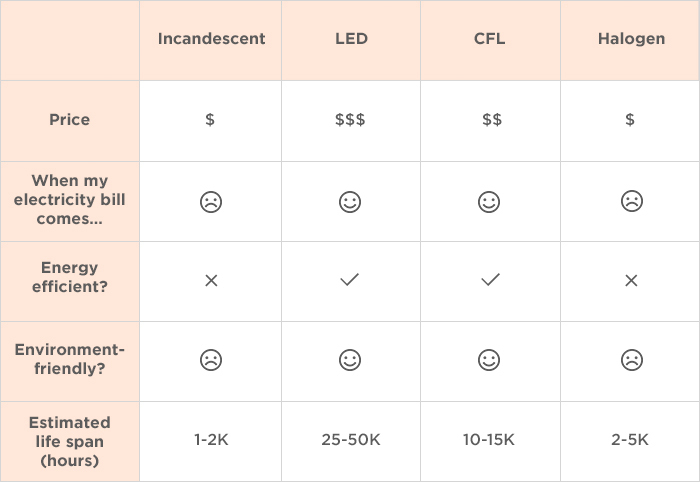 Less common, but available on our site are the following types of light bulbs:
These bulbs are mostly used in commercial spaces, as well as garages, kitchens and work spaces, distributing high levels of light evenly across spaces at relatively low running costs. They are commonly available as tubes and can either be linear or circular with varying widths.
​
This type of bulb is three to five times more efficient than incandescent bulbs and produce a much higher quality light. They're often used for very specific high-intensity applications such as outdoor flood lights or commercial photographic-quality lighting.
Colour temperature
On our site, we refer to colour temperature as "Light Appearance". Colour temperature is measured as a Kelvin rating with ratings ranging from 2700 to 6500. To make things easier, each Kelvin range is named after colour temperature names.
Soft white
Kelvin range: 2700-3000
Colour temperature: Warm and yellow
Best for: Bedrooms, living rooms, dining rooms
Warm white
Kelvin range: 3000-4000
Colour temperature: Yellowish-white
Best for: Bathrooms, kitchens
Cool white
Kelvin range: 4000-5000
Colour temperature: Between white and blue
Best for: Offices, workspaces
Daylight
Kelvin range: 5000-6500
Colour temperature: Blue tone
Best for: Commercial locations or areas where bright task lighting is required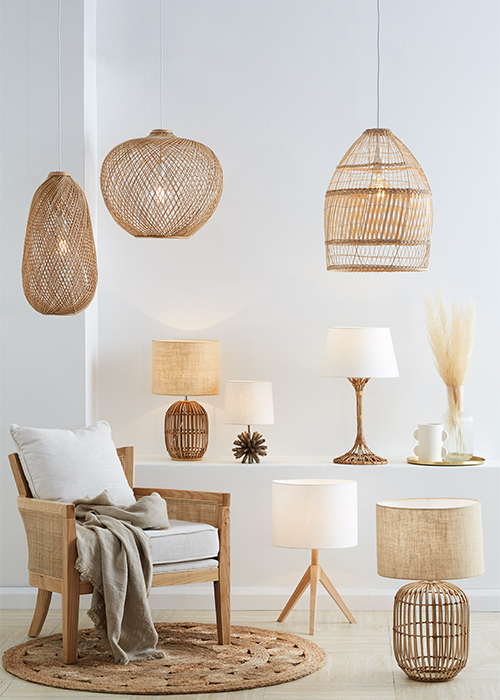 Lighting FAQs
What are lumens?
Lumens refers to the amount of light emitted per second. This will tell you how bright the bulb is - the higher the number, the brighter the bulb.
What is Colour Rendering Index?
The type of light bulb that you use could have a significant effect on the way a room looks. This is often due to something known as the 'Colour Rendering Index' also known as CRI. This measures the ability of a light source to reveal colours of objects in contrast to a natural light source, such as the sun filtering in through your windows. In other words, CRI is the measurement of light in relation to how it affects the appearance of colour.
A scale of 0 to 100 is used with 100 being a perfect measure. In general, a CRI of 80 and above is suitable for residential and general commercial applications. The CRI is expressed as: Ra80 (for an index of 80). Most LED lights produce a score of 80 to 90 for a brighter room, with a more natural output of light.
What is CCT Tricolour?
Many LED light fittings feature CCT (Colour Change Technology), sometimes called Tricolour, allowing the selection of the colour temperature at the time of installation. The options are (generally) 3000K (warm white) / 4000K (cool white) / 5000K (Daylight) and are typically selected using a switch on the back of the light fitting or inside the cover.
I would like to use LED, but I don't like the bright white, clinical look.
The bright white of the 'daylight' colour temperature certainly isn't everyone's favourite. Most LED bulbs or light sources are available in a choice of colour temperatures. Some people prefer a 'warm white' colour, which more closely resembles the colour of conventional incandescent bulbs, or a "natural" colour somewhere in between.
Will the light fitting be hot?
Halogen bulbs tend to produce the most heat, which can be uncomfortable for some. Fluorescent energy saver options produce much less heat, which is another good reason to use them in lights that operate for extended periods or areas that are already warm, like a kitchen during dinner prep or dishwashing.
LED light sources are cooler again but emit less light as a consequence. This is why LEDs are popular for use in gardens and where children may be able to touch the light.
Shop our range of light bulbs, lamp shades and lamp bases now.