There's nothing more luxurious than velvet; it's soft, begs to be touched and adds a certain regal flair to whatever it accompanies. Being such a dense fabric though, it's often associated with winter and rugging up, but that doesn't mean you should rule it out in the warmer months. We found out how versatile velvet is and just how easy it is to maintain.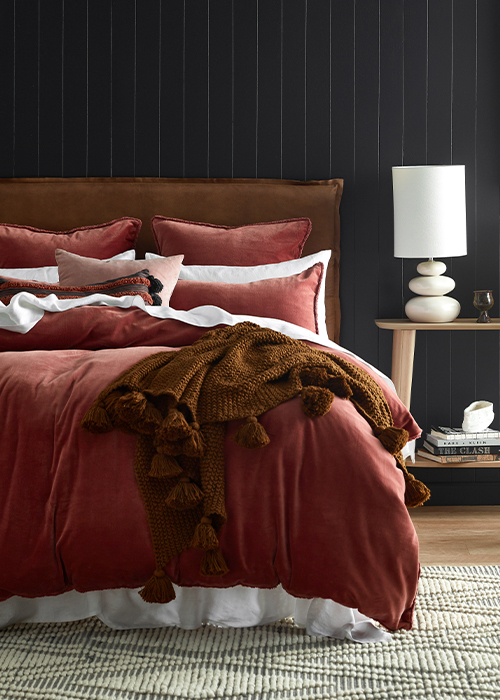 What is velvet
You may think velvet is a material of its own, but the name actually refers to the weave. It comes from the Italian word
velluto
, which means 'shaggy', and was popularised during the Italian Renaissance after being brought from the Far East along the Silk Road. Naturally, this is why velvet was traditionally made from silk, though now it can be made out of many different fabrics, such as cotton, linen, wool and synthetic blends. To make it, yarn is woven together on a loom between two layers of backing and then split down the middle, resulting in two identical sheets with a soft, upraised pile. In the past, velvet was extremely expensive and only available to the wealthy and royal families, which is why, even now, it exudes indulgence.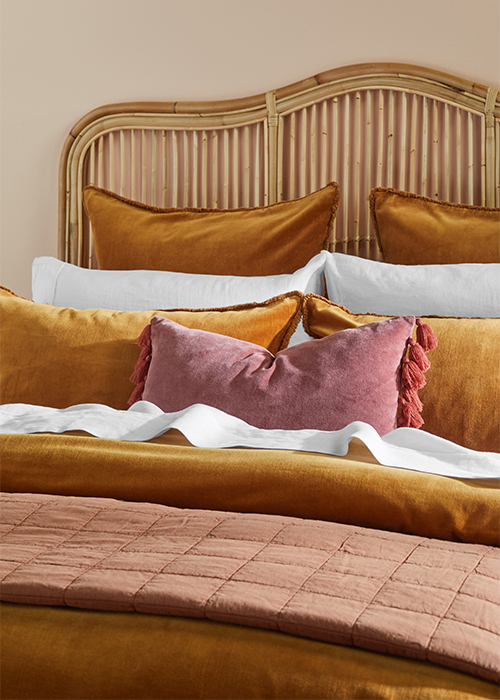 Is velvet bedding only for winter
It may look like it's only appropriate for cooler conditions, but velvet is a great choice for bedding in any season. You just have to make sure it's made from the right material. If it's made of any natural fibre, and has a soft natural fibre backing, it will be temperature regulating, lightweight and breathable. Avoid synthetic or polyester blends as these will trap in the heat as you sleep.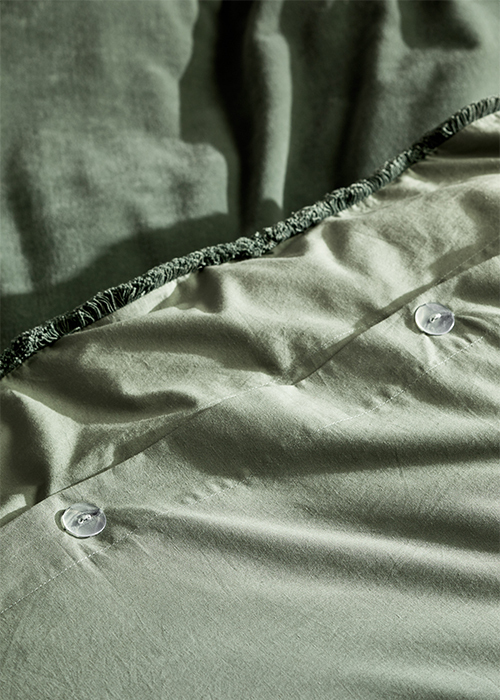 How to wash velvet bedding
With proper care, velvet is extremely durable. It will last for decades and the look will only get better with wear. To wash velvet bedding, simply throw quilt and pillowcases in the washing machine inside out on a cold, delicate setting. Spin dry them on low to remove excess water and then let air dry, preferably without using pegs as they can leave compression marks in the pile. Velvet is often treated with stain repellants but it's important to take care of any spills as soon as they occur and to not let them dry into the fabric. Don't blot or apply pressure when wet, instead shake off liquids. To remove odours, soaking them in cold water with a dash of vinegar before washing is all you need to do.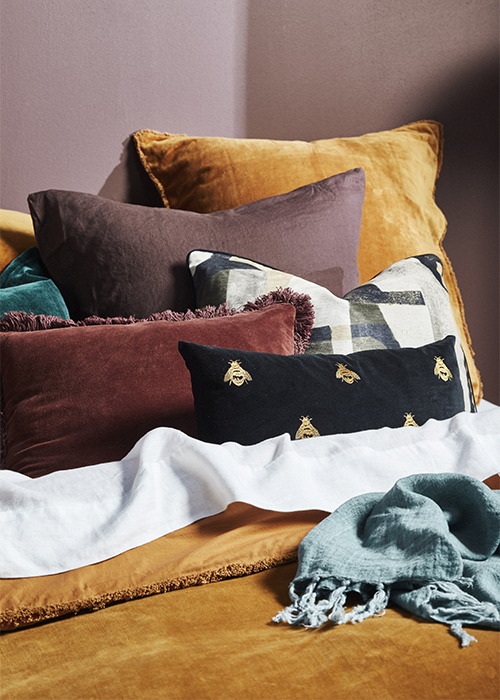 ​
Maintaining velvet bedding
Between washes, it's good practice to gently run the nozzle of your vacuum over the pile to avoid any dust settling in. If any spots have become crushed or bruised, don't worry too much, it will return to its natural state over time. If you don't want to wait, you can gently steam the area and brush in the direction of the pile to coax it back into shape. It will develop a patina over time which only adds to the depth and character of the velvet.
​
Check out Allira's tips below for styling with plush velvet bedlinen.
​