For their 2022 Pinterest Predicts trend report,
afternoon tea was deemed the new happy hour
with Pinterest claiming that the British tradition of scones and sandwiches has become "more than a meal–it's a moment, an aesthetic, a pose." Judging from the rise of the 'tea party aesthetic' on our Insta feeds and the increasing number of Aussie bakeries reinventing afternoon tea classics, it's safe to say that we, too, agree. Here, we share the difference between afternoon tea and high tea, our favourite twists on Aussie teatime favourites, and a few table styling tips for the most elegant afternoon tea.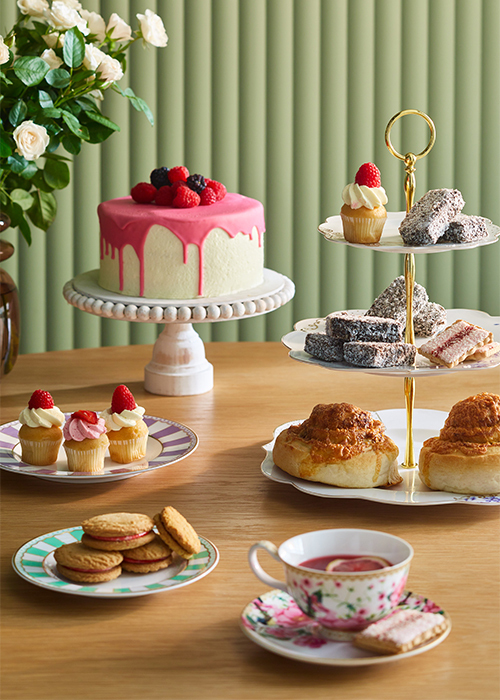 "There are few hours in life more agreeable than the hour dedicated to the ceremony known as afternoon tea"
– Henry James
What is the difference between afternoon tea and high tea?
Aussies tend to use these terms interchangeably, with both referring to the elegant line-up of dainty sweets and savouries. The original British terms 'afternoon tea' and 'high tea', however, technically refer to different occasions.
Despite the associations of a high-end affair, 'high tea' is actually not as fancy as 'afternoon tea'. Instead of sandwiches and cakes, high tea originally featured more substantial food such as meat, fish and egg dishes and was served in the early evening.
Afternoon tea, however, like its name suggests, takes place in the afternoon (in the 19th century, it was served around 4pm to tide you over till dinner at 8pm). It was traditionally known as 'low tea' as it was consumed on 'low' parlour chairs (or
accent chairs
) around a low table (or
coffee table
), as opposed to 'high'
dining chairs
at a high
dining table
for 'high tea'.
Twists on Aussie teatime favourites


Scones with a twist
With cheese and Vegemite scrolls a
lunchbox
staple, applying these flavours to scones make perfect sense. Chef Matt Moran's
Vegemite and cheese scones
are designed to be hefty triangles, but you can just as easily adapt
The Great Australian Bake Off
judge's recipe using a
glass tumbler
to cut perfect rounds. For a sweeter twist, give these
Black Forest scones
a whirl. The dough is flavoured with cherry jam, drizzled with chocolate, then topped with cherry rippled sour cream for the ultimate decadent tea treat. Alternatively, bring tropical vibes to afternoon tea with these
coconut scones with homemade lemon curd
(pictured above).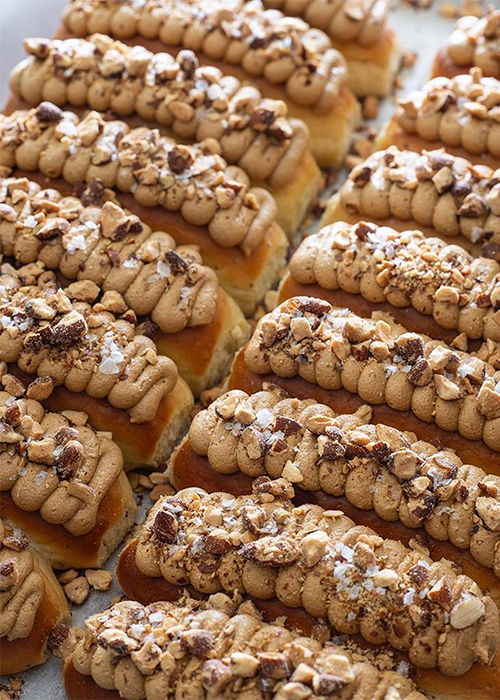 Finger buns with a twist
Across Australia, the finger bun is getting a makeover; cue Sydney bakery
Flour and Stone
's famous coffee and cardamom finger buns (above). If you can't go without the pink icing, dessert queen
Anna Polyviou
covers all the bases with her
finger bun collection
featuring the classic pink iced version, plus white chocolate chantilly cream buns, chocolate lamington buns and banoffee buns. And, if you're after more dainty sweets for your tea, these
mini finger buns
have you covered.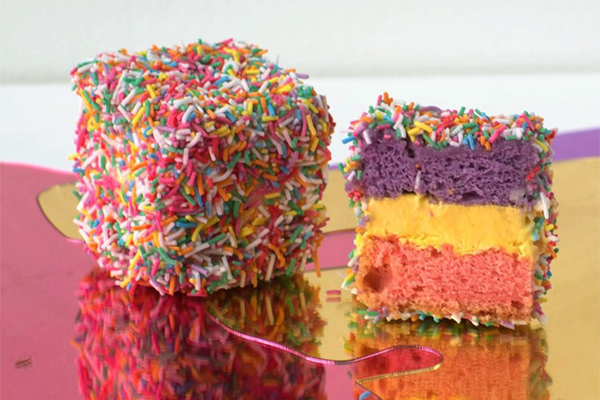 Lamingtons with a twist
Australia's lockdown in 2020 meant that bakery business
Tokyo Lamington
could not open where it was first intended in Japan, but it meant that Sydneysiders have been able to enjoy its many exotic takes on the lammo. Before you attempt jackfruit and yuzu lamingtons at home, perhaps you can start with these much easier
Tim Tam lamington balls
. For a textural sensation, we're loving these fun
jelly lamingtons
and, for a fusion of two Aussie greats, check out these
Iced Vovo lamingtons
… and speaking of Iced Vovos…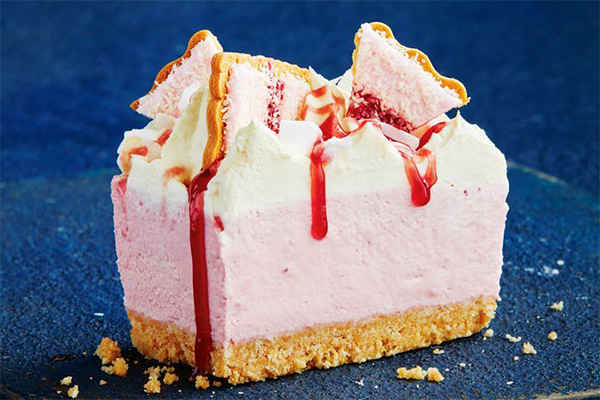 Iced Vovos with a twist
Iced Vovos hold a special place in our hearts, so much so that Arnott's gifted Australians with its
original Iced Vovo recipe
in 2020. Take this biccie to new levels with this
Iced Vovo cheesecake slice
that's sure to be a conversation-starter at your next arvo tea.
5 styling tips for afternoon tea