Just because you don't have a backyard or deck doesn't mean you can't enjoy some al fresco action. Here, we show you how to make the most of every square foot and add mood, comfort and functionality to your balcony, just in time for outdoor entertaining this summer.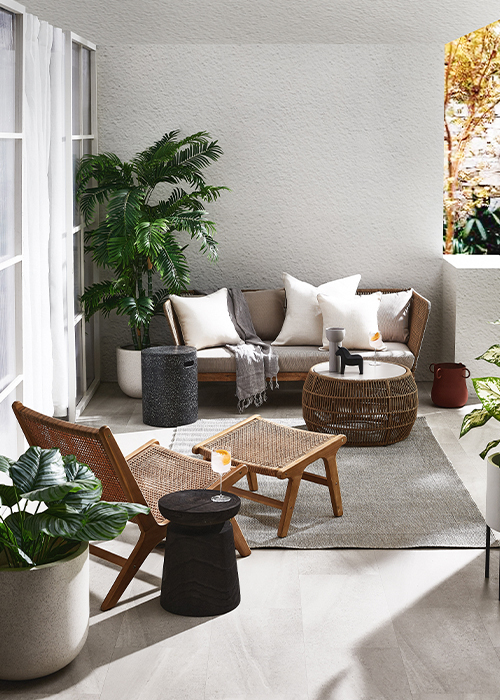 1. Determine what your balcony will be used for
Before you can start shopping and decorating, you need to work out what your balcony will be mainly used for. Is it a place just for morning coffees and quiet contemplation; a retreat for reading, or a hub for entertaining? Once you've established your balcony's core function, you can then go on to plan the zone(s) that you require.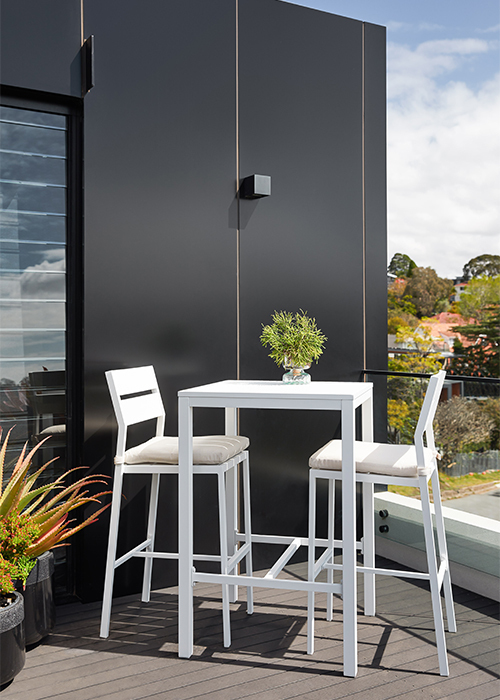 2. Measure your balcony and zone the area
Measure out your balcony, then based on how you'll be using it, start to break up the space into the zones that you require. Generally, you don't want more than three zones; lounging, dining and cooking tend to be the most common uses for balconies, but you may not want all three, or you may prioritise each of them differently.
When considering what main
outdoor furniture
pieces to buy, make sure you've allowed for enough space for people to move around the furniture and through the balcony. It's worth even marking out the furniture on the ground with tape before you click to buy.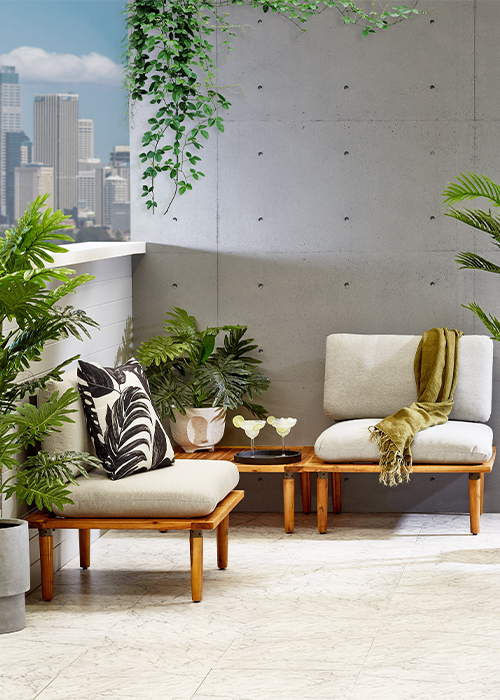 3. Make smart outdoor furniture choices
If you have a small balcony, consider flexible and multipurpose outdoor furniture such as
outdoor modular sofas
and adjustable
daybeds
. We also have a range of
balcony furniture sets
which include compact bistro tables and chairs for two. If you want to cater for more,
outdoor bar furniture
may be a better option than regular
outdoor dining furniture
as bar tables are often narrower than dining tables.
When it comes to materials, think about what will be practical to your space. To choose the materials for outdoor furniture, that's right for you, check out our
Outdoor Living Buying Guide
.
When it comes to style, extend the look of your interiors to your balcony so that it becomes an extension of your total living space, so refer to the colours and materials that you currently have indoors and see how you can translate that to your balcony.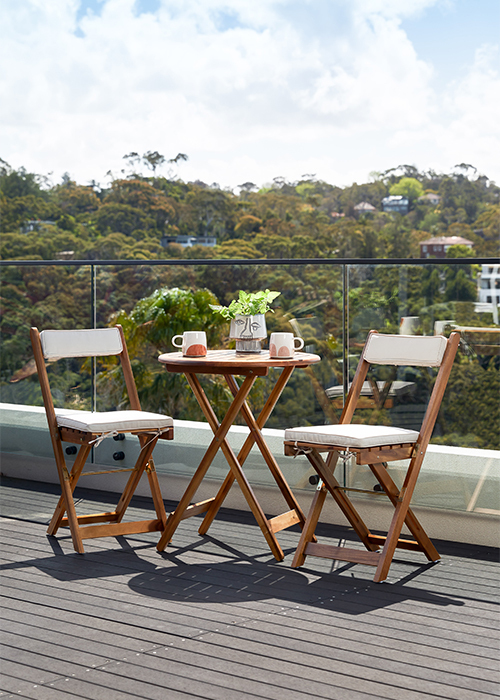 4. Consider portable pieces
If you're tight on space,
folding outdoor chairs
and
foldable outdoor tables
are ideal so you can move them and store them elsewhere when they're not required. If you have a cooking zone, consider a compact
portable BBQ
.
Bar carts
and
kitchen trolleys
are also useful and versatile furniture pieces.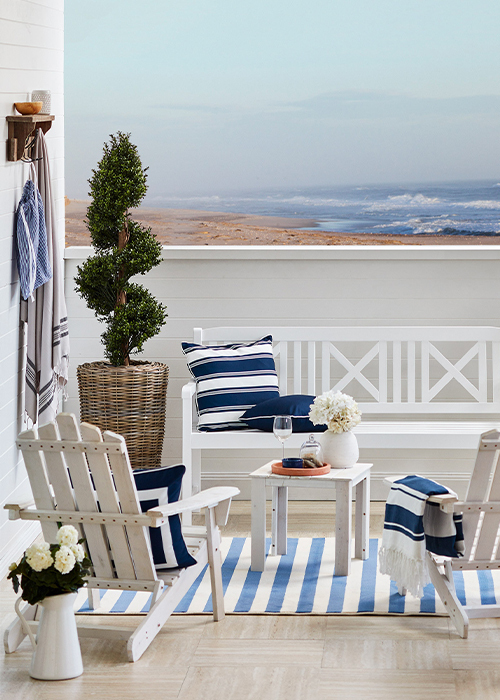 5. Soften and brighten your balcony with textiles
Ground your outdoor furniture and make your balcony feel like an extension of the indoors with an
outdoor rug
. Check out our blog post on
how to choose an outdoor rug
for buying and styling tips. Add pops of colour with
outdoor cushions
; tropical motifs are big right now, or go for stripes and nautical patterns to
get the Hamptons look outside
. If you have the space and you've always longed for that resort vibe at home, add cosy seating alternatives such as a rattan
outdoor occasional chair
or
hammock
.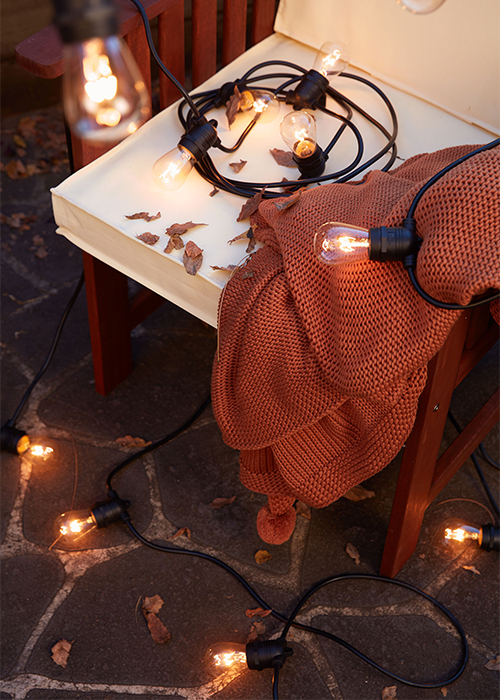 6. Create ambience with outdoor lighting
If you plan to enjoy your balcony into the evening, it's worth investing in
outdoor lighting
.
Fairy lights
draped along railings and walls add charm, while
festoon lights
bring a retro feel. If your balcony is on the larger side, consider
ceiling lights
to highlight lounging and dining areas or, if you have the benefit of high ceilings, consider a
pendant light
.
Rattan pendant lights
instantly add warmth and that tropical island resort feeling. Check out our
Outdoor Lighting Buying Guide
for more handy information. Also, don't forget the
candles
and
lanterns
for that ultimate soft glow.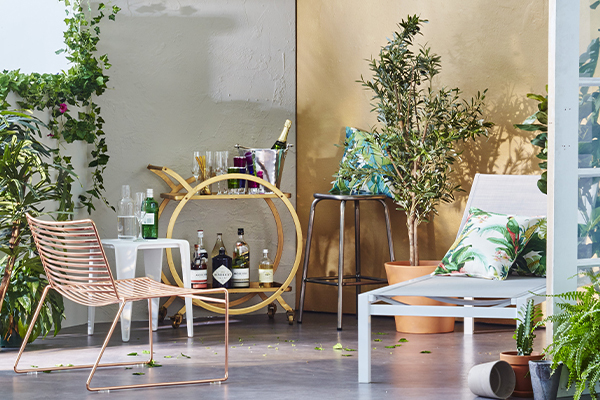 7. Add plants to create an oasis
Plants
, whether real or faux, add welcome layers and texture to balconies, and are a great way to give a garden-feel to your apartment. Add groups of plants in
plant pots
with varying plant species and heights or, if you're limited in space, add hanging plants from the ceiling or try a vertical garden of flowers and herbs which you can pluck directly as you cook. If privacy is an issue, be creative with tall plants or build your own screen lattice and deck it out with creeping plants.