Whether you use your outdoor area for solo relaxation or to entertain guests (when we can), making the space warm and welcoming is sure to lift the mood. An
outdoor rug
gives the space that little bit of indoor comfort and can tie a look together simply, but finding the right one can be hard. We break down the ins and outs of materials, styling and maintenance.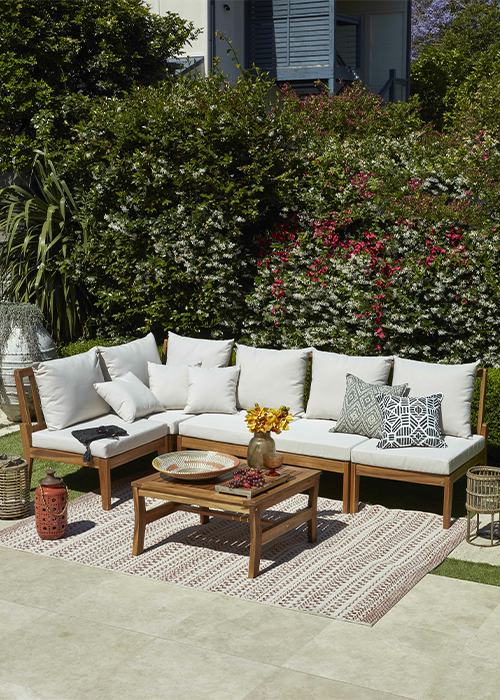 Materials
For outdoor rugs, it's important to pick a fabric that can withstand the elements so there's no need to move it every time there's a shower.
Synthetics
A lot of
synthetic outdoor rugs
are made from polypropylene or polyester as they don't absorb water like natural fibres do. Their ability to dry quickly lends themselves well to the outdoors and means that they're mould- and mildew-resistant. While they are also UV-resistant and won't fade under the sun, be aware that polypropylene is highly flammable so avoid using them around a firepit. For the more environmentally conscious, you can also find rugs made of
upcycled materials
such as recycled plastic.
Jute, sisal and cotton
Natural fibre rugs give your space an elevated look and feel great underfoot. They are absorbent, however, and fibres like
jute and sisal
tend to discolour in direct sunlight, so these rugs are best used in undercover areas. Be aware that these materials will require a bit of attention as they are susceptible to mould and mildew growth. The great news is that materials like
cotton
are easily washed.
Styling
Placement
Using an outdoor rug allows you to create zones within your space and create a sense of cohesion and uniformity. Use them under groupings of furniture like a dining setting or lounge setting. For dining areas, ensure that the rug is large enough so that all the legs of the tables and chairs remain on it, even when the chairs are pushed back to allow people to sit on them. For lounge areas, the rule of thumb is to make sure that the front legs of all furniture pieces can rest comfortably on the rug.
Shape
To ensure that the tables and chairs all sit perfectly on the rug, opt for a large
rectangular rug
for large dining areas. If you have a smaller, round table, a
square rug
can be a great grounding element. For lounging areas, square or rectangular rugs will define the space, whereas
round rugs
will create softness. Round rugs also work well for seating around a heating source for more intimate moments.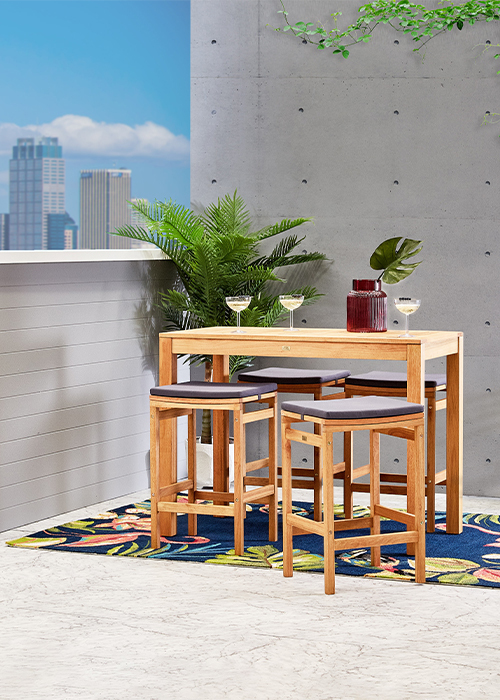 ​
Maintenance
Depending on the rug material, you'll want to look at giving your outdoor rug a good clean either monthly or seasonally.
Low-effort care
For synthetic rugs, spills are easily wiped away, but be aware that oils will need to be seen to immediately as they can be harder to remove. Natural fibre rugs need a little extra attention when it comes to spills, just make sure to blot them when a spill occurs and check the underside once a month or so to spot any trapped moisture and air it out as needed. You may want to run the vacuum over your rug every few weeks just to remove any dust and dirt that can get trapped and consider shaking it out or, if it's too large to shake, hanging it over a rail and beating it with a broom to release any lodged debris.
Washing
You can give your outdoor rug a wash if it's looking a little worse for wear; just make sure to patch-test any cleaning agents that you use for
home cleaning
to ensure that you don't damage the colour or integrity of the rug. Then, completely wet the rug, gently work in the cleaning solution with a soft brush or broom, making sure to brush in the direction of the pile to avoid fraying, and rinse thoroughly. Roll and stand your rug upright to let excess water drain before hanging it over a railing to dry completely.