There's nothing quite like the sophisticated and comfortable feel of Hamptons styling, so it's no wonder people have extended this look to their outdoor areas where summer entertaining and conversations flow. There's no need to get out the drill or panic about weatherboarding your house, check out these easy tips for bringing a little coastal elegance to your backyard or balcony.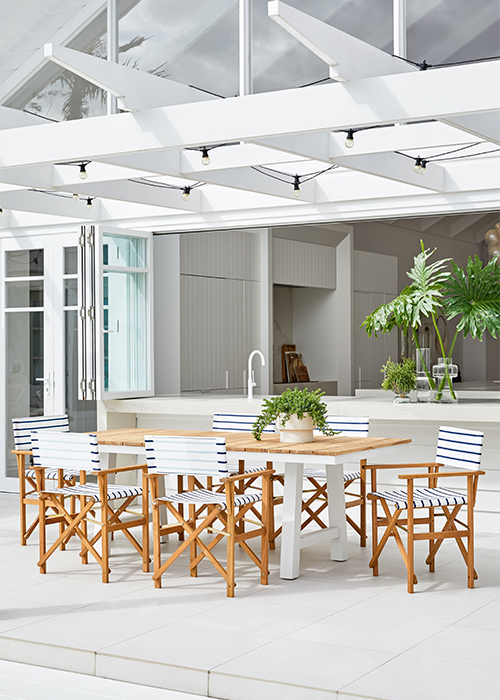 Key elements of Hamptons styling
While weatherboards and white trim are parts of what makes the Hamptons style so distinct, it's really the ocean-inspired colour scheme and back-to-nature materials that define the look. Deep-sea blues, seafoam greys, sandy beiges and crisp whites create a soothing environment, with stripes and intricate patterns bringing them all together. Tactile materials like raw timber, wicker and soft linens draw you in, with ample cushioning to foster comfort and relaxation. Everything is designed to be bright and airy, allowing a seamless flow between indoor and outdoor areas.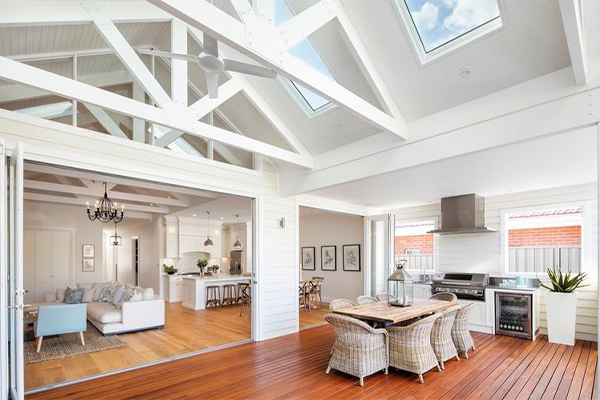 Image via
Our Hampton Style Forever Home
Incorporating it into your own space
Hamptons is a style that lets you celebrate what nature provides, so when styling an outdoor space, less is more to highlight your greenery or views.
Zoning
Create separate zones for lounging and dining, utilising an
outdoor rug
to group furniture. Leave ample thoroughfare space and set up areas for optimal use, so lounging areas have places to rest a drink or a book while you soak up the sun and dining areas aren't crammed or awkward to sit at.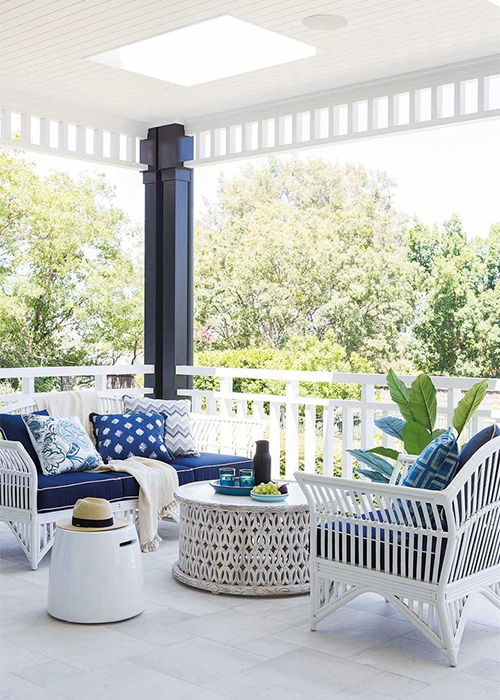 Furniture
Aim for pieces that are optimal for long periods of use, like
sun lounges
,
daybeds
, soft
sofas
and
dining chairs
that let you sink into them. Opt for timber for larger pieces, like
dining tables
and
coffee tables
, and add in wicker elements with
rattan sofas
and
wicker chairs
.
Lighting
Take on an all-white, clean look by opting for white
ceiling fixtures
or
wall lights
(just make sure the tones of white match!). For a dramatic flair, black, dark grey or navy fixtures stand out while still tieing the space together. If you're feeling a little fancy, a decorative
pendant light
or
chandelier
above the dining table can really set the mood for luxurious entertaining.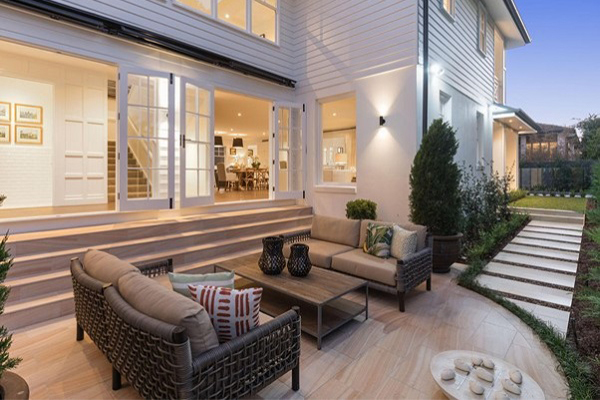 Image via
Architecture and Design
Decor
Use the opportunity to decorate with your greenery, dressing them with terrazzo or hand-thrown ceramic
plant pots
. If you don't have a garden or a particularly green thumb, opt for
artificial plants
in abundance to breathe life into your space. Add a
rattan box or basket
to your lounging area to store
throws and blankets
for those cooler nights and don't forget to scatter some
cushions
for cloud-like comfort. Place one or two
vases
or
sculptural pieces
as centrepieces for the coffee table or dining table and you're set!
Find everything you need to bring the Hamptons look to your outdoor area with out Hamptons Outdoor curation.