A Good Light
As natural light fades and you need more than a solitary moon to light your outdoor area, you have a couple of things to consider. What is the light's function? How's the mood?

If you're having dinner after sundown you'll be after bright lighting options, but if you're setting up a party space something a bit dimmer may be preferred.

Read on so we can shed light on key technical terms, the different kinds of products available, and the best functionality for different scenarios.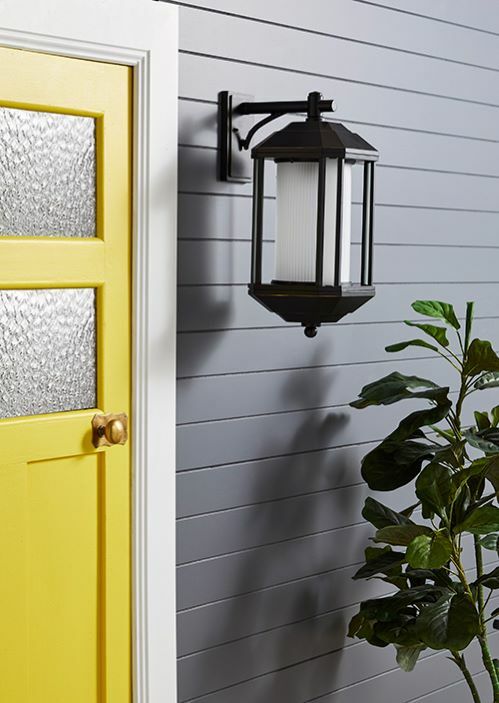 On This Page
​
• Create maximum curb appeal with lighting. A post light at the end of a driveway, a wall sconce next to your front door, a couple of garden spikes: all will add a welcoming touch to your home.
​• Using fixtures and lamps in the same style will offer a cohesive look that shows the care you put into your home.
​• It increases the safety of your home. Install lights near doorways, patios and pathways to remove dark corners and make you and your guests feel comfortable.
​• Enhance features like prized plants and water fountains.
• Enjoy your outdoor area and make the most of it year round.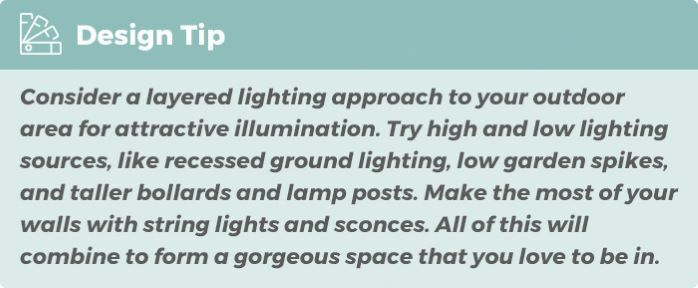 An important element to consider when it comes to choosing your lights is their Ingress Protection rating. This classifies the degree of protection provided by mechanical casings and enclosures against water, dust, and accidental contact.

An example rating you might see is: IP56

The first digit refers to the item's protection against hazardous parts and solids, e.g. electrical conductors and dust. It is rated between 0 (no protection) and 6 (complete protection against contact).

The second digit refers to protection against liquids e.g. rain. It is rated between 0 (not protected) and 8 (immersion in liquids beyond 1 metre).

Specifications to Consider


Starting points
• Lumens
• Kelvins
• Wattage
• Voltage
•Bulb Types: Halogen, Incandescent, Fluorescent, Compact Fluorescent (CFL), Light Emitting Diodes (LED)


They're the measurement of the total quantity of visible light emitted by a source - lightbulb, flame - per unit of time. In other words, the higher the measurement of lumens, the brighter the light will appear.

You should expect to see a lumen measure when buying lighting, unless a bulb is not included.


Colour temperature is measured in degrees Kelvin on a scale of 1,000 to 10,000. Unlike measuring degrees celsius, a higher measurement means cooler, and a lower measurement is warmer. So lower Kelvin measurements means more yellow, higher numbers mean more blue.
- A soft white in the yellowish range is 2700K to 3000K. This is the standard colour of incandescent bulbs, and they're perfect for bedrooms, living rooms or dens, and for highlighting dark woods.
- Warm white light between the yellowish and white ranges are 3000K to 4000K. This is ideal for kitchens, outdoor dining spaces, workspaces and bathrooms.
- Bright white light that is between the white and blue range measures 4000K to 5000K. This tends to work best in kitchens and bathrooms with chrome or white fixtures.
- Measurements between 5000K to 6500K are akin to daylight, making it perfect for reading, so you can make the most of down time in the evenings, outside, all year round.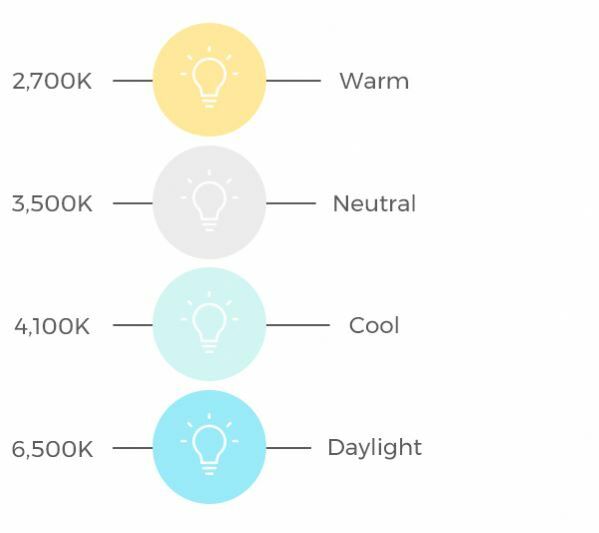 A good first point to bear in mind: the lower the wattage, the lower the energy bill.

Wattage is the amount of energy a light bulb uses. CFLs and LEDs have lower wattages than incandescent bulbs, but they emit the same light output.
Voltage is what makes electric charges move. It is the 'push' that causes charges to move in a wire or other electrical conductor. Volts listed in regard to a bulb refer to the force of electricity that is going into a bulb from a battery or electrical circuit.
What kind of outdoor lighting is best for me?
A little light can work wonders in making a place feel more comfortable, but if you're after shining examples of improvements to safety in your home then there are specific lighting styles that are worth considering.

As the name suggests, flood lighting will illuminate a place liberally. It's usually equipped with motion detectors, so that it will light up automatically and provide extra protection and convenience. Similarly helpful are spotlights, which can also have motion sensors. Spotlights are usually adjustable, so you can position their angles for the ideal direction from your wall.

Welcome visitors and help yourself find your keys after the sun's gone down with outdoor wall lighting.

Wall sconces and lanterns on your porch or a side entrance are convenient for smaller spaces, and they help make it feel safer, too.

With some cover from an awning or fence, the IP rating doesn't have to be the highest available, but enough to withstand moisture and dust in the air. IP44 is a common rating for outdoor lighting. Without cover, and if you're in an area that tends to experience inclement weather, we recommend that you get the highest you can.




String Lights
It's a known fact that fairy lights and festoons are fool-proof mood boosters. Just hang them up and tell us you don't feel instantly delighted.

The traditional string lights are a great way to gently light up a tree trunk, and they can be hung along a fence or a garden wall. Different twinkle light arrangements, like a web or icicle-inspired design, can also add a gorgeous difference to a wall.

Our best-selling festoon lights not only light up a space, but they also offer a playful retro feel to your set-up.




Inground Lights
If you have a grassy area or flower beds then garden spikes are a great, subtle lighting solution. They're a fun yet practical choice for lighting a path, or simply for improving ambience. The only thing to bear in mind is that inquisitive young children may try pulling them out, so if young ones are going to be around they're not the best choice.



Post or Bollard Lighting
Lamp posts and bollards, like garden spikes, are a good choice for lighting a pathway or an entryway. They're particulary useful if the ground is uneven, but they also create an attractive aesthetic. They usually require some assembly, and to be protected from the wind will need to be screwed into the ground.



Lanterns
The most easy-going choice of all is the lantern. While they won't assist you if you want to read a book, they're great at setting a relaxed tone outside.

Available in a range of materials, many feature structures that protect a candle flame from breezes whilst giving you that lovely flickering effect as you dine or enjoy evening drinks.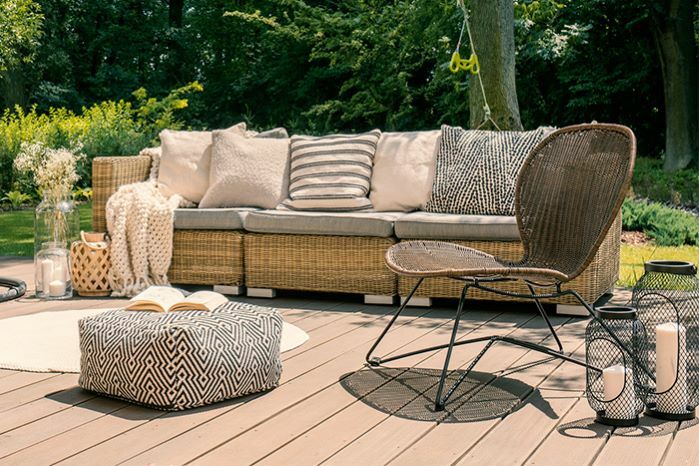 Recessed Lighting
Outlining the perimeters of your deck, porch, or railings is important for your safety, and recessed lighting is the ideal product for the task. Not only does it improve the safety of your home, but recessed lighting also creates a warm welcome to visitors. Plus it can add drama to interesting landscapes or architectural features.



Ceiling Mounts & Pendant Lights
A gorgeous way to highlight seating and dining areas, ceiling lights in a covered porch or gazebo make a space feel more homely. Flat ceiling mounts are designed for lower ceilings, and a pendant can be enjoyed where the ceiling is higher.

Need to Know
Most outdoor lights have common wiring (if indeed they need wiring), making connecting your wall or ceiling lights reasonably straightforward. Generally they will have three wires: black or red (live), white or grey (neutral) and green or bare copper (earth). Once you identify these all you need to do is match the wires up to your new light fixture i.e. live to live, neutral to neutral, earth to earth.

However, when it comes to installing lights, we always recommend getting the help of a professional, registered electrician.
Delightfully easy to install as they do not need an outlet or any hard wiring, solar lights are the most pocket-friendly choice for long term use. They often use LEDs for even better efficiency.

As solar lights require the sun to charge up the included panels, their use is somewhat weather dependant. Naturally, if it's cloudy during the day they will give off a weaker light in the evening than if it's sunny during the day. This means that it won't make the best choice for security lighting.

However, they are another great choice for renters, especially those with a sunny aspect for their outdoor area.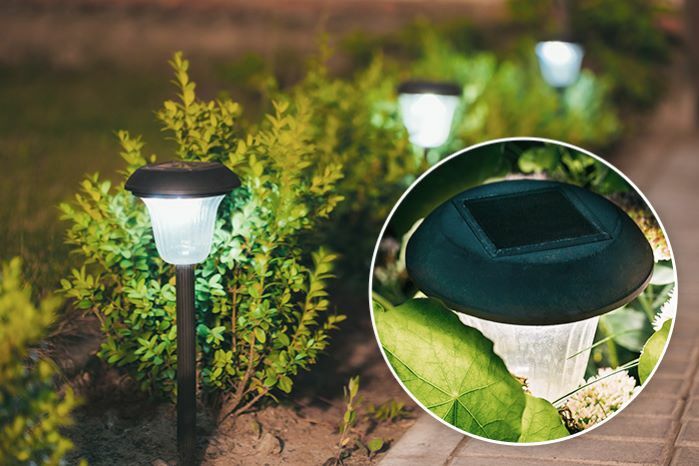 - LEDs radiate very little heat compared to most other light sources. This makes it a safer choice in areas where children and animals may play, and where the environment gets very hot. Traditional incandescent bulbs waste 98% of the energy they consume on heat.
- They're energy efficient. LEDs emit more lumens per watt than other light bulbs. They use at least 75% less energy than incandescent lighting, allowing you to save on operating expenses.
- LEDs can be easily dimmed, allowing you excellent control of mood lighting.
- They usually have a very long life span, so you get value for money, even if it may seem slightly more expensive at the outset. They last 35 to 50 times longer than incandescent bulbs, and 2 to 5 times longer than fluorescent lighting.
- LEDs are difficult to damage from external shocks.
- They do not use power when they are turned off.