​
T&W's Guide to Outdoor Living
Think of your favourite
sounds, smells and sights of summer through the years, and chances are that the majority of your happiest memories are from outdoor dwelling. Hearing the familiar sound of cricket on the TV in the background as the barbecue sizzles with meat and veggies; garden play and water hose spraying; and the sweet sense of relaxation as the longer days come to a close. Loved ones are no doubt in the picture, as everything is better shared.
In our Outdoor Living Guide we hope to remind you of the joy of being outside with all your comforts, helping you to set up a space that you can't wait to share for many more years to come.
​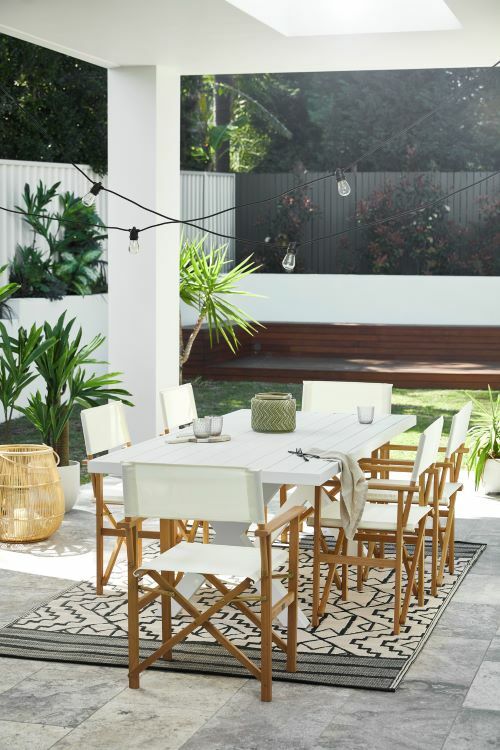 Measuring Up
Start at the beginning. How much space do you have? Do you have an abundance of room for lounging and for kids to play in, or are you working with a compact balcony?
We recommend making a list for the type of space you want to create, and the items you can't wait to put in it. The list will inform your needs regarding materials, lighting, shade and comfort, and help you navigate through the myriad choices we have.
Once you've decided on your theme, measure the complete space, and then the area you wish to enhance with furniture. Be specific, as every centimetre counts.
​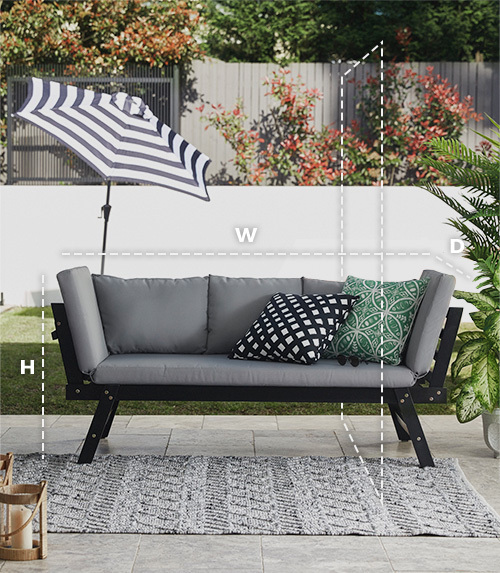 ​
Don't forget to include the doorways you expect to move through - the front door, the back door - as you may be choosing larger items that need to get through your home without marking up your walls and doors. Include narrower points in your measurements, too, like door knobs and bannisters on stairs.
Is the moving space looking a bit tight? Rotating furniture items on the diagonal can be the solution to getting through narrower passageways, and if it's a matter of only a couple of centimetres inhibiting movement, consider taking your door off the hinges.
It's worth preparing your space ahead of time, too, removing obstacles that are easy to tidy away to keep the process as smooth as possible. Kids' toys, pet gear, stray shoes and so on. Similarly, pay attention to art on walls and lighting features to avoid bumping them in the move.
How to Choose Materials for Outdoor Furniture
Let us help you choose the right materials to withstand wind if you're in a breezier location, to resist moisture better if you're close to the ocean, and to handle robust use if you have children and/or pets.
Remember, though, that the first step to ensuring your furniture's longevity is that it should be stored under cover after use. This could be a patio cover if you have it, a shed, or even fabric furniture sheets to drape over it.
​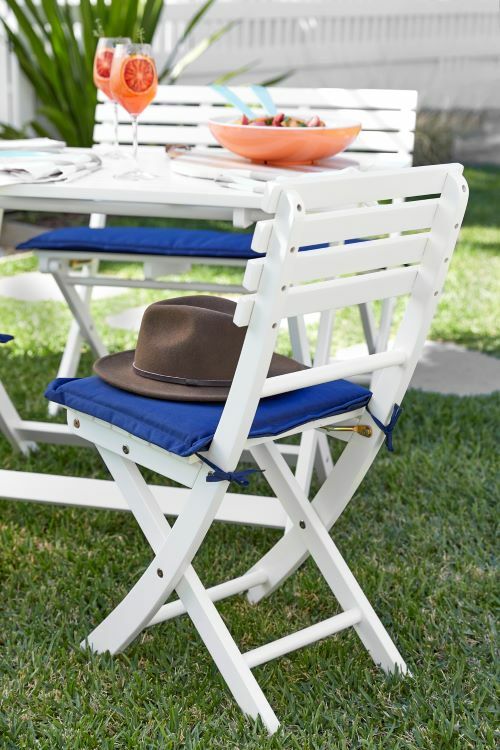 Powder Coating
You'll often see this term used for outdoor furniture, and occasionally for indoor pieces too. Powder coating is considered to be non-toxic, making it safe for you and the environment, and it provides a tough and durable finish to furniture.
Metal outdoor furniture
that is powder coated will stand the test of time better than without it.
Aluminium
The most popular choice for a contemporary look is aluminium. It's rust resistant and relatively lightweight, so you can rearrange your furniture easily. Tubular aluminium is the most lightweight option, whereas wrought and cast aluminium are sturdy enough to withstand wind, while still being manageable enough to store away easily. Aluminium quite often comes powder coated, which offers further protection against the elements, requires little care, and is easy to clean.
Polyethylene Rattan/Wicker
Wicker vs rattan, what's the difference? Broadly speaking, they're the same. Wicker refers to the woven construction of a product, and rattan is the material used for the weaving.
Rattan is a natural material, made from the fibres of palm-like plants, similar to cane and bamboo. It doesn't stand up well to certain conditions, like rain, so synthetic rattan is made to emulate the look of natural rattan whilst being able to withstand tougher conditions.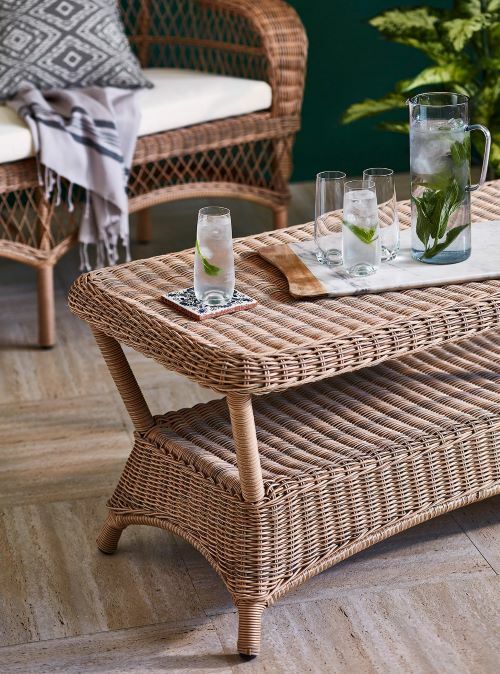 The benefits of
choosing polyethylene rattan
(or PE rattan) is that it's durable, easy to care for, and easy to clean. Synthetic rattan offers excellent resistance to mould, mildew, sun exposure, inclement weather and extreme temperatures, making it a great choice if your outdoor area is a sun trap in the Australian summer. It's often wrapped around an aluminium frame, so it's also lightweight, making it easy to move around.
To clean, use a soft brush to remove any loose dirt or dust; wipe the rattan with a damp cloth using mild, soapy water, and then rinse using cold water. Remember to remove any cushions first to protect them against the moisture.
Explore our range of
outdoor wicker furniture
for a homely look.
Timbers at a Glance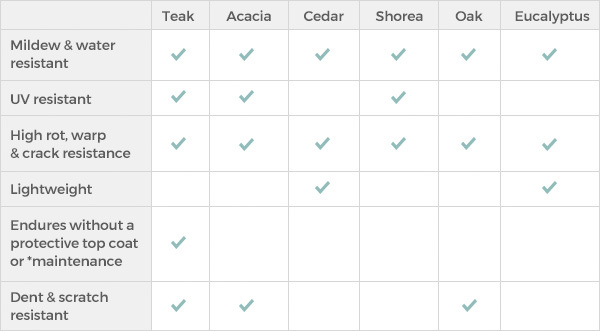 *ordinary maintenance outside of cleaning, and a standard fabric cover to protect against weather.
Timbers in Detail
Make the most of your outdoor area with versatile
timber furniture
, which can withstand the elements and stand the test of time. All outdoor wooden furniture will require oiling to protect it against the elements for long life, and to maintain its original colour for longer.

For a more traditional look - think slatted wood table tops - then teak is your friend. It is highly durable, plus it's weather and termite resistant due to its beautiful tight grain and naturally high oil content. Its high mineral content prevents it from rotting and cracking, even in the wettest conditions (which is why you often see it used for bathroom accessories too).
Teak wood requires minimal maintenance, though it will age to a silver-grey colour when left outside. However, you can treat the wood with a special teak wood sealer that slows down the greying process if that's your preference. Regarded as the king of timbers for all the above reasons, it is a more expensive material option than most.

It's usually a cheaper option than teak wood as it's not quite as durable and has a lower natural oil content. Nevertheless, it is mildew and water-resistant, and it's a durable hardwood with an attractive reddish hue, with a fine grain - often likened to a flame - that provides a smooth finish. Teak wood will feel slightly oily to the touch, but acacia will feel drier. It is strong and moderately heavy.
Acacia will need to be lightly sanded, cleaned and oiled at least once a year to help prolong the life of your furniture.

Like teak, cedar wood ages to an elegant silver-grey colour. It is a lightweight material, making it easier to move around than other timbers. As it's a relatively dry timber, it accepts stains and paints well, so you can change its look and finish more easily than other materials.
It's recommended that cedar is cleaned annually as the soft grain becomes rough over time if left untreated. Further, cedar is likely to scratch and dent more easily than harder woods like shorea or teak. Conversely, as cedar retains moisture due to its softness, it's more resistant to cracks than many other timbers as it won't dry out as easily.

Shorea is the genus name for nearly 200 species of trees. It shares many of the attributes of teak, but as it grows so plentifully in the Pacific Rim, it is generally less expensive.
Shorea is durable and dense, is heavier than teak, and it holds up well under daily use and inclement weather. It's also resistant to both insects and rot. Its colour will change from gold to grey over time, but it can be treated with oil to maintain its more youthful hue for longer.

A strong and hard wood, it's also rot resistant. It's abundantly available, which is one of the main reasons it is cheaper than teak wood. It doesn't have the same oil content as teak, so it should be painted or protected with a water resistant sealer or top coat. Although this requires extra effort in maintenance, the cost savings can be significant. If properly cared for, white oak furniture can last for decades.

Dense, strong and durable, even with exposure to extreme weather, eucalyptus furniture also proves to be rot resistant, making it a good choice for outdoor furniture. It is rich in natural oils, so it is naturally resistant to moisture and water. One of its drawbacks, though, is that it is prone to cracking in the cold if it's not treated annually.
Easy to care for, all it needs is a wipe to keep it dust free. However, to increase its longevity and to maintain its rich colour, eucalyptus furniture should be oiled by using a water-based acrylic sealant each year. Like teak wood, it turns to a silvery-grey with age.
Unlike teak wood and other hard woods, it is fast growing, rendering it a more sustainable and eco-friendly choice. This also makes it a cheaper option.
See our range of
timber outfoor furniture here
.
How to set up an Outdoor Lounge Space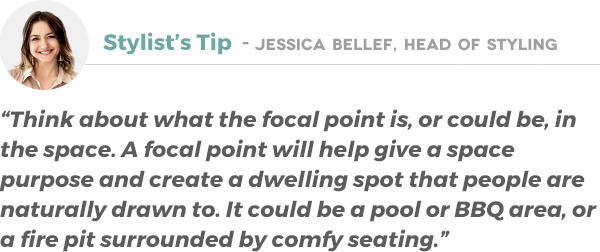 Follow Your Style
Extend your interior style outside to create a cohesive look throughout your home. Not only will the movement indoors to out feel seamless, but the emotional connection will be strong for both you and your guests.
Don't forget lighting, either
.
​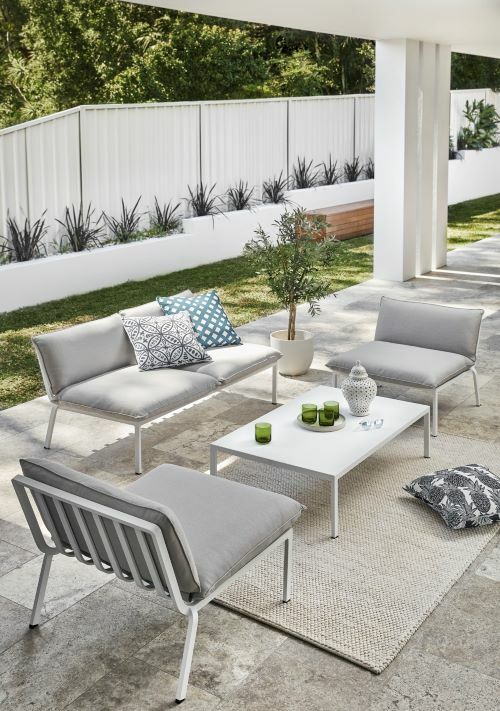 Choosing your Lounge
Smart choices for smaller spaces are compact lounges and
modular designs
. Modular options are especially versatile as you can arrange each piece uniquely, which works well in more unusual ground layouts, or when you want to mix up your look. Modular set-ups often include ottomans and coffee tables, so you can really get comfortable outside.
If you're not short on space you have the luxury of even greater choice! Not just modular designs - though these can still be really handy - but also
outdoor sofas, chairs, and lounges
with set measurements.
To personalise the lounge further, it's worth considering cushions. And if you have chosen a set with a coffee table then additional decor, such as a lantern, is also worth thinking about. More on this below.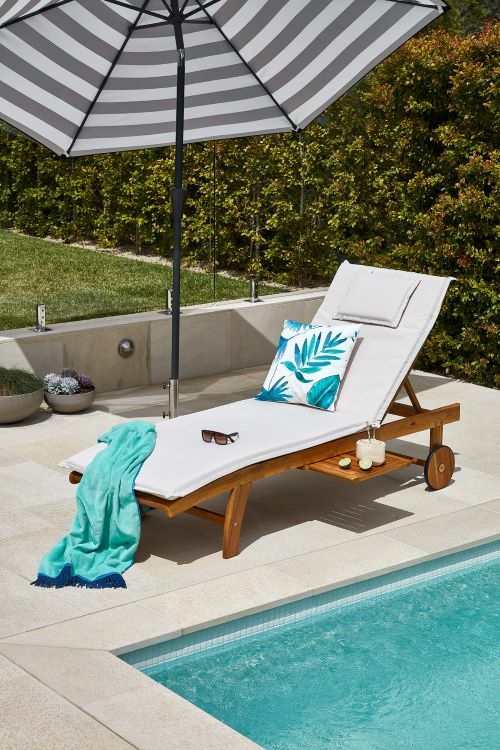 Recline & Relax
When you just want to put your feet up, you can't go past a
sun lounger.
Two is good company, especially when angled near a pool or positioned on your patio. Most are adjustable, with back rests that can be laid flat, or angled at just the right height for reading comfortably. A three piece set is a great option for your convenience - this will include a side table that you can put your beverage or book on.
Alternatively, have you thought about
outdoor beanbags
? With technical fabrics and extra-sturdy seams that make them more suited to rougher surfaces and robust wear, they're a fun and comfy choice to lounge about with.
Similarly,
hammocks
will set a scene of relaxation. Sway or rock gently on hammock chairs or traditional long-length styles, which come ready to attach to trees or free-standing.
​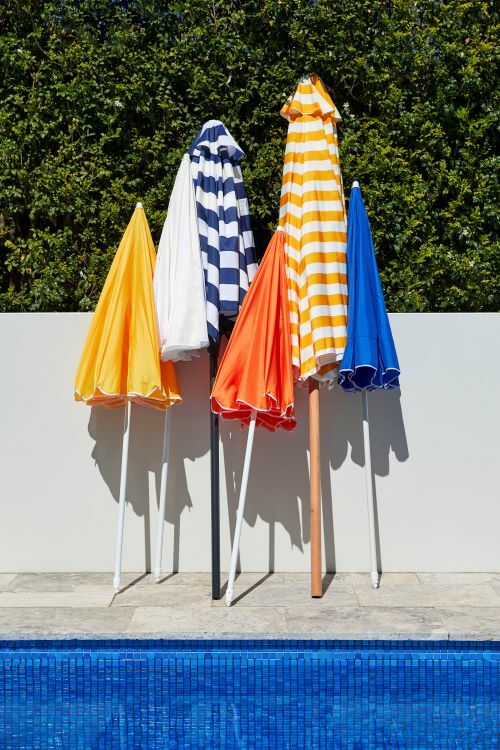 Throw Shade
Unless you have natural cover from trees, hedges or a balcony roof, you'll need some shade. Protecting you from harmful UV rays and also giving you the comfort to read comfortably away from glare, it's essential in any outdoor area that you want to spend more than 5 minutes in. Choices include classic cantilever umbrellas, market umbrellas, gazebos and sail shades.
​•
Cantilever umbrellas
are suspended in the air and supported by a pole to the side of the canopy rather than from the middle. To this end you will usually find them square-shaped, or any shape with straight edges, to work well with the pole that suspends it from one side.
​•
A
market umbrella
is a traditional style with the support pole in the centre. The canopy itself can be square or circular.
​•
Utilitarian sail shades tend to offer you more freedom to choose the height and angle of the shade. Usually, they will be a flat design that you can fix to a secure post, wall or tree. Available in a range of sizes, they're a convenient choice for larger areas.
​•
Traditionally a wooden structure in an octagonal shape,
the gazebo
is now commonly available as a less permanent canvas form in a few different shapes. Some have sides, and others have just a roof suspended on poles.
​•
For smaller courtyards or open balconies, a retractable awning is a smart choice for giving you the cover you need. Side awnings are also available to provide some privacy, which is ideal for city living.
​•
Kill two birds with one stone when setting up your outdoor space by
choosing a swing seat
with a built-in canopy. You'll find instant comfort.
For a full list of outdoor cover that we offer, click here
take a look at the options
.
How to set up a Dining Space
Al Fresco Dining
Are you after a charming two-seater table to enjoy breakfast at, or are you aiming to make dining outside the centre of your family gatherings? Either way, we have many options to make setting up your outdoor dining space easy.
​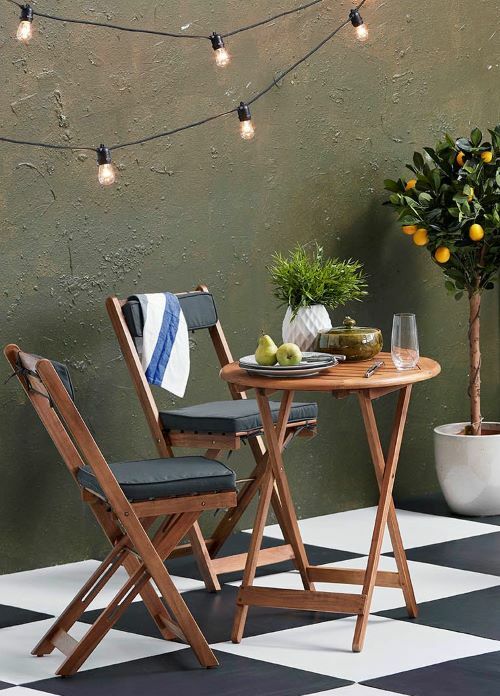 Bistro sets are usually smaller styles
that comfortably accommodate two people. These are great if you have a small space that you want to make the most of, without overpowering the area. Traditionally made of ornate cast iron, they now come in a range of materials - wood, metal, polyethylene wicker - so you can find the right feel for your home.
​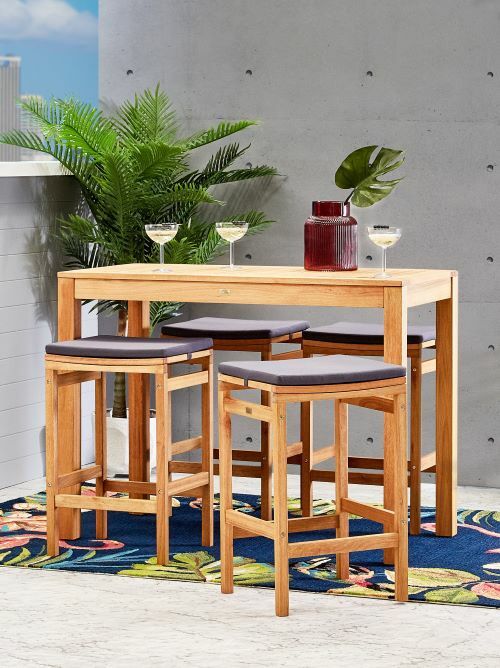 If you want to fit a few people around the table in a compact space,
a bar table may work well
as they are often narrower than your average dining table, and they make great use of height.
To really make a party of it, there are ample choices when you want more bums on seats. We have many longer
outdoor dining tables
that fit 6 or more people, but extendable tables may suit your needs even better.
Consider benches
as a great way to squeeze in an extra person. It's also worth thinking about
stackable or foldable chairs
, as they're much easier to store away after use.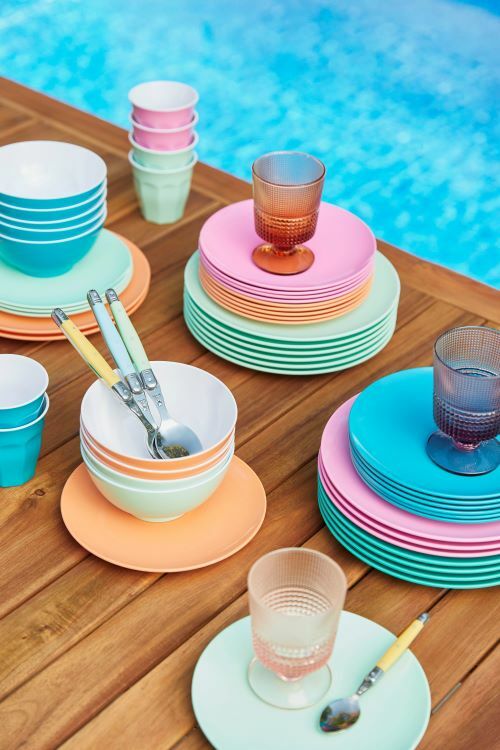 Dinnerware
You could take your porcelain or fine china outside, but why risk it?
Melamine is a great alternative
, that also adds an element of fun to your dining set-up.
Melamine is break resistant, it will not easily stain or fade, and it's dishwasher safe. It's available in myriad colours, making it ideal for summer living or for adding zest to your winter, and it's an easy way to create a coordinated look whilst being affordable. Plus you can take it with you on picnics as it's super lightweight.
It's also easy to care for if you follow these simple rules:
​•
Avoid abrasive cloths if washing by hand as they can scratch. Keep the cloth soft.
​•
Don't use serrated knives or other sharp utensils.
​•
Don't put melamine in a microwave or oven.
​•
Give your plates a soak before washing if you have stuck-on food.
Outdoor Fires & Barbecues
Barbecues
A staple of Australian life,
a barbecue is essential
in any household with an outdoor space. Compact designs offer options when your small space led you to believe you had none, and larger stand-up height styles are made for larger gardens and big families and friend groups. But it doesn't end here - have you thought of incorporating a rotisserie into your abode? It's a beautiful way of cooking, getting amazing flavour from your meat and vegetables, and impressing your guests.
Don't forget your barbecue tool set, including cleaning gear that keeps your barbie in good condition and food tasting great.
​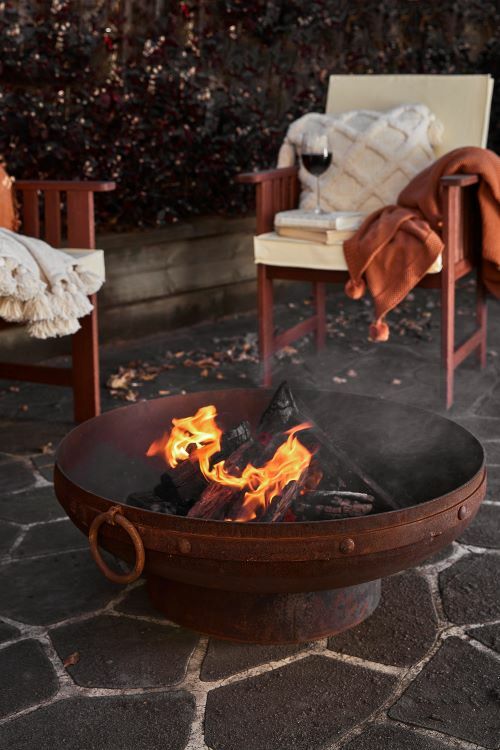 ​
Fire Pits
One of life's simplest pleasures is sitting around a crackling fire. Do it in safety and style by enclosing your fire in one of Temple & Webster's range of
top notch fire pits
. Choose sleek black for a thoroughly contemporary take, or opt for a rusted finish for a more traditional look.
How to make your outdoor space more homely
Now that you've created an area that you're ready to settle into, you'll want some finishing touches, artful flourishes and comfortable accents to give it some extra love.
If you've set up an outdoor coffee table, how about styling a plant in the centre? Is your space too much of a sun trap for a plant to survive? Try a
good quality artificial plant
. It may seem counterintuitive at first, but it can be a great solution to wilting and burning foliage when the sun's force is too intense.
​

​
Similarly,
wall panels
can create a more cosy space with the appearance of verdant growth, with the additional benefit of offering more privacy.
The
coffee table
can be a nice spot to locate your insect-repelling candle, making it a sweet part of a vignette.
​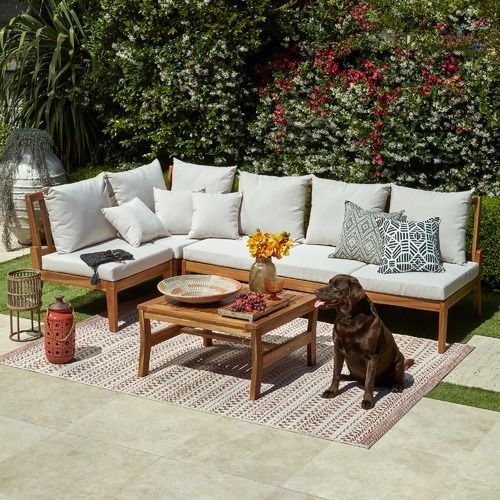 It's worth considering decorative vases and vessels as part of the picture, as they're a great way to add alternative colour and texture. There are chic polyresin options available, or woven grass baskets and bowls add an organic look to a space, which is perfect if you're after a coastal or bohemian-inspired look. Bear in mind that these types of items should really be styled under the cover of a canopy or gazebo as they are not UV or water resistant.
For something a little retro,
how about trying a water feature
? Available in a wide range of shapes and sizes, they can offer a soothing point of difference to your garden or balcony. Furthermore, there are even solar options available, giving you efficiency as you enjoy the tranquility.
​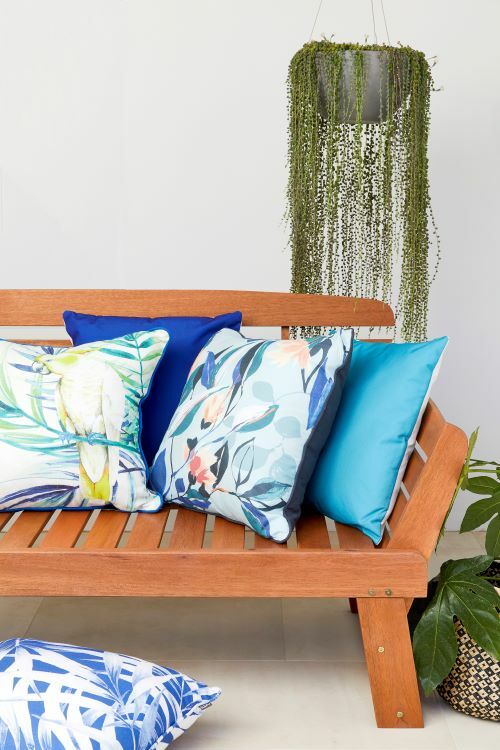 ​
Cushions
Cushions, of course, don't have to be restricted to indoor use. There is a
broad selection of cushions
that are made with treated fabrics, usually made from durable polyester, ensuring they handle UV rays well whilst propping you up on your lounge as you read, and adding flair to your space. If styling more than one, choose a similar pattern in a range of colours, or choose one colour in a range of patterns for a well considered look.
Cut a Rug
Create a cosy space in your outdoor area by
enhancing the ground with a rug
. Some are more suited to use on a covered balcony, whereas others are durable enough to withstand a more open area, but all are great for drawing the eye and for building a welcoming space.
Soft hues and subtle patterns are great at doing the job of marking out a space without distracting from the lushness of your plants, whereas bold pattern and colour adds a jaunty pop to an area that's made for families and entertaining.
Many are made with outdoor recycled PET plastic, and they are so low maintenance that they can even be hosed down for cleaning. Others are a little less easy to care for, but no harder than a shake and a vacuum.
To ensure that the rug maintains a stationary position, either anchor it with furniture - under the dining table or lounge - or try specialist outdoor Velcro.

Pools & Pool Toys
Get summer vibes with pool splashes, and floaty fun in your backyard. Sometimes it's enough to dip your toes in a paddling pool as your little one explores clear coolness, or perhaps you're after something a little deeper. Our range of
pools and accessories
are a great way to bring family and friends together, and for helping to keep cool.
Outdoor Storage
Storage Sheds
Utilitarian options are great for giving you single purpose items that are precisely what you need.
Storage sheds
are the larger options best suited to bigger yards and gardens, made with a view to holding lawn mowers, bikes etc.
Storage Chests
Alternative smaller styles are
storage chests and storage cabinets
, which are well suited to holding pool accessories, lounge accessories like cushions, or gardening equipment such as watering cans, hoses and trowels. Some even double up as side tables or stools, making the multi-purpose pieces great in family homes.
Alternatives
Make the most of nifty multi-purpose pieces, like side tables with hidden storage.
Other Things To Consider...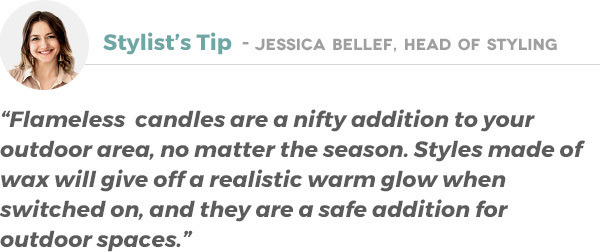 No Smoke Without Fire: Safety
Be sure to follow all guidance from your local council on lighting outdoor fires and barbecues. The rules vary slightly from council to council - and, of course, in extreme weather conditions - but the general and basic principles are the same:
​•
If your fire is small, contained to a fire pit or barbecue, and doesn't produce too much smoke (think of any windy conditions) then it's permitted.
​•
Many city councils require that if you are having a fire in the backyard then it must be for the purpose of cooking food. Marshmallows, anyone?
​•
Burning garden waste or creating a fire that's more than 2 metres in any direction is prohibited everywhere in Australia.
​•
Keep your fire well away from houses and fences.
​•
If you intend to light a fire and you live amongst other people, offer your neighbours the courtesy of letting them know of your plans ahead of time. This gives them time to bring in the washing/close windows, and to know what to expect.
Budget
Once you've measured up, the next thing you'll need to consider is your budget. You can navigate among products on Temple & Webster by price range, so you can easily pinpoint the options that work best for you.
We also offer functionality on the Temple & Webster website for you to keep track of your favourite products so that you can re-visit the items that have caught your eye at a later date if your budget can't cover everything right now.
​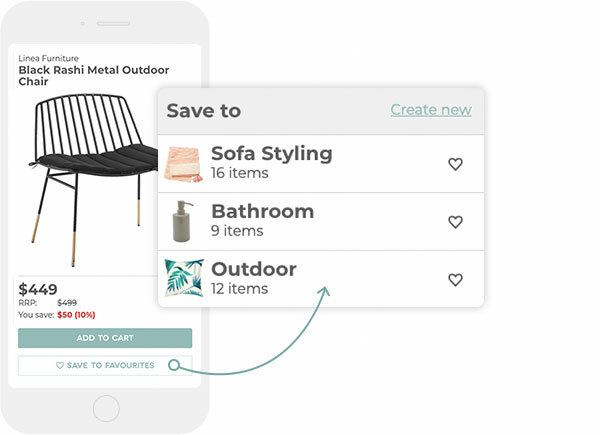 Plus we offer Zip and Afterpay, so you can own it now and pay in installments, interest free.