While choosing a rug material that suits the style of your space is important, don't forget to also factor in your lifestyle. How much traffic will the rug need to handle? Will you be eating or drinking over the rug? Do you have kids or pets? Here, we break down some of the most common rug materials, highlighting each type's origin, texture, durability and care requirements, so you can find the rug material that's best suited to each space of your home.
​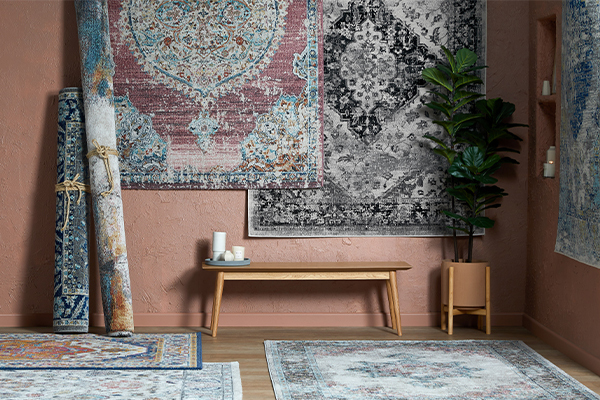 Natural Fibre Rugs
Rugs made from natural plant and animal materials add a beautiful, organic, relaxed look to your home. They are also generally more durable and make a more environmentally friendly option. Here are some of the most common materials of
natural fibre rugs
.
Jute comes from the green stalks of a flowering plant which get soaked, stripped and spun into strong threads to be woven. Jute has a natural brown colour due to the way that it is harvested. Softer than hemp and sisal, jute is often compared to wool. As it's so soft, jute is not as durable as the other natural fibres and new jute rugs can be prone to shed slightly. For long-lasting results, use your jute rug in spaces that get the least traffic such as guest bedrooms or formal living areas, and be sure to spot-clean spills quickly and vacuum regularly.
​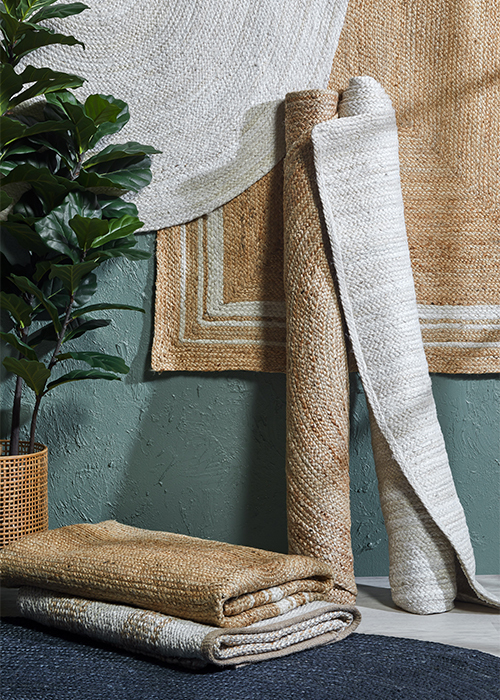 One of the fastest-growing plants on earth, hemp is well known for being a front-runner for sustainability. While strong and coarse, it gets softer over time, making it family-friendly too. It has a naturally beautiful coppery brown tone, but it can also be dyed and woven into many different patterns to complement your space. It is durable, hardwearing, mildew-resistant and strong, making it an extremely cost-effective, practical material. Hemp does tend to shed, so you may want to vacuum your hemp rug regularly to maintain it.
Sisal is the strongest of the natural fibre rugs and its tough fibres are often used to make rope and twine. Deriving from the agave plant, sisal comes in a range of earthy hues, but it can also be dyed. While it is highly durable, it is also the coarsest and least comfortable of the natural fibre materials. Sisal is also very absorbent, so stains are harder to remove and the rug can also become discoloured from water damage and direct sunlight. Clean stains as quickly as possible before they soak into the fibre and vacuum regularly. Sisal rugs are best suited to areas that get a lot of foot traffic with low risk of spillage.
Derived from the cotton plant, cotton rugs often come in flat woven styles. They can easily absorb dye, so they come in a wide variety of colours and patterns. They're also very soft and durable, and hold up well in high traffic areas such as bedrooms and living rooms. Cotton rugs are also easy to clean and some small varieties can even go in the washing machine. Spot-clean large cotton rugs with shampoo and vacuum regularly to remove dust and dirt.
​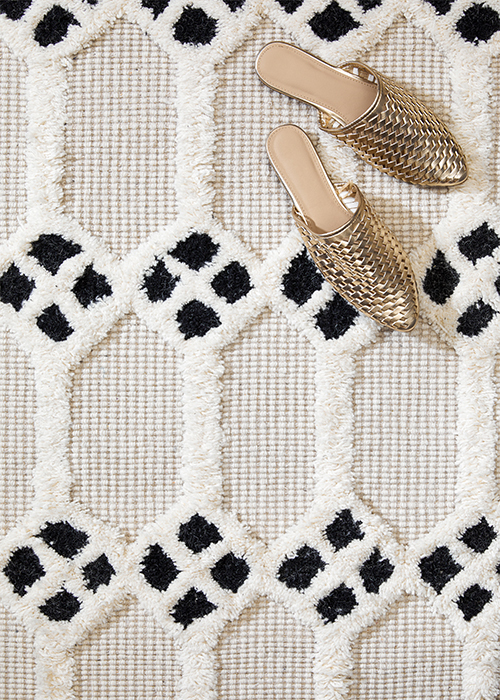 High-quality wool rugs are soft and richly textured, so are ideal for making a statement in the living room or adding luxe texture and warmth in a bedroom or nursery. Wool is naturally water and stain-resistant thanks to the lanolin that coats the fibres, ​so it makes a good choice for high traffic areas. Although they can be more expensive than other types of natural fibre rugs, they are very durable and can look good as new after a steam clean, so it's worth the investment.
Silk rugs are made from hand-weaving extremely thin silk fibres into intricate patterns. They are extremely soft and have a beautiful sheen, but they have a much thinner pile than wool rugs, making them delicate and not suitable for high foot traffic. Cleaning silk rugs can also be tricky as the dyes can run. It's recommended that you have them professionally cleaned to avoid dyes bleeding and to have them brushed to regain their softness.
​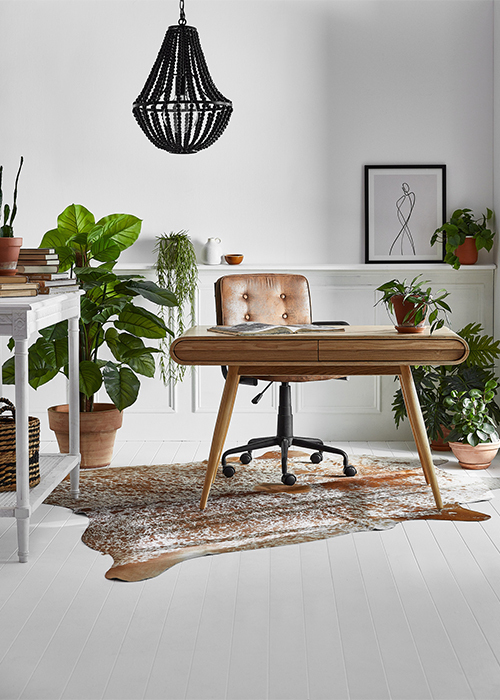 Cowhide rugs add a contemporary edge and are beautifully tactile. Having said that, we know that animal-based products aren't for everyone. All our cowhide rugs are sourced as by-products of the food production industry and meet or exceed strict Australian government safety, testing, certification and import standards. As this is a natural product, no two skins are the same. Since they are made from leather, cowhide rugs are extremely durable and can maintain their soft feel for years. Shake or brush cowhide rugs regularly to remove dirt, and use shampoo and water to remove stains.
​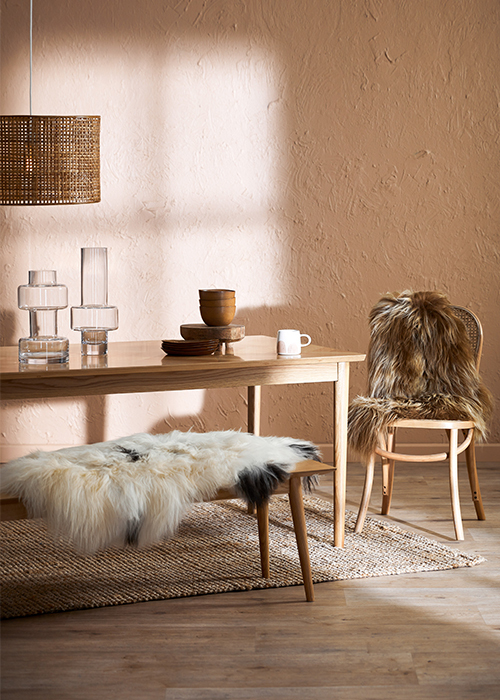 Extremely soft, durable and tactile, sheepskin rugs make a beautiful decorative layer on furniture. Made from skins of sheep with finer and softer fibres than those used in wool rugs, the wool on sheepskin remains fixed during the tanning process to the skin. All our sheepskin rugs are sourced as by-products of the food production industry and meet or exceed strict Australian government safety, testing, certification and import standards. Sheepskin rugs need to be lightly vacuumed once or twice a week and any spills should be blotted with paper towel and spot cleaned with a small amount of gentle detergent.
​
Synthetic Rugs
Synthetic rugs
are made from non-natural materials such as polypropylene, polyester, nylon and viscose. Cheaper than natural fibre rugs, soft, versatile and non-shedding with vibrant colour, synthetic rugs have become increasingly popular. Heat-set polypropylene is especially ideal as it is more stain-resistant, making it a great choice for families and high traffic areas. Vacuum synthetic rugs regularly and spot clean spills with vinegar and water.
Flat woven rugs vs. pile rugs

​Flat woven rugs
Ranging from traditional
kilims
to modern patterns, this rug style has no pile because of the way it is woven on a loom. Flat woven rugs are often more affordable than pile rugs, but they are also less durable and won't last as long as a pile rug in high traffic areas. They can also slip out of place so it's worth using a rug pad or underlay to keep them in position.
​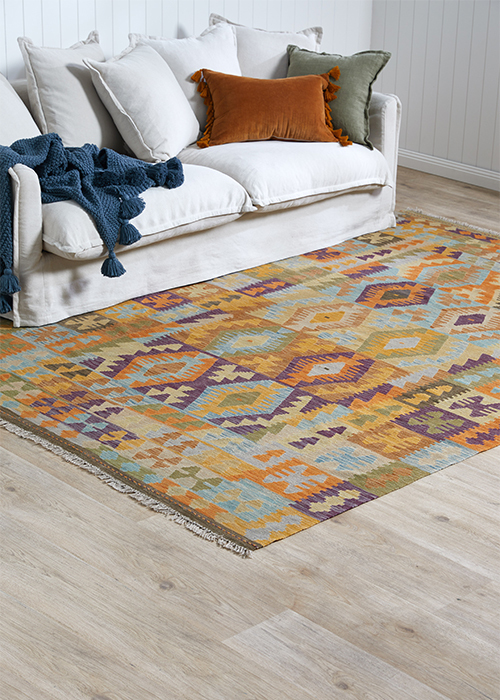 Pile rugs
Pile rugs can be machine-made or handmade (sometimes referred to as hand tufted or hand knotted). The pile protects the warp and weft, and a quality pile rug that's well maintained can last an entire generation or even more. There are countless variations of pile rugs, from Persian-style designs made using wool or silk, to modern
shag rugs
made from polypropylene.
​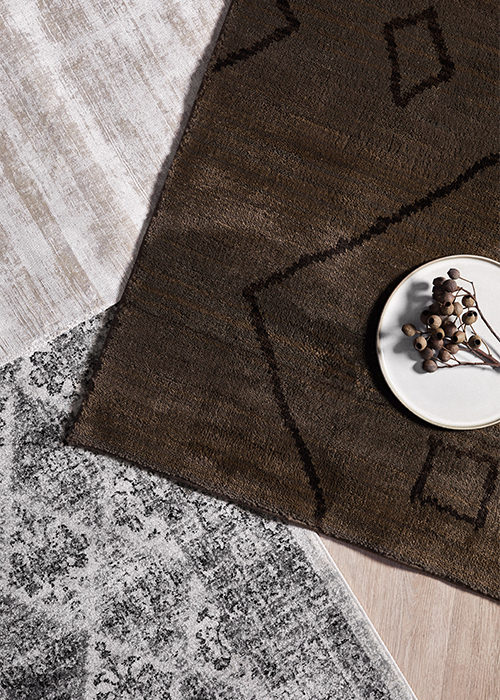 How to choose a rug material based on your top priority

​High traffic areas
Ideal
- Wool
Avoid
- Jute
- Sisal
​Stands its ground against stains
Ideal
- Polypropylene
- Cotton
- Wool
Avoid
- Jute
- Sisal
​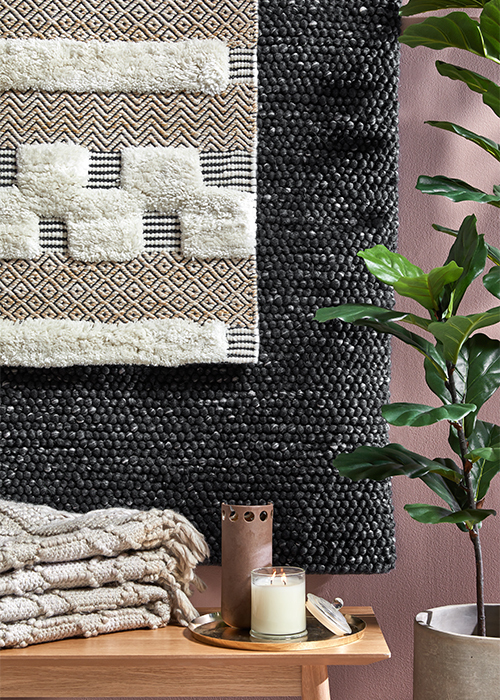 ​
Gives your home an organic look
Ideal
- Jute
- Sisal
- Flat-woven wool
Avoid
- Polypropylene​ ​
Feels luxurious underfoot
Ideal
- Cowhide
- Sheepskin
- Silk
Avoid
- Synthetic
- Jute
- Sisal
Shop rugs by rug material.