For the past 28 years, husband and wife Gordon and Michele Duncan have been adding colour, comfort and style to bedrooms across Australia with their beautiful bed linen. With a focus on quality and design, Linen House has since expanded into homewares to complement its bedding range. The Melbourne-based company also has partnerships with companies in New Zealand and South Africa, with whom they share the Linen House base range with. Here, the couple share the story behind their family-owned business, the process of planning each range, and reveal how a younger generation, including their three grown-up children, is shaping the family business.
​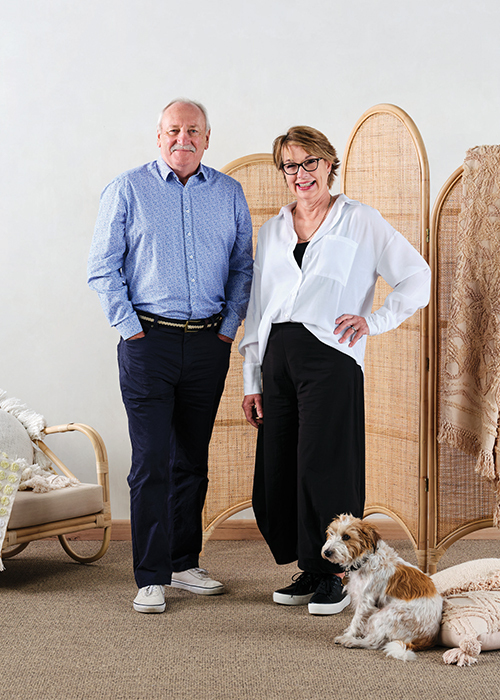 Tell us about your background in textiles.
G:
I was a buyer for household textiles at Myer-Grace Bros for 11 years, then left when I was 29 to work in New York as a sales manager for another textiles company. It was in New York where I met Michele. We were introduced to each other on a blind date.
M:
My family were quilters from Pennsylvania and I sewed throughout my childhood, so I was always interested in textiles. I studied German literature at university and the German definitely comes in handy when attending the international textile trade fairs in Frankfurt.
What is each family member's role?
G:
Michele and I are both company directors. Our son Scott is Strategy Manager and looks after all things sustainability and philanthropy too. He's a founding member of YGap, an international development organisation that supports social impact ventures in disadvantaged communities, so he's very passionate about giving and he organises that side of the business. We're looking into partnering with Good360 which helps companies donate products to people in need.
​​M:
Our daughter Claire is Marketing Director and she's been responsible for some of our inspirational content initiatives like our Lifestyle Journals, which feature our new range, information about fabrics, as well as things like recipes and helpful advice like how to fold a fitted sheet. Our younger daughter Ava, who is currently on maternity leave, is Retail Administrator. All three of our kids have worked in the warehouse since they were young so they know it inside out.
​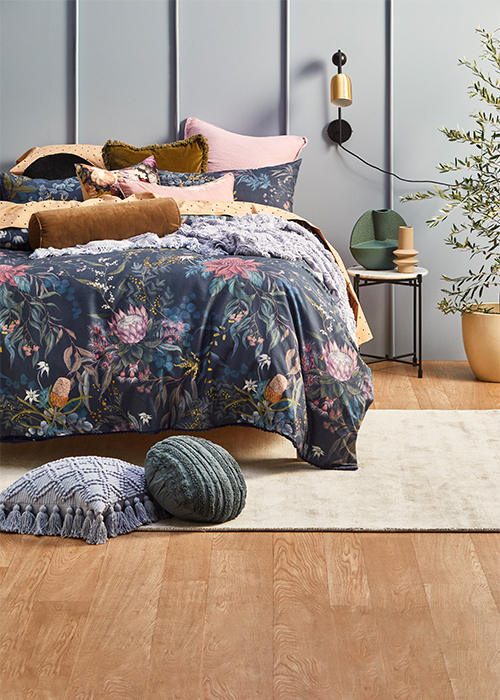 What goes into the planning of each range?
M:
The process starts with storyboards including colour palettes, words, themes, shapes and images. We have six designers who work in our studio, which is a beautiful light-filled environment that's really conducive to creativity. The storyboards get presented at merchandise meetings with the production management team and graphic designers, and we discuss and shape them further. From there, it's about building the strategy. Our production team communicates with the mills to discuss costs and delivery, and then we receive samples for our stylists to work with. It culminates in a presentation with the buyers, and that's when we see everything - bed linen and all the accessories - come together which is a very exciting time.
​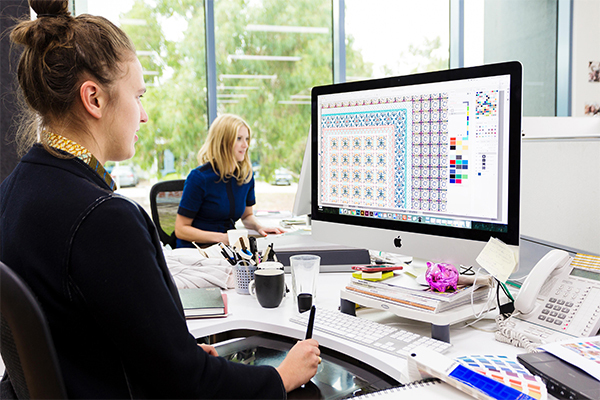 What inspires your designs?
M:
Fashion is a great influence and we often turn to the catwalk to inspire us. Nature is also very important and we organise field trips to go sketching. Some of our designers have an amazing botanical hand and that comes to life with our grandiose florals, which is one of our signature looks. We're also sometimes inspired by Netflix series and sometimes we reference images of shows in our storyboards.
Tell us about your collaborations.
G:
It's important that we collaborate with people who share the same values as us. At the beginning, we started collaborating with Australian artists like Cathie Maney, which was one of our most successful collaborations. We applied her colourful seaside-inspired designs to our bed linen, as well as a range of homewares such as towels, napkins and lamp shades, and it was hugely popular. We've since collaborated with other brands such as Esprit and Australian fashion label Camilla. They have their own followings and they cater to a more niche audience, but we all share the same values.
​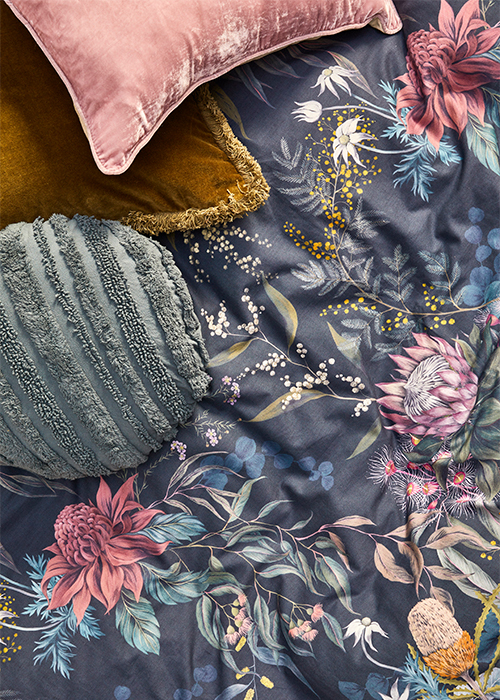 Tell us about your sponsorship program with RMIT.
M:
We've been running this program since 2005. With guidance from the lecturers and our studio, we give third year textiles students a different commercial brief every year with a focus on industry-based design. Our designers mentor the students during the process and after we review the final presentations, we choose a first, second and third prize which includes money, as well as a week's work experience at Linen House. It's a great chance for us to find talent and the program has been mutually beneficial and rewarding. Many of our designers and artists are, in fact, former RMIT students.
How have you expanded into different categories and what else is on the cards?
M:
Bed linen has always been our core product, but we started noticing that customers loved the way that we merchandised our bedding with accessories and wanted the whole deal, so we started going beyond bed sheets, into decor such as vases and wall hangings to complement the bedding. Now, we're doing coverlets and bedheads, and moving into accessories for the living room and dining room with cushions, loungewear, decor and table linen. We're also going to be doing a range of rattan furniture including chairs, wall dividers and lamp shades, as well as decor produced from recycled PET bottles.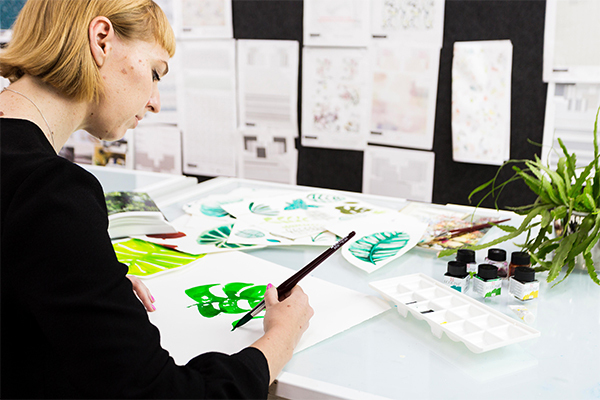 What are some of the highlights of the latest range?
M:
There are a lot of cosy fabrications and textures this season with both bedding and homewares. Some of our signature looks include cotton chenille and jacquard in new colourways. It's a nod to Midcentury design and has a vintage seventies feel. You'll still find florals but they're darker, moodier and more romantic.
What aspects of your business are inspired by Australia?
G:
We like to think our friendly and approachable business culture is not just Australian, but international. As for our products, I think we definitely express Australianism through our designs.
M:
Yes, and that's not just in the flora and fauna motifs, but also through our artists who are often based in regional parts of Australia and we're trying to talk about that more. Eventually, we'd also love to source things more locally.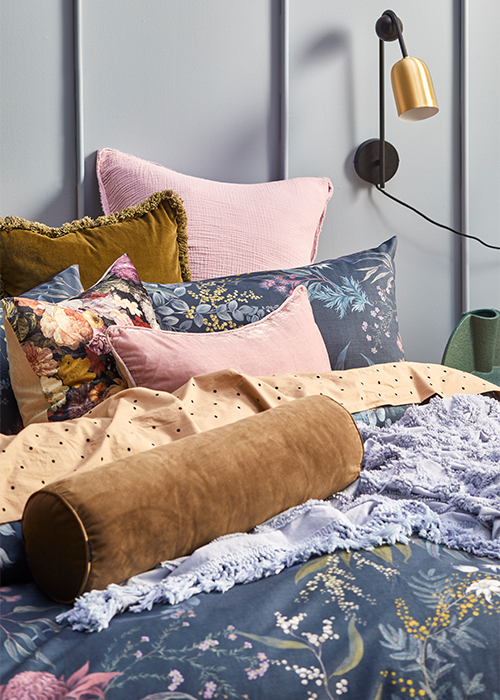 2
Shop our range of Linen House bedding and homewares.