It's more than just stuff. Customers share the stories behind the special objects in their homes. Here, Bridgette from Sydney talks about the pair of vintage wingback chairs in her family's living room that's unused during the week, but becomes the most sought-after spot at parties.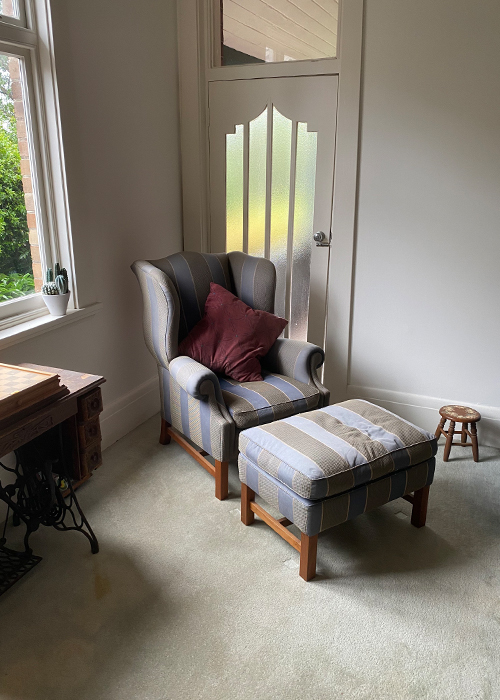 Where did the chairs come from?
We actually had them made when we lived back in Melbourne. An interior decorator came and my parents worked with him to furnish the formal front room, so these two wingback chairs with matching ottomans were designed along with a long navy velvet sofa, a big dining table and a matching sideboard. Dad had always wanted wingback armchairs and mum picked the fabric, then they were made at a factory in Essendon.
How long have you had them?
They've been in my life for as long as I can remember, getting packed and rearranged every time we moved house in my childhood. Mum is a bit hazy on the precise date, but our best guess would be that they were made 20 years ago.
Why are they so special?
We rarely use them, but I have so many memories attached to them. I remember vividly a Christmas about 18 years ago opening presents with my Grandpa on one of them, and other blurry memories of climbing over them or playing card games on them with friends. Funnily enough, these days they seem to get the most use when I'm having a party. There's always that time of the night when people disappear into different corners of the house; some in the backyard playing games, others in front of the TV, and for some reason, these chairs become the most coveted seats in the house. Maybe it's their comforting aura or the sense that what is spoken within those walls never leaves.
Want to create a formal living room of your own? Shop our range of
wingback armchairs
and
sofas
to bring a little old-world charm to your home.