Yes, yes, we know it's mostly an American event, and the American-Mexican population in Australia is pretty miniscule, but we can't resist an excuse for tacos, margaritas and mariachi music. And so, here we share some exciting Mexican food and drink ideas, plus decor inspiration to fire up a midweek fiesta.
Did you know?
In case you're interested, Cinco de Mayo is not the Indepence Day of Mexico. Instead, it commemorates a relatively small battle in Puebla in East-Central Mexico in 1862, when the Mexican army defeated the French in an attempted takeover. Today, the event is celebrated mainly in Puebla, but it has also become a huge celebration of Mexican culture in the US.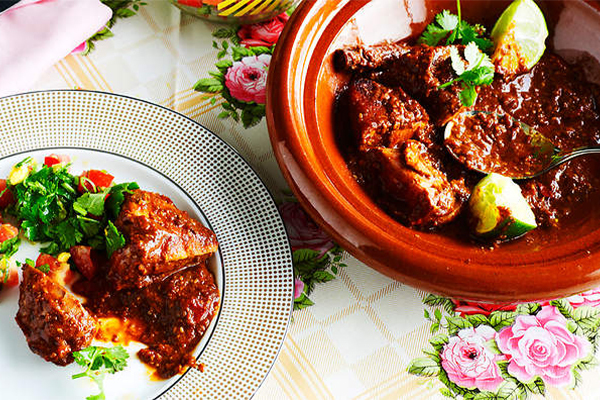 Image via SBS FoodMexican dishes
You can't celebrate Cinco de Mayo without mole poblano. Hailing from Puebla where the battle took place, this 'sauce' is a deeply complex dish which can require more than 30 ingredients and up to a day to prepare. (Don't worry, we're not giving you that version.)
There are many different types of mole which vary in colour, flavour and texture, but generally speaking, mole comprises dried chillies, spices, nuts and fruits. Poblano-style mole has a rich, bittersweet and dark reddish brown colour, as a result of the dried pasilla and ancho chillies, and - wait for it - Mexican chocolate that's used in the recipe. This
mole poblano
recipe calls for duck for a decadent dinner, but you could easily substitute chicken.
Bring the smoky street food of Mexico City to your table with
tacos al pastor
or 'shepherd-style' tacos, a dish that was interestingly introduced to Mexico by Lebanese immigrants in the early 1900s. Traditionally spit-roasted like Middle Eastern shawarma, tacos al pastor features charred, spicy, pineapple-marinated pork served in corn tortillas with a vibrant pineapple salsa. Serve on colourful
melamine dinnerware
for a fun family-friendly affair.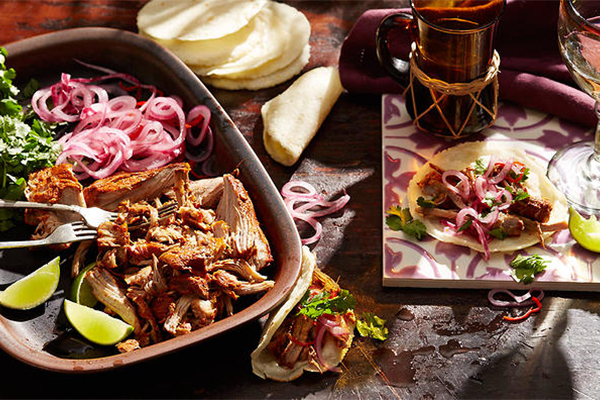 Image via SBS Food
If you prefer a pulled-pork style of dish, try this recipe for citrusy
achiote-roasted pork
tacos by OzHarvest executive chef and Mexican cuisine expert Travis Harvey. It may take a day to marinate, but it's a cinch to cook.
Fancy seafood for your fiesta? It doesn't get any easier or more delicious than
ceviche
. Just cure the fish in the lime juice mixture for 10 minutes and it's ready to serve with corn chips as a starter or dish to share.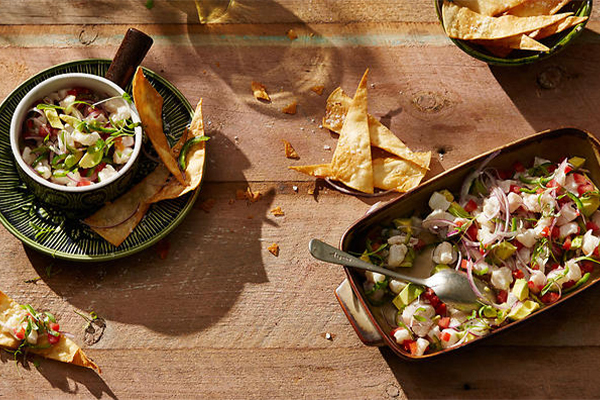 Image via SBS Food

Mexican drinks
Apart from the mandatory
margarita
, consider shaking up some other tequila cocktails for your Mexican shindig.
Paloma
,
tequila sunrise
or
Aperol-kombucha cocktail
, anyone? Shop our
cocktail tools
and
glassware
to do it like a pro.
Love a beer and bloody mary? Why not combine the two and try a refreshing and spicy
michelada
. It's almost a meal in itself.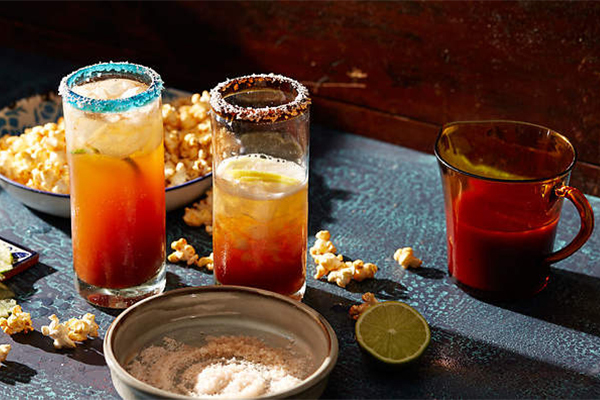 Image via SBS FoodMexican tunes
Don't know your mariachi from your macarena? We've taken out the guesswork for you. Check out these Cinco de Mayo playlists compiled by luxury Mexican resorts
One&Only Palmilla
and
Four Seasons Resort Los Cabos at Costa Palmas
.
Mexicana look
Transplant the colours of Mexico with these Mexico-inspired decor ideas! String up a
resort style hammock
in your outdoor area to take you to the white-sand beaches of Los Cabos. Throw on some bright
embroidered cushions
featuring animal motifs inspired by ancient Mexican textile design and, of course, don't forget some wall art and decor featuring iconic Mexican artist Frida Kahlo. How fun are these
Frida lamp shades
and
Frida wall art
!