It's a style that's become synonymous with the hit TV show
Mad Men
and iconic films like
The Graduate
and
Breakfast at Tiffany's
, but there's more to mid-century modern than these interpretations of 1960s America. While associated with the US, mid-century modern actually originated in Europe by Bauhaus architects and designers who championed the idea of design being simpler and more attainable for everyday people. As many of these Bauhaus scholars immigrated to America post World War 2, they brought with them their ideas and design principles, and so the movement flourished.
"[Mid-century modern] design should not only be beautifully constructed, functional, and efficient, but attainable."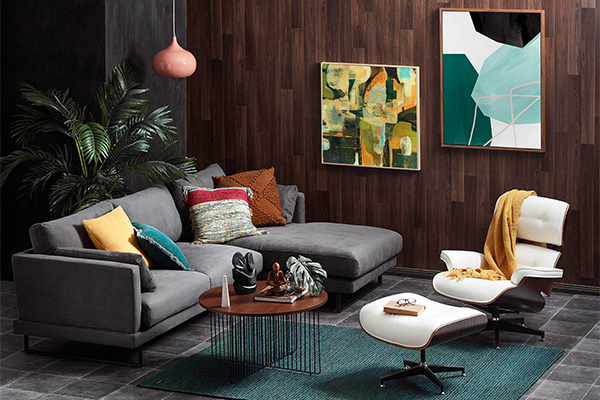 The actual term 'mid-century modern' is credited to writer and art historian Cara Greenberg, who wrote about this distinct style in her influential 1984 book,
Mid-Century Modern: Furniture of the 1950s
. Encompassing not just furniture, but also architecture, art and graphic design, mid-century modern is characterised by simple forms, functionality and minimal ornamentation. As the postwar economy boomed, smaller-scale homes and apartments were built and there was a sudden surge in home ownership. Furniture needed to be practical, multipurpose, more compact and reflect a casual way of living. Even home accessories such as clocks and lamps, and everyday gadgets such as toasters took on simpler designs.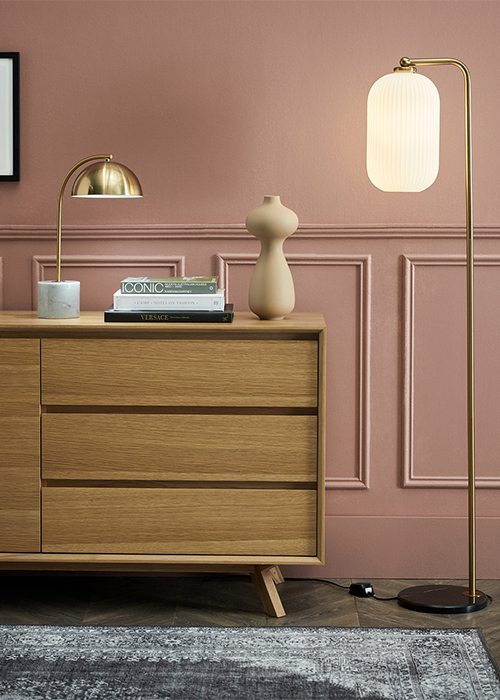 Technological advances also led to furnishings in new materials and forms. Designers began experimenting with manipulating materials such as plywood, fibreglass, aluminium, steel and plastic to make them more rounded. They also contrasted new materials such as metal and plastic with more traditional ones such as wood to create exciting juxtapositions. Often, a piece of furniture would only combine two materials or two colours to play on this duality.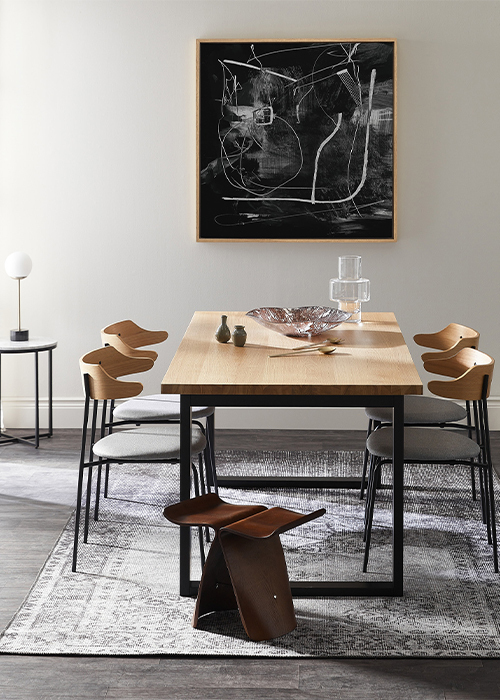 American industrial designer George Nelson claims there were three mid-century style categories: the bio-morphic, the machine, and the handcrafted. Bio-morphic style refers to the organic, curved shapes inspired by the natural world. Machine alludes to the more stark, futuristic-looking geometric shapes that reflected the growing American interest in science fiction and space travel, while handcrafted, despite its name, was still machine-made, but was designed to look sculptural with shaped wood.
Mid-Century modern had a revival in the mid-1980s and again in the 90s with publications, exhibitions, films and adverts celebrating the style and era, and it still remains popular today. It's not surprising given these designs were conceived for smaller post-war homes, so they naturally work well for urban living today.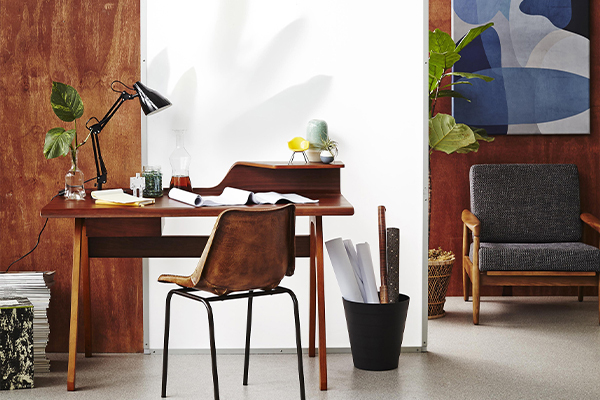 "It seems to appeal anew to each rising generation of young people. Mid-century design hasn't been bested by any other movement since, so it remains the style of our own time, not of some antique past. And it still looks cool!"
Cara Greenberg,
Mid-Century Modern: Furniture of the 1950s
How to create a mid-century modern space

Pick key mid-century furniture pieces
You don't have to go full-blown mid-century modern to give your home a retro edge. In fact, mid-century modern works well with other styles so it's easy to mix and match. Consider investing in a few key pieces such as wooden
sideboards
with peg legs and hardware, or
dining chairs
with rounded backs. Love classic mid-century furniture? Find affordable replicas of mid-century designs such as this
Eames Replica Leather Lounge Chair & Ottoman
. You can find more mid-century furniture by filtering 'Mid Century' in the 'Style' filters when shopping.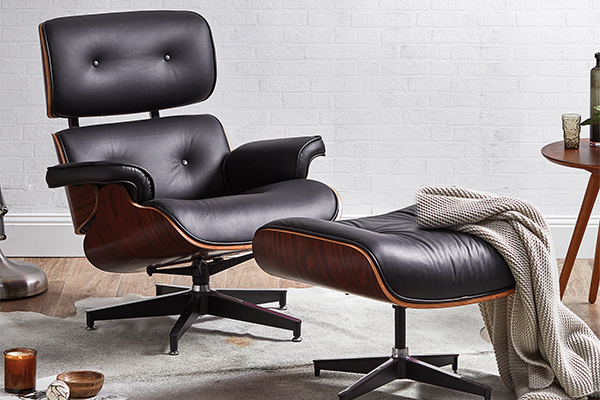 ​
Choose your mid-century colour palette
Given the duration of the mid-century movement, the colour palette is broad. For the mid-century modern look of the 1950s, go bright with pastel pinks and blues, creams and beiges, while for the mid-century look of the 1960s, go for earthier shades such as olive green and dark red á la
Mad Men
.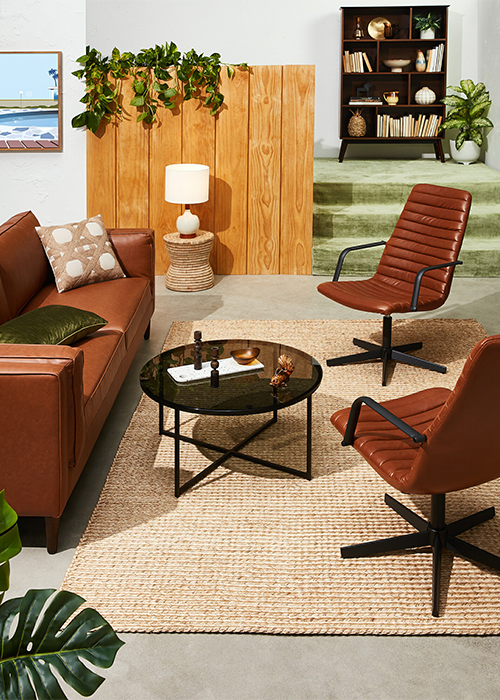 Accessorise with sculptural decor
Once you have your key pieces in place, add bold futuristic glass and metal
pendant lights
and large rounded arc
floor lamps
to add contrast in height and make your space look more dynamic. Don't forget
floor cushions
and
patterned rugs
for warmth, organically shaped ceramic
ornaments
and large
plants
for texture, and throw in a
bar cart
lined with old-fashioned
whiskey glasses
to evoke that vintage charm.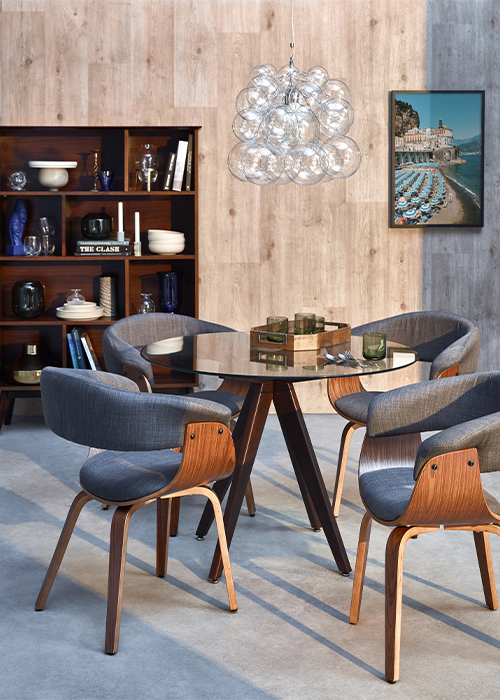 For more mid-century inspiration, check out our Mid Century Room Ideas.