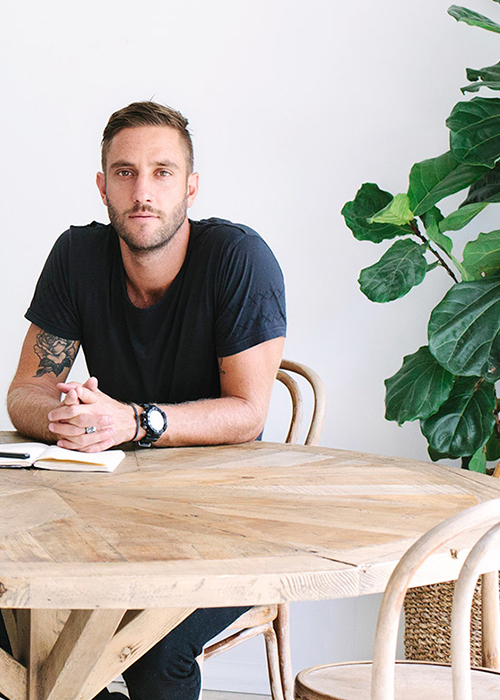 This month at T&W, we're all about finding new ways to love your home. Here The Block winner, Inside Out contributor and interiors expert Shannon Vos shares what he loves about his place, and some easy tips to make you fall in love with any room.
What do you love most about your current home?
Location, location, location. We are in Cronulla, three minutes walk to the water and five to town. Life in Australia should be lived outdoors, and our place encourages this to the utmost.
Favourite piece of furniture you own?
A chair inherited from my Opa (grandfather) , which was bought in Amsterdam in the late 1960s. It's a suspended cocoon chair, made from stained cane and is in perfect condition. The design has been replicated by many big furniture outlets, but they don't come close. I remember sitting in Opa's lap in the chair as a kid, and I'm sure it will last a few more lifetimes to come.
Your tip for the easiest way to show a room some love?
Quality over quantity. Quality finishes and pieces will last, they will command a room.
Current
trend
you're
loving?
Natural finishes in light tones – timber, stone, marble, concrete and even some metallics can bring real warmth to a home. I love a sexy light oak engineered floor with a light
cowhide
and a bit of polished concrete. The raw and natural elements all complement each other.
Biggest style turn-off?
Hoarding. If you don't use it, throw it away (or, confession time, keep it in a box in the garage). There are thousands of beautiful pieces of furniture and decor on the market, but that doesn't mean that they will all look good in your home. Restraint is key, so pick two or three that you just love and let those be the heroes.
Fall for your home all over again with our Summer of Love ideas.