The former hippie hotspot of Byron Bay in northern NSW is now home to a booming creative scene that's drawing design-lovers from across the country. Here T&W senior stylist Jono Fleming shares his must-visit list from a recent road trip.
There's something exciting happening in Byron Bay. The popular holiday spot, once known for its hippie culture and chilled vibes is having a renaissance thanks to a growing community of makers, artists and creatives. They're celebrating all things local with new stores, studios and experiences that are uniquely Byron. I drove up the coast recently to see what all the fuss was about, and I was not disappointed. Here are a few of my favourites.
WHERE TO STAY
Cactus Rose Villa
There's a whole sea of accommodation options in Byron, but Airbnb is the place to find a host of beautiful house stays and beautifully designed pads like one we stayed in – the Cactus Rose Villa. Located above the famous Spell & the Gypsy Collective retail store, this one bedroom apartment is a 10-minute walk into town. Impeccably styled, with white painted floorboards and a beautiful netted bed, the main draw card for this place is the pool. The sparkling blue private pool surrounded by cactus-studded gardens certainly makes it hard to leave. If you are tempted to explore, hop on a vintage bike provided by the villa and make your way into town– this is the ultimate holiday retreat.
15 Browning Street, Byron Bay (located above Spell & the Gypsy Collective)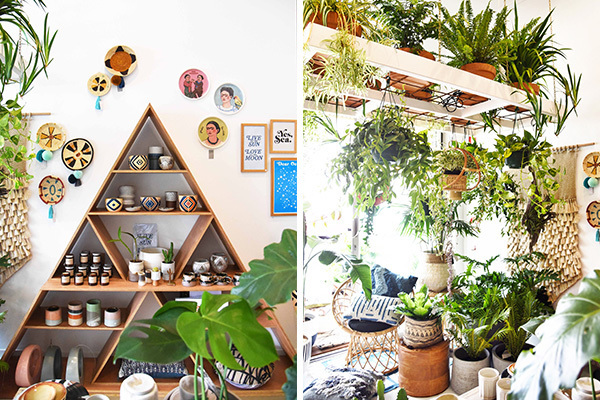 WHERE TO SHOP
Nikau
This lush, green oasis (above) is located in the centre of Byron Bay and offers exactly what the sign says, botanicals and clay. I was so in love with the store I ended up there both days of my trip, eyeing off the beautiful ceramics and plants. Sourcing from local makers as well as some featured international brands, the variety and curation of products is stunning, making it very difficult to decide what to purchase! Co-owner Nicole Steele, also a ceramicist, was generous with her time and chatted to me about the Byron scene as well as the best spots to visit in the area. Be warned, you won't leave empty handed!
2/30 Fletcher St, Byron Bay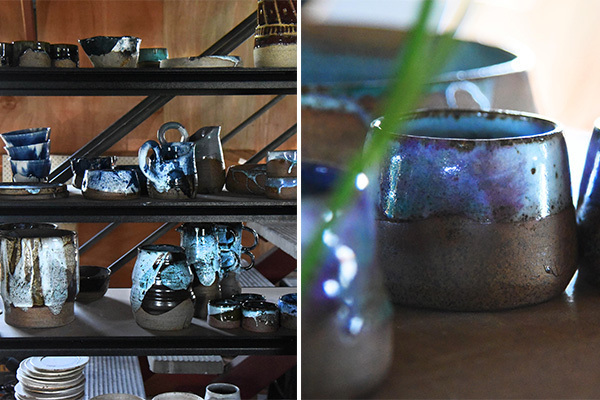 Sit Still Lauren
In search of local artisans, I ended up at the studio of Lauren from Sit Still Lauren ceramics. Based in Lismore, Lauren welcomed me into her studio where she throws and fires all her work. Raw, organic but with a dazzling, bright colour palette, I saw her pieces featured all the way up the east coast of NSW in different stores as I made my way to Byron. Find her distinctive bowls, cups, mugs and more on her Instagram and website, or just look out for them in town – beautiful, eye catching and unique.
Instagram @sit_still_lauren_cermamics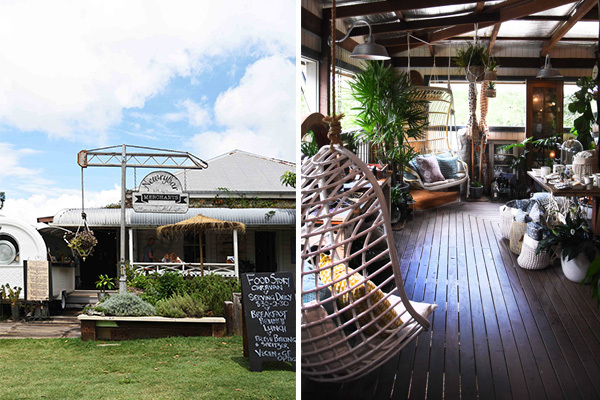 Newrybar Merchants
Located just 20 minutes from Byron Bay is Newrybar. This quiet country town located in the hinterland is a gem among the hills. The Newrybar Merchants is a collective that is set in a beautiful 1890's house. Each space is dedicated to a different seller, styled to compliment their unique products. Sydney design staples such as Sibella Court and Mr Jason Grant can be found there alongside many other local brands and makers. This incredible space is a visual feast as you move from room to room, there is something for everyone here. If you're wanting a feed or a coffee, directly across the road is the award winning Harvest Café and Deli.
19 Old Pacific Highway, Newrybar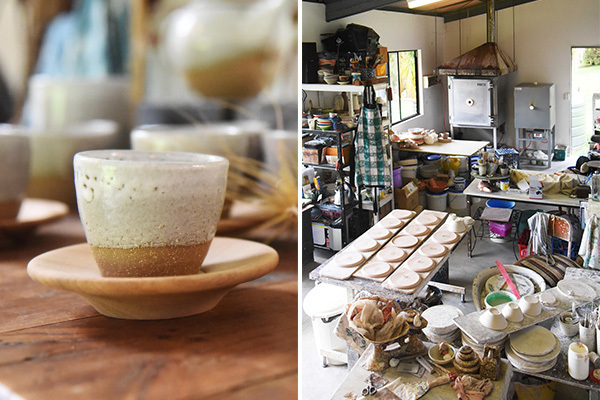 Red Door Studio
Just 10 minutes from Newrybar is Fernleigh, home to the Red Door Studio. Owner and potter Brooke Clunie displays her plates, bowls and cups in a variety of styles in this gallery space. From raw, organic neutrals to vibrant, hand painted glazes, Brooke's love for ceramics is shown in each piece. Below the gallery is her studio space, on display for visitors to see. There is a strong culture of collaboration running through the Byron community – Brooke works with local chefs to create the perfect pieces for their restaurants, showcasing both the food and ceramics through beautiful design.
444 Fernleigh Road, Fernleigh
WHERE TO EAT/DRINK
Byron Bay has equally attracted some renowned chefs and the restaurants that are varied and beautiful, in both food and fit out. Pop down to the Mez Club for happy hour and enjoy a mojito or two, or stop in at Harvest for a more sophisticated feast.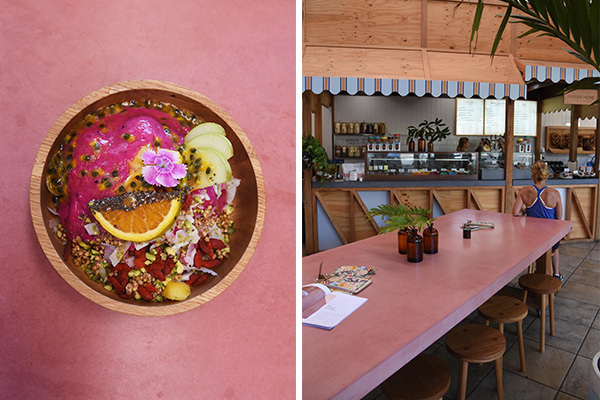 Combi
Super-cool Combi embodies all things Byron Bay (with a team from Melbourne). Meal options include raw, vegan and gluten free – but don't be put off by the buzzwords; the food is the perfect start to your day. Colourful smoothie bowls filled with fresh fruit and flowers will make it hard to resist a cheeky food snap, and it tastes damn good too! T his cafe, with its long, pink concrete communal table seems made for Instagram.
5b/21-25 Fletcher St, Byron Bay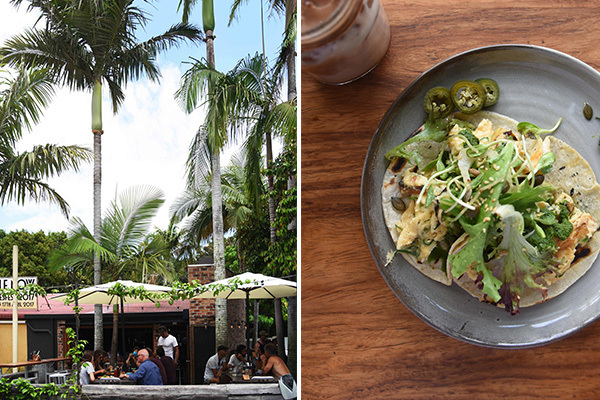 The Roadhouse

As you approach town, stop at this café for a feed. This small, bustling corner eatery is located just 5 minutes from the centre of Byron Bay. Nestled between towering palm trees, this is quintessential Byron, oozing coolness with its chill tunes and relaxed vibes. With an innovative menu and fantastic coffee, this is a stop not to be missed. The breakfast tacos were a personal favourite!
6/142 Bangalow Rd, Byron Bay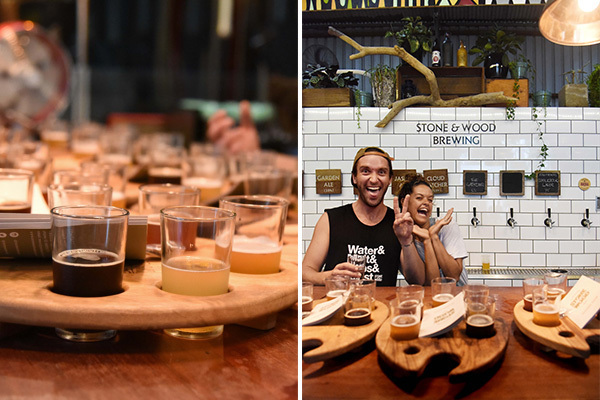 Stone & Wood Brewery
For something a little off the beaten track, book a tour of the Stone & Wood Brewery. Just 10 minutes out of Byron, the brewery is the original heart of the company, with a larger operation now running out of Murwillumbah. The Byron warehouse offers Stone & Woods' signature beers on tap as well as seasonal and limited runs. Our tour, hosted by the incredible Cale and Birralee, showcased the company ethos as well as the production of their beer. A tasting paddle post-tour was the perfect way to end the day!
4 Boronia Pl, Byron Bay