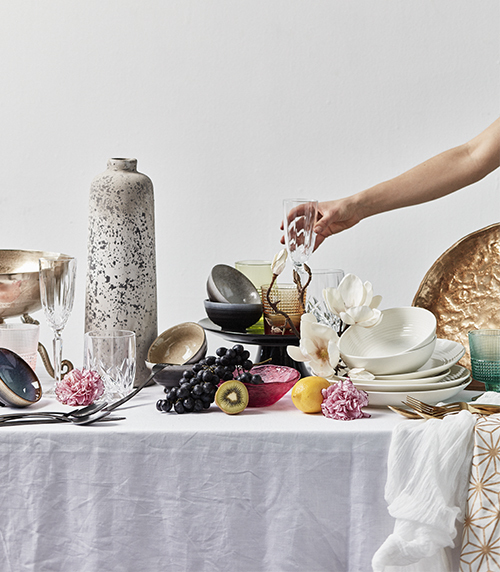 We challenged the T&W style team to start with the same classic tableware setting, then unleash their creativity to build a scene with some serious wow factor. Here's how they did it, and you can too when you shop the full collection here.
ELEGANT PATINA
Sarah Cousens, Stylist

I wanted to create an elegant and decadent setting with layers of rich texture and moody hues. I'm normally pared back when it comes to styling, but this time I thought I'd go full bore and create a scene with more drama and emotion.
In the scene…One thing you'll always find on my table…
my serving bowl from The Forty Nine. Its organic shape and subtle colour adds interest as well as acting as a multipurpose bowl.
How I impress when entertaining…
Music is always the perfect way to set the mood. We have a beautiful Dieter Rams record player from the 1960s (Braun SK55). It's been kept in great condition and the sound is incredible – Fleetwood Mac is my record of choice, usually on repeat.
Dream dinner party guests…
Tim Ferriss, Andy Samberg, Morgan Freeman, Robert de Niro and Meryl Streep.
FLORAL DECADENCE
Jessica Bellef, Head Of Styling

My look is a flower bomb of decadence with highlights of gold and ornate glass. It's a little like a Dutch Masters' painting on an acid trip. The first hint of jasmine a few weeks back put me into a spring spin, and now I can't wait for the warmer months to arrive so I can retire winter neutrals. What better way to represent that than with a table setting celebrating the beauty of flowers and fruit?
In the scene…


Plates are Maze by Gordon Ramsay for Royal Doulton


Casa Uno Marrakesh Cake Stand serves as a platform for the flowers, elevating the blooms above the table


Noritake Speedy Goblets for their shape and colour


Casa Uno Etna bowls to add contrast


Casa Uno Pitcher Vase creates height and holds the tall tulips


A black tablecloth anchors the riot of colour


Casa Regalo Pure Cutlery in gold adds to the sense of occasion


Faux flowers to bulk up the real tulips, carnations and orchids


Fruit as the ultimate edible decoration


One thing you'll always find on my table…
If I'm honest the table is usually covered in mail, receipts and general day-to-day mess. That all gets swept into a cupboard when guests are due and is replaced with a vase of flowers and a platter of delicious cheeses. Flowers and foliage instantly make a space feel polished and everybody loves cheese, so that's a no-brainer.
How I impress when entertaining…
Having a tidy house (see above point about sweeping mess into a cupboard).
Dream dinner party guests…
Steve Martin, Liz Lemon (Tina Fey's character in
30 Rock
), Bret Easton Ellis, Seth Rogen (just to hear him laugh) and curator Aaron Rose.
PALM SPRINGS GLAMOUR
Jonathan Fleming, Senior Stylist

I wanted to try something a little out of my comfort zone. Rather than follow my usual route of rustic cabin charm, I decided to go the complete opposite and satiate my appetite for Mid-Century, Mad Men-era brightness. The key elements here are bright, loud and just a bit quirky, like the classic images of Palm Springs in that era.
In the scene…


Maze by Gordon Ramsay for Royal Doulton tableware


A marble tabletop as a clean, classic and neutral base.


Noritake coloured glassware – key to the Palm Springs look, with the fuchsia pink accent bowl and amber IVY drinking glasses.


The Casa Uno Mint Green Tiki Vase echoes the form of Mid-Century sculpture.


The Casa Uno brass bowl with an Octopus base is a little crazy, but somehow sits perfectly with the look.


A Cafe Lighting Urn and Casa Regalo Pure Cutlery add prints and gold for a bit of glam, and my homemade napery brings back that pop of fuchsia.


Finally, what table would be complete without a little booze – a dirty gin martini finishes this look?


One thing you'll always find on my table…
Australian native flowers. I love their soft tones, and they look just as great when they are dried – good news as I'm lazy about throwing them out.
How I impress when entertaining…
My secret is to cook something really simple that looks an absolute treat. You never want to spend hours slaving away in the kitchen when guests are around, so find yourself a couple of tried-and-tested dishes then tweak them to make them your own.
Dream dinner party guests…
Tina Fey, Amy Poehler (what a dream team), J.K. Rowling, Bruce Springsteen, Jamie Oliver and comedian Josh Thomas.