This weekend at T&W we're all about entertaining at home with the perfect Sunday brunch, so we couldn't resist this recipe from innovative chef Matt Stone's new book, The Natural Cook.
Matt Stone is a chef with a passion for zero-waste cooking, developed when he kicked off Perth's Greenhouse restaurant with sustainability guru
Joost Bakker
at the age of just 22. These days, he's cooking to great acclaim at
Oakridge
winery in Victoria's Yarra Valley, where he has access to a great produce garden and goes back to basics in the kitchen. In his first cookbook,
The Natural Cook
(Murdoch Books, RRP $39.99), Matt covers techniques for everything from making homemade butter and sour cream to fermenting and pickling vegetables and cooking nutritious bone broths. Here he shares his tips to achieve maximum taste with zero waste, and a savoury pancake recipe to try for your next
weekend brunch
.
How do you practice zero waste cooking in your restaurant and at home?
It's simple really: avoid buying processed, packaged foods as much as possible. The more food you buy in its natural state, the better for you and the environment.
What are the top tips you'd give home cooks to avoid waste?
Invest in some quality storage containers. They'll keep elftovers fresh for much longer and you won't need to use plastic wrap. And be inventive with 'waste', for example turn the bones from roast chicken into a stock for a soup or risotto the next night.
What are the rewards of cooking from scratch?
It's a great way to know where you food comes from, eliminate waste and most importantly your food will taste better. People seem to care more these days, we're questioning everything and making better choices.
You use a lot of native ingredients in the book – any tips for using them in everyday cooking?
I've noticed that lemon myrtle and wattleseed are now available in many supermarkets. They're both great additions to cakes, muesli and in fragrant spice mixes for seafood and poultry.
You've (relatively recently) moved to Victoria's Yarra Valley, how has that changed the way you cook?
We have a huge vegetable garden at the restaurant. It's really amazing how many more ingredients you can take from a plant when you grow it yourself – like the seeds, flowers and stalks – that you just can't order from a supplier.
Your ultimate brunch?
I love a spread of cheese, cured meats, breads, pickles and nice bubbles.
How do you like to entertain at home?
When I'm entertaining, I get the wood-fired barbecue going, which is great for both meat and vegetables. I'll always serve everything share-style in the middle of the table, and have plenty of natural wines on hand.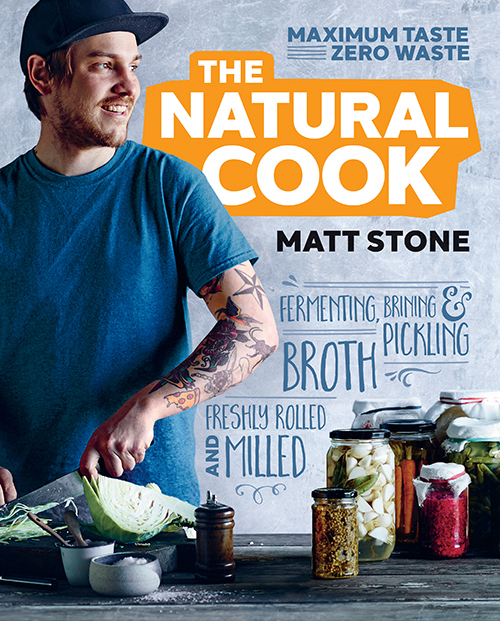 SPINACH PANCAKES WITH SOUR CREAM AND HOT SAUCEServes 2
This is a really quick recipe for breakfast, lunch or dinner. The spinach can be replaced with any leafy green and if you don't have any fresh herbs you can just use a few more greens.
200g English spinach
120g self-raising flour
1 tsp baking powder
2 eggs, separated
150ml milk
60g unsalted butter, melted
½ tsp ground cumin
½ tsp ground coriander
1 very large handful flat-leaf parsley, finely chopped
1 very large handful coriander, finely chopped
4 spring onions, finely chopped
Olive oil, for frying and dressing
Mixed salad leaves, to serve
Sour cream and Sriracha chilli sauce or homemade hot sauce (see recipe below), to serve
Place a saucepan over medium heat. Add a splash of water and the spinach. Cook until just wilted and drain in a sieve. Once cool, squeeze as much water out of the spinach as possible and give it a rough chop.
To make the pancake batter, sift the flour and baking powder into a mixing bowl.
Add the egg yolks, the milk, butter, spices and a large pinch of salt. Mix until smooth. Add the spinach, herbs and spring onion and mix well. Whisk the egg whites until soft peaks form and carefully fold them in to the mixture.
Place a heavy-based frying pan over medium heat and add a splash of olive oil. Spoon in about 2 tablespoons of the batter and press down to a round pancake about 1 cm thick. Add as many as you can fit in the pan while still leaving some space between them. Cook for about 2 minutes until small bubbles start popping up, give them a flip and cook for another 2 minutes.
Once cooked, remove the pancakes from the pan, place on paper towel and cover with a tea towel to keep warm. Add a little more oil to the pan and continue cooking the pancakes until all the batter is used.
Dress the salad leaves with a little olive oil and season with salt. Serve the pancakes with dollops of sour cream and Sriracha or hot sauce on top and the fresh green salad on the side.
HOT SAUCE
Makes about 350ml

My version of Sriracha chilli sauce only has a few ingredients, but the depth of flavour comes from the fermenting of the chilli. Use it as you would Sriracha – that is on a lot of things and particularly leftover pork-belly sandwiches. The fermented chilli paste is a handy staple to keep in the fridge too, it's great with stir-fries or noodles or served on the side with barbecued chicken.
1 cup (250ml) Fermented Chilli Paste
1 large garlic clove
2 tbs honey
½ cup (125ml) vegetable oil
Fermented chilli paste (Makes about 1½ cups)

500g large red chillies
1½ tbs salt

½ tsp raw sugar
For the fermented chilli paste, wash the chillies and slice the stems off. Give them a rough chop and mix with the salt and sugar in a bowl. Leave them to cure for about 1 hour and then blend into a fine purée. Transfer the mixture to a sterilised 1-litre jar. It will only fill the jar a third of the way, but it needs plenty of room to breathe. Cover with muslin (cheesecloth) or a clean kitchen cloth held in place by a rubber band or string, and leave on a shelf out of direct sunlight for 4 days. The juice will separate from the purée, so give it a mix each day. Once ready, transfer to a smaller airtight jar and refrigerate. It will keep for at least a month.
For the hot sauce, place the 1 cup of chilli paste, garlic and honey in a jug-style blender. Start the blender and gradually increase the speed. Slowly pour in the oil, season to taste with salt and you're good. This sauce will keep for weeks in the fridge. If it sits dormant for a while, the ingredients might start to separate a bit – just give it a good shake and it will come back to life.