The slumber party is a childhood ritual every kid loves. This week we've gathered the essentials you need to guarantee sleepover success, from children's bedding and furniture to party tips and Jonathan Fleming's gorgeous rainbow smoothie recipe.
How to host a stress-free slumber party


Ask everyone to bring their own sleeping bag and pillow, then you can make the sleepover space cosy and party-ready with teepees, throws, extra cushions and bunting.


Make sure you have parent contact details for each child staying, and leave a few nightlights around for midnight trips to the bathroom.


If you want to get some decent sleep yourself, or for younger kids, why not try a 'pyjama party' without the sleepover?


For a creative activity and take-home gift combined, give guests plain white pillowcases, then let everyone decorate their own using fabric pens and paints.


Keep the menu simple with popcorn, pizza and a movie for an afternoon/evening party, or put on a fun breakfast-themed spread of individual cereal boxes, mini frittatas, fruit and Jono's cute-as rainbow smoothies.


Shop everything you need for a slumber party here.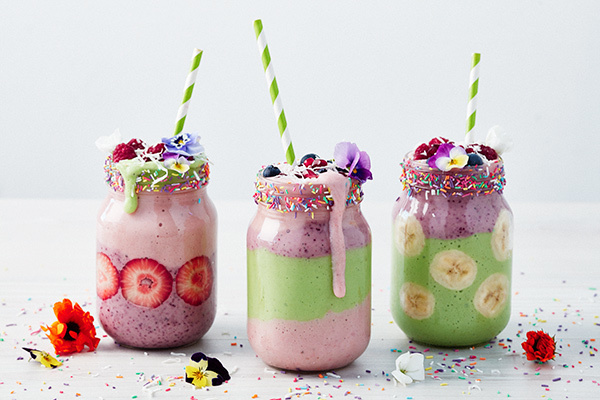 RAINBOW SMOOTHIE JARS
Makes about 1.5L (serves 3-6)

These layered rainbow smoothies are a healthy alternative to the over-the-top freakshake trend that seems to be taking over cafes at the moment. The secret to these is the thickness of the smoothie, the thicker it is, the easier it is to keep the layers separate. For a party, you can pour the smoothies into glasses in advance and keep them in the fridge, then decorate when you're ready to serve. You could even set up a little station and let the kids go wild with their toppings. Don't be put off by the spinach in the green smoothie, it has zero taste and when it's layered with the others, it adds to the rainbow magic! These look great in mason jars, but any tall glass is fine.
Decorations

½ cup rainbow sprinkles
2 strawberries or ½ banana, thinly sliced
Shredded coconut
Pomegranante seeds
Mixed berries
Edible flowers (available from specialty green grocers)
Purple smoothie

1 cup frozen blueberries

2 bananas
1 heaped tbs Greek-style yoghurt
½ cup (125ml) unsweetened almond milk (or coconut or regular milk)
Green smoothie

1 cup chopped fresh pineapple
¼ cup baby spinach leaves
2 bananas
1 heaped tbs Greek-style yoghurt

½ cup (125ml) unsweetened almond milk (or coconut or regular milk)
Pink smoothie

1 cup strawberries, hulled
¼ cup fresh or frozen raspberries
2 bananas
1 heaped tbs Greek-style yoghurt
½ cup (125ml) unsweetened almond milk (or coconut or regular milk)
Pour the sprinkles into a shallow bowl and rub a cut strawberry around the rim of 3 large drinking jars or glasses (or 4-6 smaller ones). Press the rim of each glass into the sprinkles. Using a teaspoon, carefully press a few strawberry or banana slices onto the sides of each jar or glass.
Using a blender or stick blender, whiz up the purple smoothie ingredients, then carefully pour into the glasses to fill one-third full. Clean the blender and repeat with remaining smoothie colours, pouring in each one slowly and carefully to keep each layer separate. You can refrigerate the smoothies for 2-3 hours at this stage if needed.
Decorate each smoothie with your choice of extras – I've used shredded coconut, pomegranate, some extra berries and a few edible flowers.