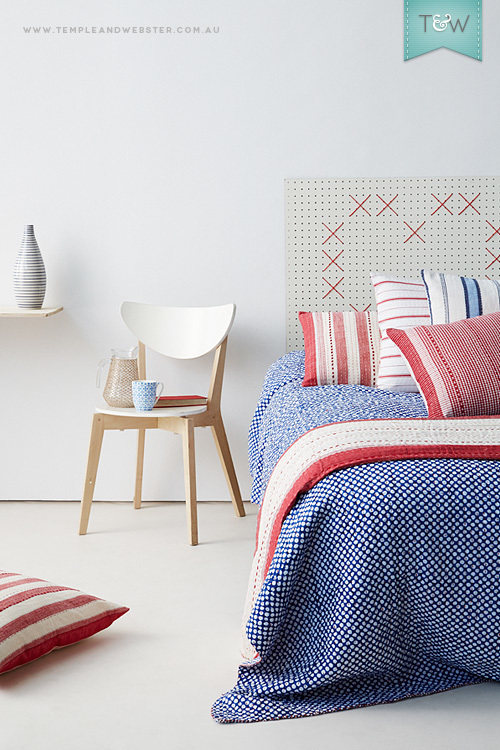 Beautiful bed linen is one of life's little luxuries, but it's easy to get confused about thread count, fabric and some of the tricky terminology. Maria Schindlecker contributed to our handy guide to help you navigate your way to a good night's sleep. Shop bed linen for every style and budget here.
MATERIAL CONCERNS
The fabric you choose will depend upon your personal preference and your budget. Here are a few of our favourites:
Cotton
An extremely popular choice, cotton is breathable, soft, durable and easy to maintain. Grown around the world, most cotton is short-staple cotton – the staple refers to the downy fiber when it's picked from the plant. The feel of cotton sheets depends on the quality of the cotton and the method of manufacture. Organic cotton refers to cotton grown and harvested without the use of pesticides.
Egyptian cotton
Grown in the Nile River valley, Egyptian cotton is renowned as the height of cotton luxury. Its long and extra-long staple results in a particularly soft, strong and supple weave and also means it produces less lint and is less likely to pill.
Pima Cotton
Similar to Egyptian cotton, Pima cotton is an extra-long staple cotton grown in the US, Australia and Peru. It is equally soft, strong and durable and has a luxuriously soft and smooth feel. Products that carry the "Supima" name are made from 100% American Pima.
Cotton blend
This refers to a blend of cotton and either polyester (also known as poly-cotton) or rayon. Cotton blend sheets are affordable and easy-care (they dry quickly, and don't wrinkle) but may also be less breathable than natural fibres such as cotton and more inclined to pill.
Linen
Linen is a completely different fabric to cotton. Also a natural fibre, it is derived from the flax plant and has been in use for thousands of years. Linen is favoured for its unique thermal properties – it will keep you cool in summer and warm in winter – and is also naturally hypo-allergenic. Linen represents "that effortless luxury that we all aspire to have", according to Paul Gould, Group General Manager, Sheridan. The texture of linen will soften over time, too. "The more you wash linen sheets the better they feel", Gould says. Wash in warm to hot water and add a tablespoon of vinegar occasionally to maintain a soft feel. If you're a stickler for crease-free linen you'll need to iron your linen or have it laundered, or you can embrace the casual, relaxed feel of gently creased linen.
Bamboo
Bamboo sheets are renowned for their soft, silky feel and eco-credentials. They are made from bamboo grass which is a sustainable crop and often grown without the use of pesticides and herbicides. Lightweight and gentle on the skin, bamboo is also durable and resilient. A cold gentle machine wash is recommended to maintain the fabric's resilience and to avoid pilling.
Silk
Silk is a natural product that has has been used in textiles dating as far back as 600 BC. Made with the fibres produced by silk caterpillars, it is luxurious as well as breathable and a good thermal regulator. It tends to be at the higher end of the scale cost-wise.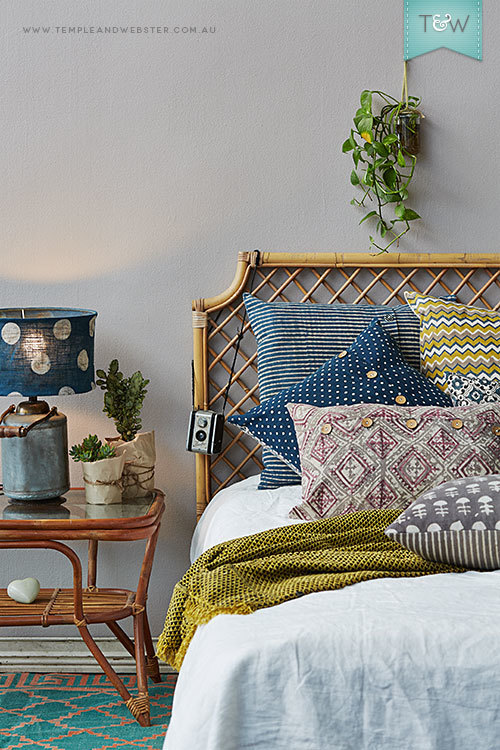 THE THREAD COUNT MYTH
Thread count simply refers to the number of threads within a certain portion of fabric – sometimes a square inch, and sometimes 10 square centimetres. It has traditionally been used as an indicator of quality but experts agree that it's no longer a reliable measure. More important is the quality of the fabric used.
Paul Gould, Group General Manager, Sheridan explains: "Quality depends on the quality of the cotton yarn used in the sheets. Sheets made of beautiful long-staple cotton fibre with a 300 thread count will feel much smoother and softer than 1200 thread count sheets made with coarser, short-staple cotton."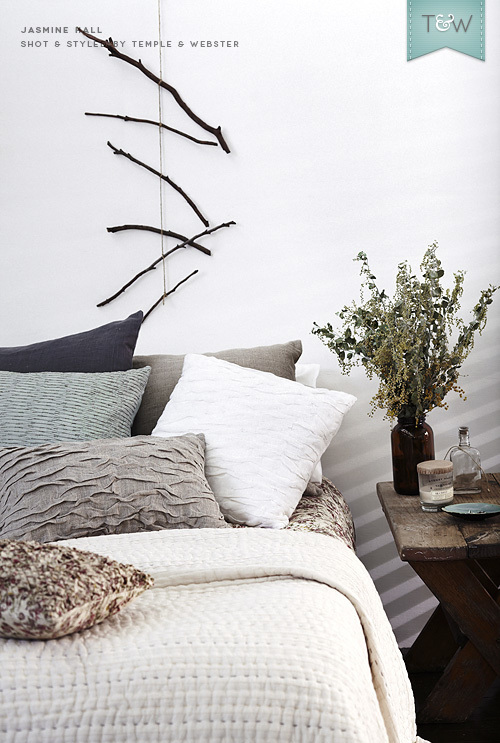 SIZE MATTERS
Sizing tends to vary a little between manufacturers, but here are the standard measurements to get you started.
If in doubt, measure your mattress and don't forget to check the height (or 'wall') measurement to ensure your fitted sheet will actually fit.
Sheet sizes
| | | |
| --- | --- | --- |
| | Fitted sheet | Flat sheet |
| Single | 91 x 193 x 40cm | 180 x 260cm |
| King single | 107 x 203 x 40cm | 180 x 274cm |
| Double | 137 x 193 x 40cm | 230 x 260cm |
| Queen | 152 x 203 x 40cm | 245 x 260cm |
| King | 180 x 203 x 40cm | 260 x 275cm |
Quilt cover sizes
​
GLOSSARY
Confused by the terminology? Here's your need-to-know guide:
Coverlet:
A coverlet is a lightweight
bedspread
which may be woven or quilted. It does not need to be put inside a quilt cover and is largely decorative.
European pillowcase:
A European pillowcase is larger and square, measuring 65 x 65cm
Jacquard:
Jacquard fabric is woven on a special loom which results in a multi-dimensional pattern – the design is woven in to the fabric and sometimes include a contrast between sateen and matte threads for decorative effect.
King pillow/pillowcase:
A king pillow measures around 48 x 87cm, around 12cm wider than a standard pillow. Two king pillows should sit on a king sized bed with no gap between them.
Percale:
Percale refers to the way bed linen is made. Percale fabric is made by weaving one thread over and one thread under. which results in a breathable weave. Different finishes can be applied to percale fabric so it may feel either crisp or soft. Generally percale fabric has a thread count of at least 180-200.
Sateen:
Sateen refers to the way bed linen is made. Sateen fabric is made by weaving four threads over and one thread under which makes it more tightly woven than percale. With lots of yarns on the surface of the fabric, it feels smooth and silky and is often slightly heavier and more lustrous than percale. Think 5 star hotel.
Standard pillowcase:
A standard pillowcase measures 50 x 75cm and fits snugly around a standard pillow.
Super king:
Not yet standard in Australia, super king beds measure around 204 x 204cm, making them about 20cm wider than a standard king size.
Tailored/Oxford pillowcase:
A tailored or Oxford pillowcase features an extra fabric border or flange which extends beyond the size of the standard pillow.
Quilt covers:
A quilt cover (also known as a duvet cover or doona cover) is designed to encase your quilt. It may close with buttons, ties or a zipper.
Warp and weft:
The warp is the yarn running lengthwise and the weft is the yarn that is woven across it as part of the manufacturing process.