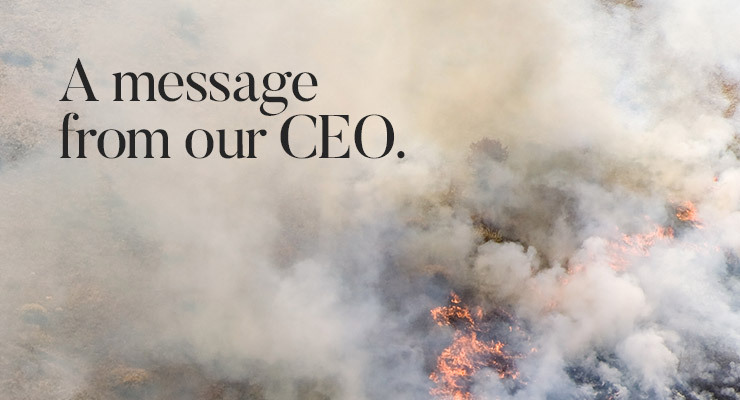 At Temple & Webster, we believe that a home is so much more than the building in which we eat and sleep. Our homes are a part of us and our family's lives, they create memories and help to keep us safe.
It has been devastating to witness the destruction of so many homes during the course of this bushfire disaster. Not only homes, but lives, businesses, towns, communities and our precious wildlife have all been impacted to an unfathomable extent.
ALL IN Initiative - Thursday 9 January
As part of the
ALL IN
initiative, we joined more than 50 Australian retailers to donate 100% of our profits from our sales on Thursday 9 January. Collectively across all participating retailers, we raised $780,00 for the
Australian Red Cross Disaster Relief and Recovery Fund
.
What Temple & Webster will be doing over the coming months
Soon the hard work will start when those impacted will have to rebuild their homes and businesses. Temple & Webster is committed to working alongside our suppliers to ensure that houses impacted by this tragedy can once again be called homes.
To be honest, we are unlikely to know how we can best help until the immediate fires are under control and the country's attention can turn to rebuild. We will keep you informed along the way.
There are many other ways for you to donate to either national relief organisations, state fire services or animal rescue organisations, and we have compiled a list for you below. We strongly encourage you to donate directly to a cause which aligns with your values.
If you have any questions or feedback, please contact me via our
Customer Care
team.
On behalf of the co-founders, I thank you for allowing us to make your own homes more beautiful, and let's do what we can to help those impacted by this terrible tragedy.

Mark Coulter
CEO & Co-founder
Organisations to supportTo help the recovery
Australian Red Cross
The Salvation Army
St Vincent de Paul Society
Givit
Foodbank
Greening Australia
To support local businesses
Buy from the Bush
Spend With Them
To help the firefighters
NSW Rural Fire Service
Vic Country Fire Authority
SA Country Fire Service
Qld
Rural Fire Brigades Association
To help the wildlife
WIRES (NSW Wildlife Information, Rescue and Education Services
)
Port Macquarie Koala Hospital
Wildlife Victoria
Kangaroo Island Wildlife Park
Currumbin Wildlife H
ospital
RSPCA