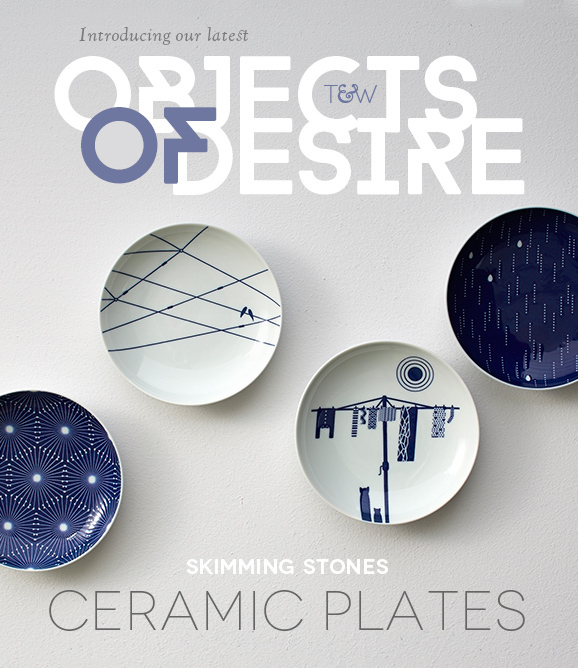 Karen McCartney's latest Object of Desire: Skimming Stones ceramic plates.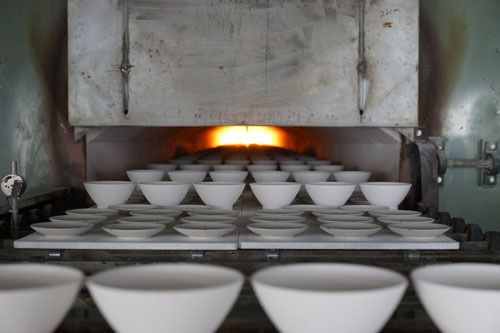 We're lucky enough to be able to share some photos of the making process at Skimming Stones. These bowls are in the kiln.
We like to celebrate a bit of cross-cultural creativity here at Temple & Webster and with
Skimming Stones
we have a mix of traditional Japanese ceramic meets re-interpreted Australiana via designers Tony and Yen, originally from England.
Temple & Webster first saw these exquisite plates at the Life in Style trade show in Sydney and fell in love. They have all the attributes of finely crafted ceramics – because, well, they are.
"We created a collection with Japanese ceramic company Kihara because the company has access to over 400 years of porcelain making techniques", says Tony. Arita porcelain is reputed to be the most famous type of Japanese pottery, and it shows.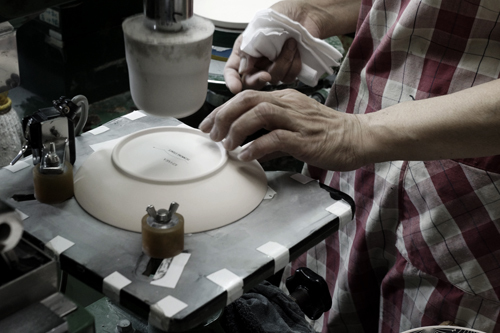 Each piece being carefully and individually tended to as part of the artistic process.
So while at first glance it looks like traditional ceramic due to the glaze and the intense blue and white colour combination the surprise comes when examining the detail. "The design intent is to explore beyond the cliché and take a fresh look into Australiana", says Tony. And that is just what the work does in the most thoughtful of ways. The design of each plate is distinctive and comes with a story. For example 'Golden Wattle', pays homage to the indigenous Australian flower, 'Precious Rain' to the value of water, 'Tramways' to the importance of connecting communities that trams bring, and 'Big Metal Tree' that icon of Australian suburbia – the Hills Hoist. In each instances the graphics are simple and resolved and work wonderfully well as a set. Each plate comes individually packaged with its own story to explain the philosophy behind the design.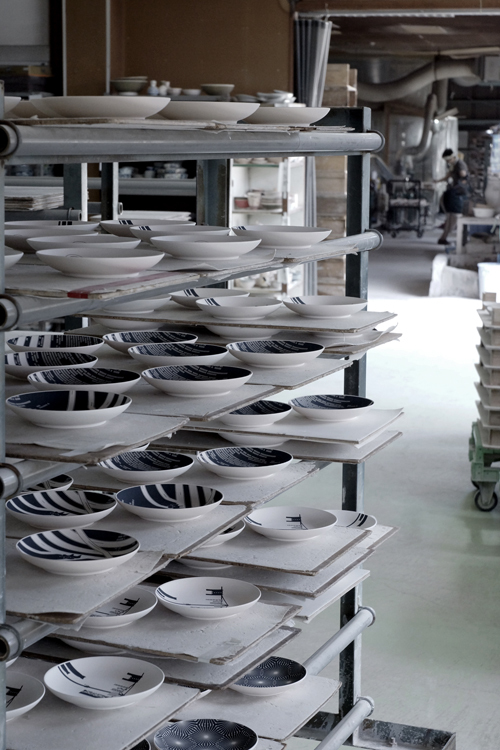 Racks of completed plates.
Styling Tip:
While they look charming on any table they also work as an art piece on a wall, as shown, as they have that desirable quality of an object well-made, well-designed and well-considered.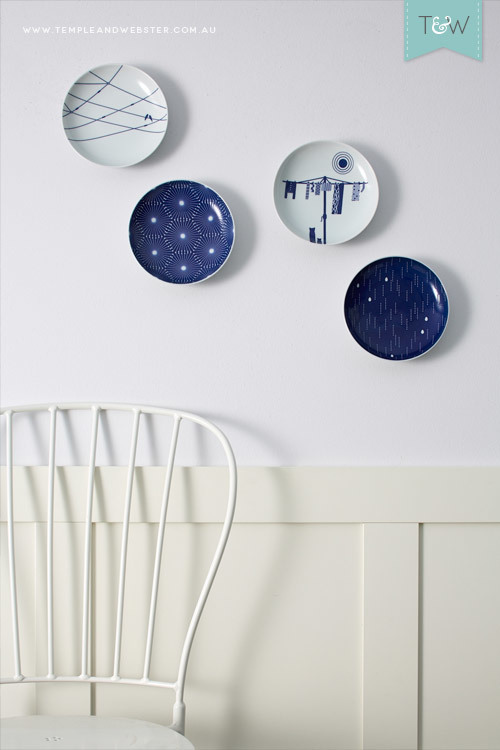 The story of the plate:
Golden Wattle:
Long valued by indigenous Australians, the golden wattle is Australia's floral emblem. It symbolises resilience and the spirit of the Australian people.
Big Metal Tree:
An icon of Australian suburbia, the Hills Hoist gained prominence in the 1960s as a metal tree for drying clothes.
Tramways:
As a mode of connection for people, places and communities, trams have been a Melbourne icon since 1884.
Precious Rain:
Australia's rainfall and stream flow are among the most variable in the world, contributing to Australia being deemed the driest inhabited continent on earth.
Want to get your hands on some of these Skipping Stones porcelain pieces? Shop Objects of Desire.