There's something so sophisticated about a home bar, and there are many ways to set up the perfect one for you. Create a zone that transports you and your guests to the coolest speakeasy without racking up a gigantic tab with these tips that go beyond a
bar cart
.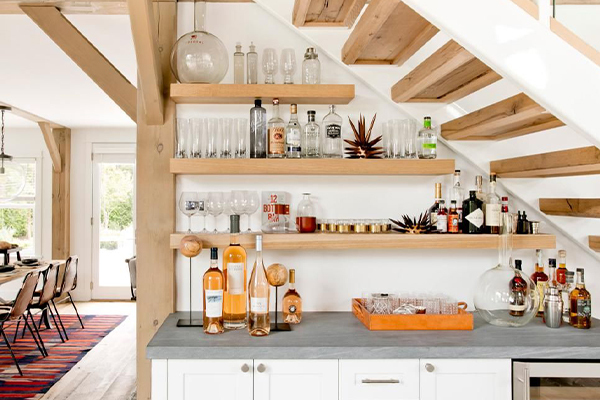 Do some minimal renovations
If you love a little DIY and are handy with a set of tools, take the time to create a bespoke home bar, tailored to your taste.
Make the most of an awkward space by installing a few shelves to display your favourite glassware or liquor bottles.
Floating shelves
work really well in a corner or blank stretch of wall and can act as a piece of decor.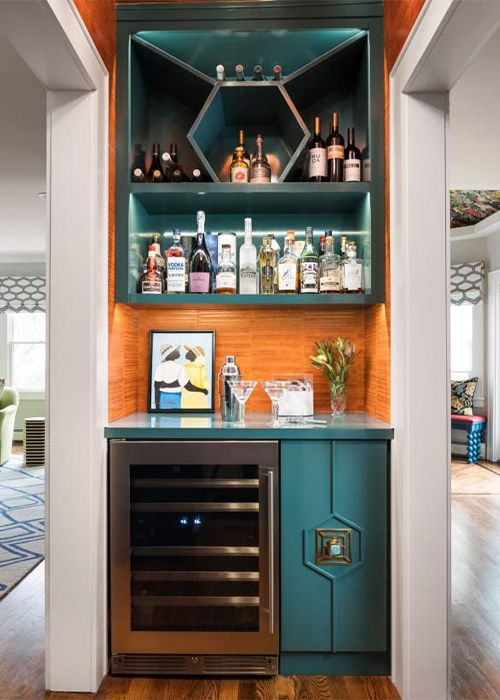 Make those bottles pop and your glasses sparkle with a little extra lighting. Strip or
rope lights
placed underneath shelves where they meet the wall add a glam, high-end bar feel, or if you're feeling more twinkly you can use
fairy lights
.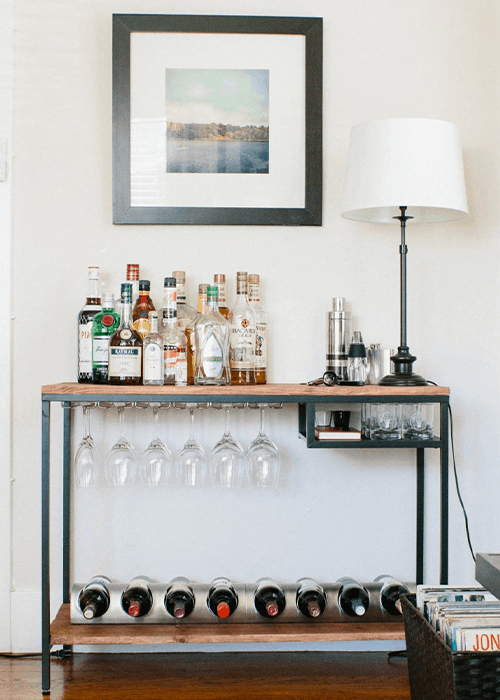 3. Undershelf glass storage racks
Hanging your
wine glasses
not only makes them easy to access and fills any large gaps between shelves but they can be used in a variety of different places. Attach them to shelves, of course, or underneath a
console table
, in a
bookcase
or within a spacious
display cabinet
.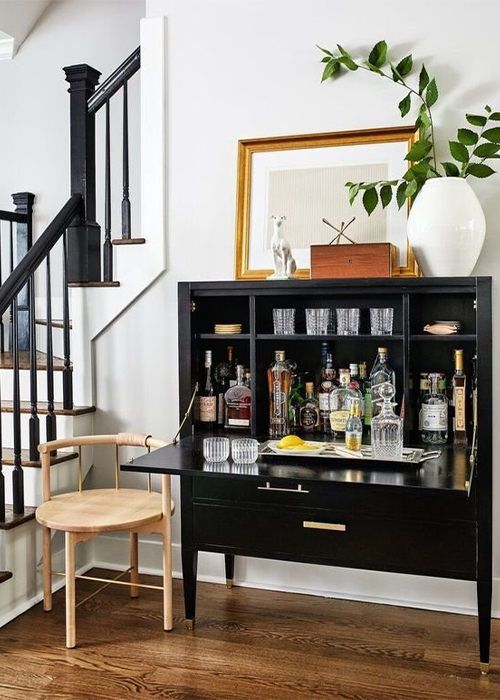 Think beyond the bar cart
You know we love a good bar cart moment, and if you've already got one but just need a little styling help, check out our
how to style bar carts article here
. If you're after something a little different though, these furniture pieces work just as beautifully.
All three of these options are sturdy and made to hold heavier items like stacks of
dinnerware
, so you know your spirits collection will be safely housed. There's also an endless amount of different styles, designs, colours and sizes so you can find something that perfectly suits the look you're going for. Plus, you can hide away any of the not-so-pretty stuff and show off your best
barware
on top, with open shelving or behind glass doors.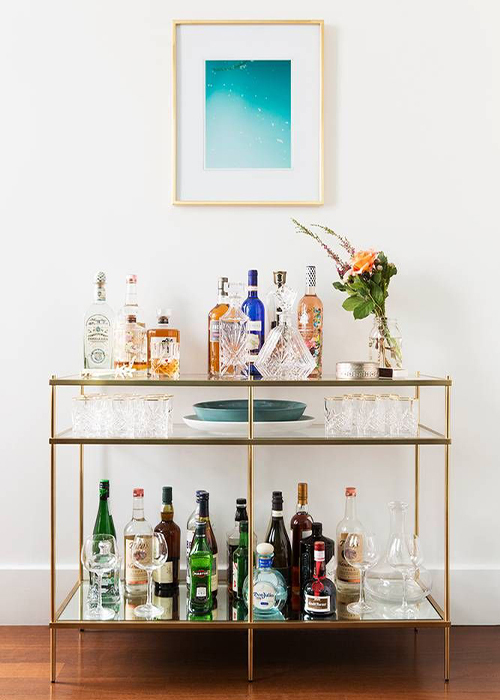 If you're displaying your home bar in a slimmer space, a console is a great option. It's best to go for one with at least two levels so you can properly display your bar pieces, but if you're keen on the pared-back look, display your
glassware
on the top and use a
wine rack
below to store your best bottles. Don't forget to add a
lamp
to brighten it up!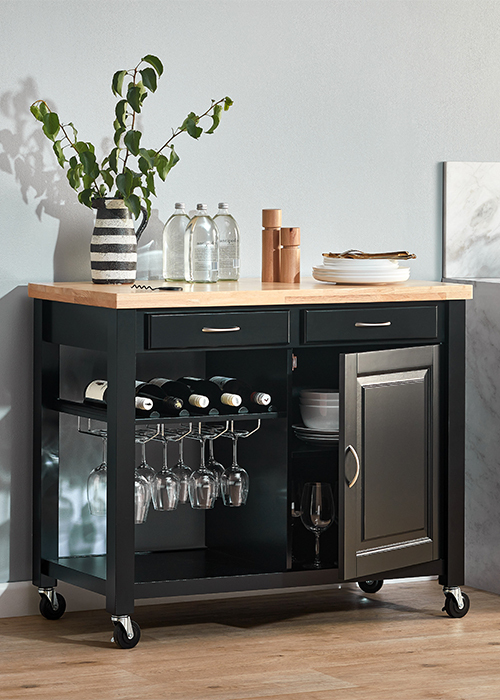 Shelving, drawers, wine racks, you name it, a kitchen trolley has got you covered. Store
bottle openers
, straws and coasters away in the drawers and use the shelving and the top to show off the pieces you love.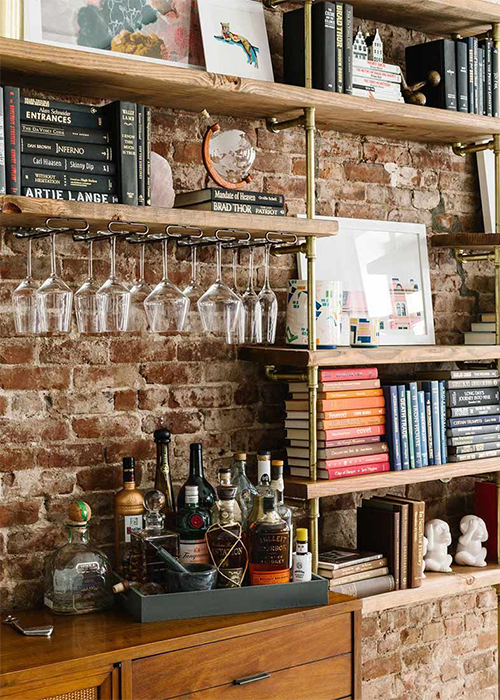 Gone are the days when bookcases were just for books. Level up (see what we did there) your home bar game with a bookcase and incorporate height for real wow factor. All those extra shelves leave space to incorporate more of your personal style too, with beautiful
statues and ornaments
or
faux plants
to add a bit of life.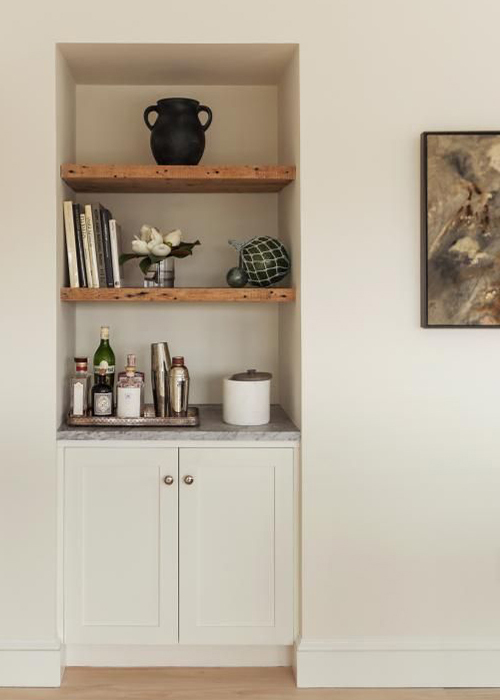 Don't underestimate the power of home bar decor
Once you've got the bones of your home bar sorted, it's time to dress it to the nines.
Decor
is like the jewellery of a space, and even changing the simplest pieces can take you from a coastal look to a mid-century modern feel in seconds. Curate your home bar decor for practical drink serving and added flair.
While you can arrange your
decanters
, barware and glasses beautifully just on a surface, a decorative tray allows you to group items into gorgeous vignettes, as well as adding height, colour or new materials. They're also really handy for when you're making more than two drinks so you can serve your drinks with ease.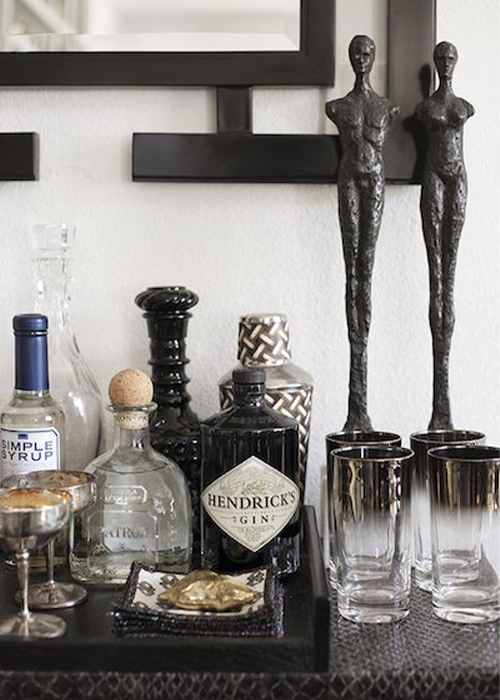 You don't want to ruin your perfectly styled bar or surfaces in your lounge or dining space with glass rings, and that pesky condensation can dampen a good time. Find a stack of coasters worthy of display to add some dimension and pops of visual interest to your set-up.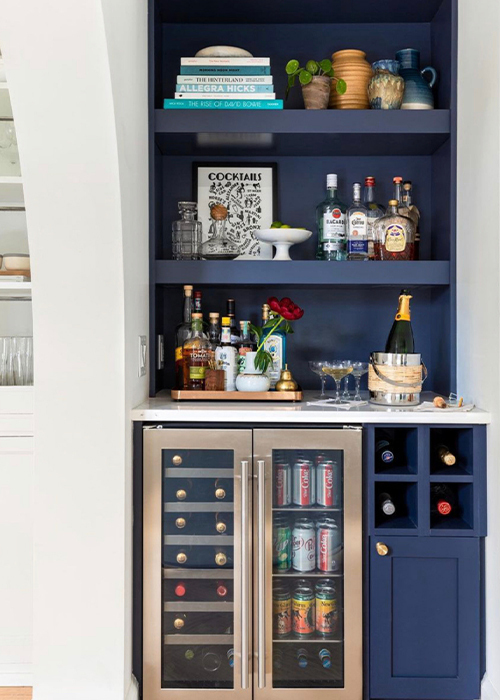 Practical? Yes. Dazzlingly elegant? Also yes. Whether it's metal, glass, or wrapped in leather, a wine cooler or ice bucket instantly upgrades your home bar to luxury status.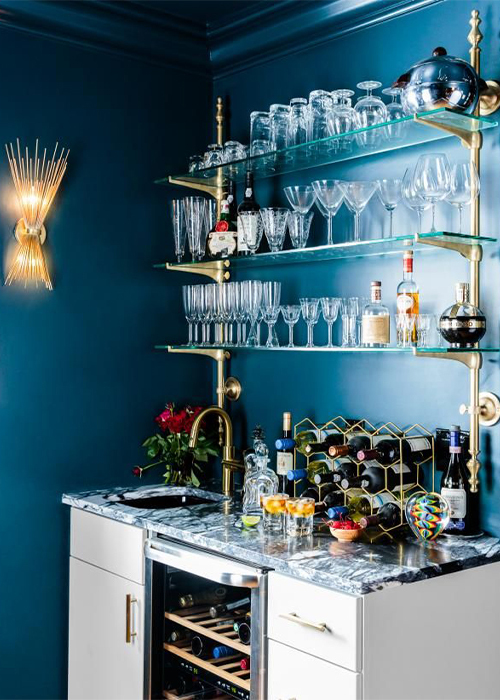 Arguably the most important part of home bar decor is the glassware you choose to display. Stick with one type grouped together in relevant areas, like
champagne glasses
next to a wine cooler and
highballs or tumblers
with your spirits. Use them as an opportunity to show off your personality. If you have vintage wine glasses handed down from your grandma with crystal-cut detailing, show them off! If simple elegance is more your thing,
stemless wine glasses
are tastefully low key.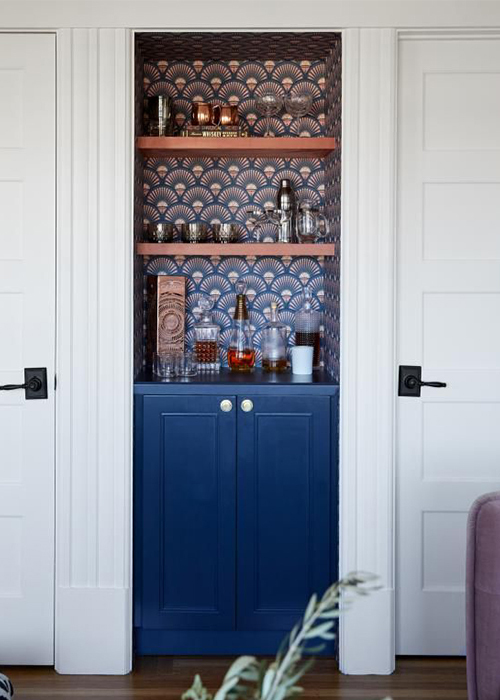 Look a little further than just what makes up the bar itself and make sure the surroundings of the space are styled to complement. If you're working in a smaller, enclosed space, adding
wallpaper
will transform a potential hidey-hole into an exciting treasure trove. For a more open space, hang
wall art
above the bar or even rest it on the surface leaning against the wall to add interest to any blank wall space. Both small and large home bars can benefit from the addition of a
mirror
, which can really define the space and create the illusion of a larger glass or bottle collection!