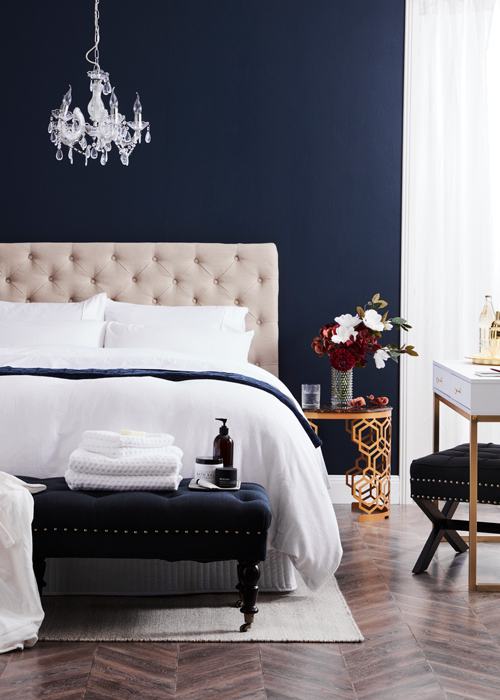 One of the highlights of travelling is staying in a good hotel – crisp white sheets, fluffy towels, mini-toiletries, yes please! Alas, the holidays must eventually come to an end, so we've put together five simple steps to recreate hotel room luxury at home for your very own staycation.
1. Statement furniture
The first step to creating a zen, hotel-like bedroom is choosing the right furniture. We've gone for a classic look with a glam twist, but whatever your preferred style make sure you choose comfortable pieces in styles you love. The soft quilted button detailing on the
Italian new chester bed
,
bench seat
and
stool
give the space a more luxurious feel and touches of gold in the
LA marble bedside
and
white & gold grace desk
add a glamorous statement for that five-star feel.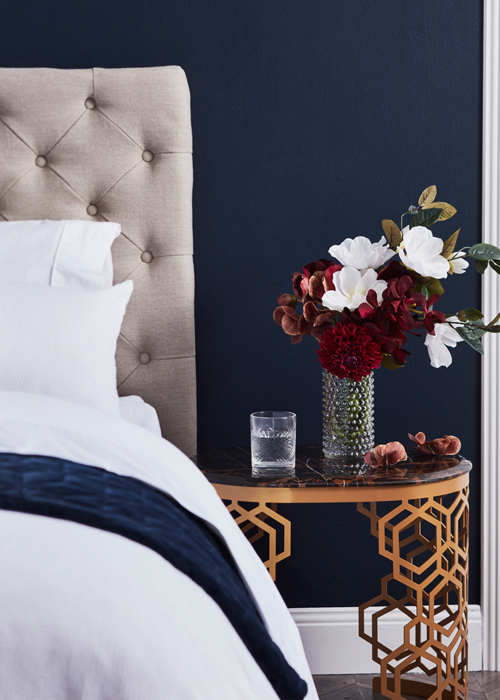 2. Luxe bedding
Having someone else make the bed and wash the sheets for you is a great perk of a hotel stay. While you may not be able to have a housekeeping team attend to your bed every day at home, you can choose luxurious bedding to make your sleep extra special. Crisp white sheets like the
Bed by T&W
white sheet set
and
white waffle linen quilt cover set
are a great base. Add a plump
luxury microdenier mattress topper
and a
navy cotton waffle throw
for ultimate comfort.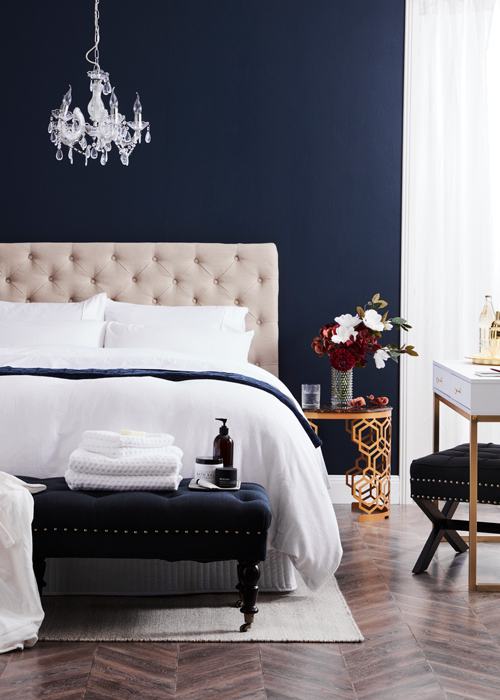 3. Mood lighting
The right lighting is vital for setting the mood in a hotel-style bedroom. A
chandelier
or
pendant
adds pretty personality and interest to the room and casts a soft light to bring a relaxed atmosphere. If hanging lights aren't your thing, try a bedside
lamp
in a finish that matches or compliments your colour palette or a pair of
wall sconces
to enhance the luxe feel.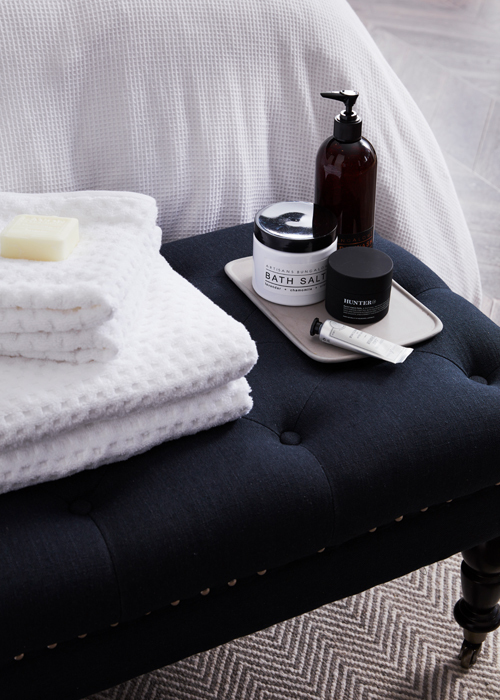 4. Fluffy towels
Soft, fluffy towels are a permanent fixture in hotel suits, so it might be high time for you to refresh your towel collection if yours are less than plush. For an authentic hotel feel, white is the way to go so try these
white quadretti super soft towels
- throw a
white classic cotton terry bathrobe
into the mix
,
and you'll feel like you've waltzed out of your plush room and into the hotel spa!
5. Indulgent products
When you're all done treating your bedroom to a hotel-style makeover with steps 1-4, it's time to treat yo-self! Delicious-smelling bath and body products are hotel bathroom essentials, so make them a permanent addition to your ensuite for weekly pamper sessions. We love Artisan Bungalow's
lavender, chamomile & orange bath salts
and
cedarwood & juniper berry body wash
. Add a
scented candle
and we'd say you've got a pretty luxurious hotel suite at home.
Want more inspiration, tips and tricks to bring the holidays home with you? Check out our tips to take your place from flat to French Riviera and jet around the world with our Staycation collections.