We've all fallen for super stylist
Megan Morton
's new book,
It's Beautiful Here
, at
Temple & Webster
HQ. With photographer
Brooke Holm,
Megan captures eclectic homes in Australia and abroad, as well as the intriguing people and stories behind them. Here's a sneak peek.
Camie Lyons, Sydney (pictured above)

'Never moving,' says sculptor Camie Lyons of her Victorian spread in Petersham, in Sydney's inner west, as her boys play down the family end of the house. The flow of family life is intertwined with the demands of her successful art practice. A left turn down the dilapidated hallway takes you to Camie's studio. A right turn gets you to the bedrooms, shared living spaces and kitchen, which take real advantage of the L-shaped corner block.
Eugenia Lim, Melbourne

Melbourne artist and editor Eugenia lives in a Victorian worker's cottage with architect Quino Holland, their toddler Ida and Chips the greyhound, and their set-up is best described as high-grade. Compromising on nothing when it comes to quality – from food to work – they have chosen to live in an area where they are part of a genuine community.
"
Home is a bit of a battlefield between the clean minimalism and purity of the architect and the chaos of art," says Eugenia, who works from a studio nearby.
Michelle Crawford, Huon Valley, Tas

Who lives here?
My husband Leo, our children Elsa and Hugo, Patch the dog, Twiggy the cat and a dozen chickens.
What is your idea of perfect home happiness?
Holidays, nowhere to go, a house full of friends and delicious things to eat.
Is your house lying or covering up anything?
She's as solid as the day she was made 100 years ago. We liberated her from fussy soft furnishings, boring carpets and promptly painted everything white (Dulux Lexicon, to be precise).
Olivier Abry, Lyon, France

"The house has been designed by my wife and me with only two things in mind," says lighting designer Olivier Abry during our shoot in his heavenly home, a former cinema in Lyon, France 'The first is that nothing is to be new, except the kitchen. Everything must be vintage – found in flea markets, eBay or antique stores – and the second is that we can hang art easily, without hammering nails into walls, allowing us to change often."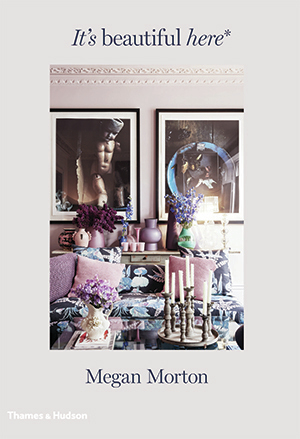 It's Beautiful Here by Megan Morton (RRP $59.99, Thames & Hudson) is available now.