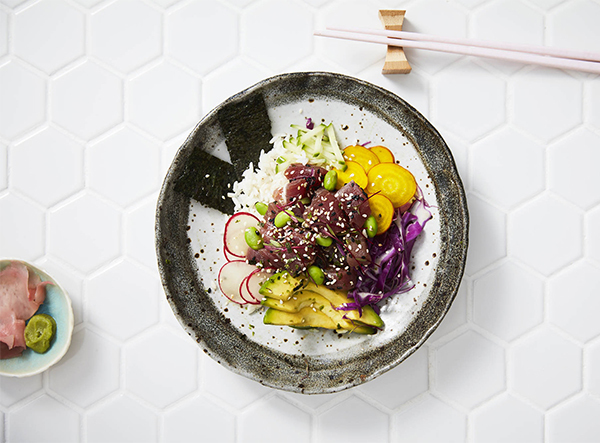 There's a reason why the Hawaiian-meets-Japanese poke bowl is everyone's fave healthy lunch or dinner right now. Here's how to do it at home with one final recipe from our resident foodie, Temple & Webster senior stylist Jonathan Fleming. He's leaving us this week, but we'll have plenty of gorgeous recipes to remember him by!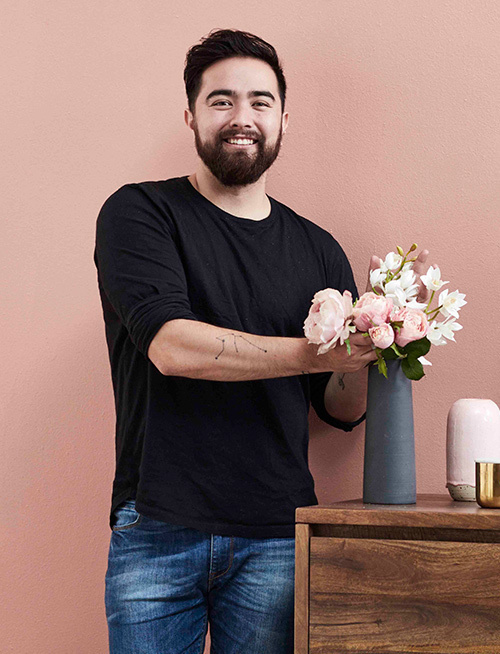 Who knew bowls would become the biggest food trend of the year? Açai bowls, smoothie bowls… if you can put it in a bowl, it's probably going to end up on Instagram. And with no signs of slowing down, the next 'bowl' food is poke bowls. This Hawaiian fusion dish is essentially deconstructed sushi. Raw fish, soy, and fresh vegies on rice make for a healthy, beautiful and quick meal.
Poke bowls
Serves 2
2 cups (300g) white or brown rice
2 tbs sushi vinegar*, plus 1 tbs for cucumber
200-250g sashimi grade salmon or tuna
2 tbs ponzu sauce*
½ cup cooked podded edamame beans* or cooked frozen peas
1 radish (thinly sliced)
1 golden or regular baby beetroot (thinly sliced)
1 cucumber, cut into thin matchsticks
½ cup shredded red cabbage
1 avocado, halved, sliced
1 tsp each white and black sesame seeds
Japanese pickled ginger and wasabi (to taste), to serve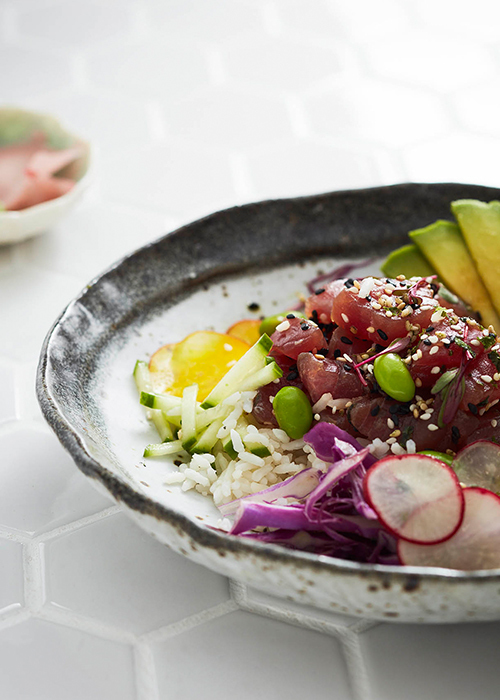 Cook the rice according to packet directions. Transfer to a dish, sprinkle with 1 tbs sushi vinegar and use a wooden spoon to 'chop' and mix it into the rice. Set aside to cool.
Meanwhile, toss the cucumber with the remaining 1 tbs vinegar and set aside for 10 minutes.
Cut the tuna or salmon in to 2cm cubes and toss in a bowl with the ponzu and edamame. Refrigerate until needed.
To assemble the poke bowls, divide the cooled rice between two bowls. Add the fish mixture, then one by one add the cucumber, radish, beetroot, cabbage and avocado. Sprinkle with the sesame seeds, then serve with pickled ginger and wasabi to taste.
* Available from Asian food shops and selected supermarkets.