Looking to create a home office for you and your partner, or set up a joint study area for your kids? Check out our step-by-step guide to making a practical and productive workspace for two, including tips for finding the right space, office equipment and desk arrangement, plus styling ideas to keep everyone whistling while they work.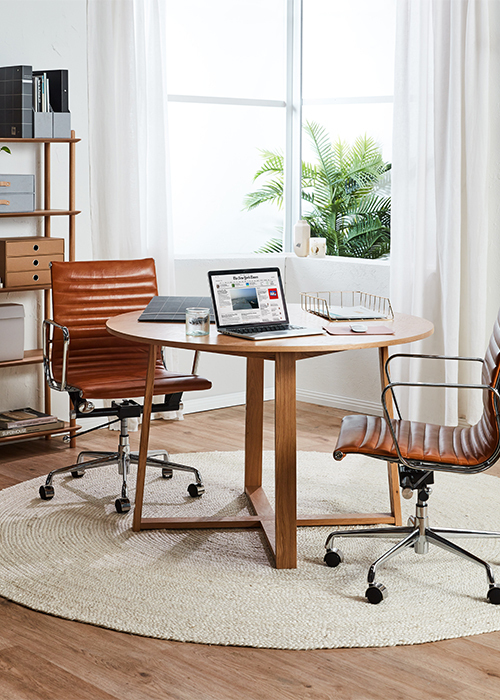 Finding the right space for a shared home office
Where possible, try and consider the following when choosing the location for your shared home office:
- Somewhere that's separate from living areas, whether it's a room of its own or a place that you can seal off with
bookcases
,
room dividers
or tall
potted plants
- Somewhere with lots of windows and natural light
- Somewhere that's large enough to provide privacy for each of you
- Somewhere with access to powerpoints and that's fitted, or can be fitted, with
heating and cooling devices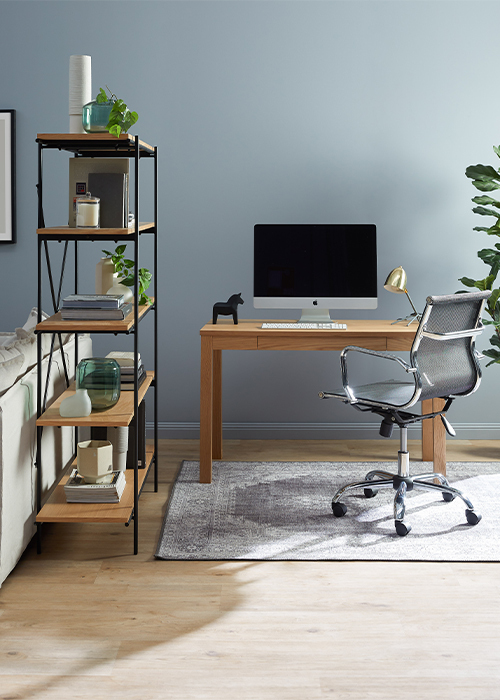 Office equipment for a shared office
Just because you're sharing the workspace doesn't mean you have to have the same
desks
and
office chairs
. Set each person up with office furniture that suits their individual needs, whether that be a
standing desk
with a
drafting chair
, or a larger
workstation
with an
ergonomic chair
. More traditional workspaces will call for standard
writing desks
or
computer desks
, or you can make the most of corner spaces with
corner desks
or L shaped desks.
Once each of you have selected a desk, find an office chair that best suits your needs and style. While matching chairs will give a more cohesive look, you can also create a scheme by using similar seat colours and materials or design styles. For a less commercial office look, avoid the standard black fabric swivel office chair and opt for a stylish velvet or leather seat.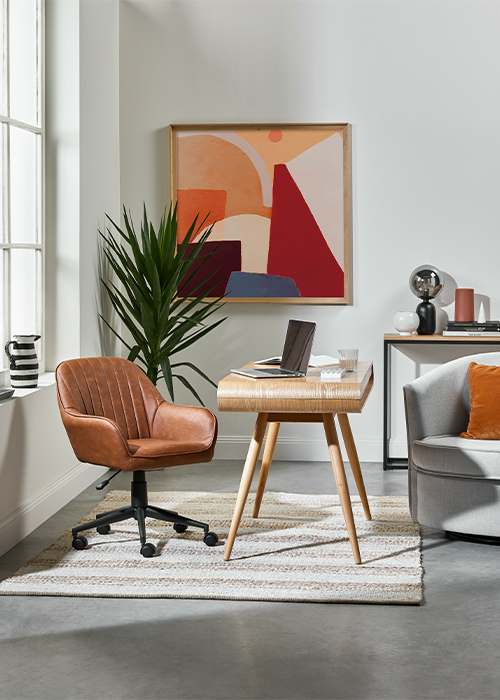 Check out our blog post
how to set up your workspace at home
for more tips on choosing a desk and chair, plus the best ergonomic set-up.
Once you've set up the basic furniture, you can then consider the extras such as
desk risers
,
desk lamps
,
rubbish bins
and
desk accessories and stationery
. Equip your workspace with all your needs with our
home office accessories
and
office storage
.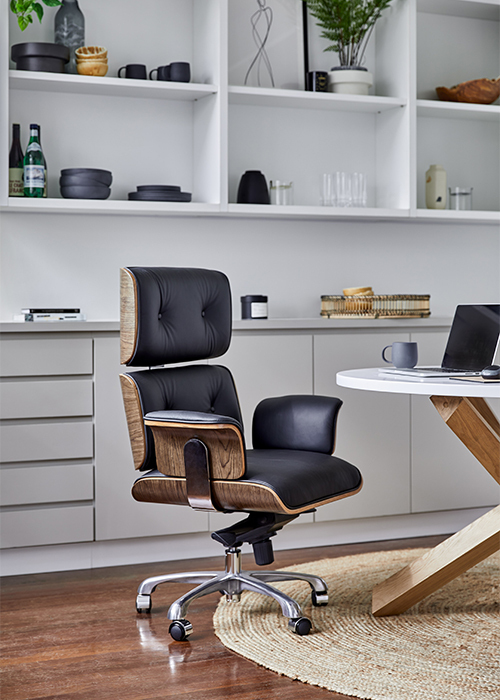 Desk arrangement options for a shared office
When it comes to furniture arrangement, consider how each person is most productive and your intended style of work. Does one of you thrive on natural light and prefer to gaze out of a window, or do you feel more focused in a corner facing a wall? Have a discussion with your work mate, then consider the desk arrangement suggestions below based on your work dynamics.
Independent
Face desks away from each other, or invest in individual L shaped desks so that you and your work mate face away from each other and are less likely to bump into one another.
Collaborative
Line up desks with chairs facing each other for easy discussion, or if you don't require bulky monitors and can make do with just laptops, consider a
round office table
.
Semi-collaborative
Place desks next to each other side-by-side so you can enjoy independent work, but still be able to walk over easily to look at things together.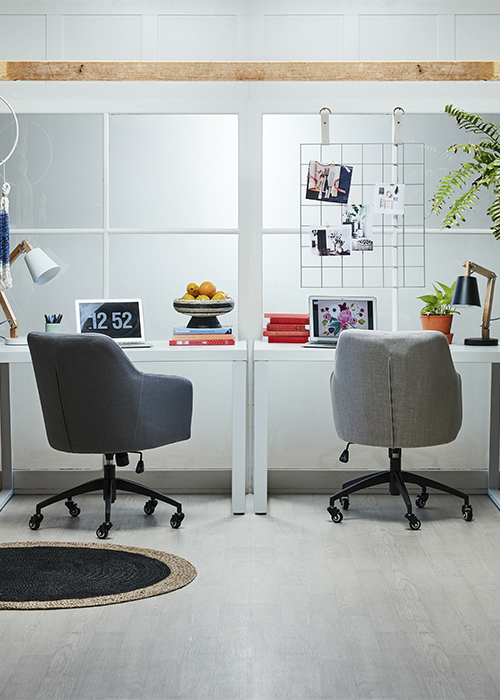 Styling tips for a shared office
The nature of it being a shared space means you may have differing styles, so when it comes to the overall space (walls, floor, main colours and materials), keep it simple with timber, neutral tones, black and white, and lots of greenery. Don't forget you can always personalise your individual workspace with desk plants, table lamps,
ornaments
and
docking stations
. Here are some other decorating tips to get you inspired:
- If you want extra privacy, consider adding an open bookcase between you and your work buddy to provide both storage and a fifth wall.
- Need lots of space to look over large documents such as floor plans? Make room for a third table by pushing your desks right up against the walls.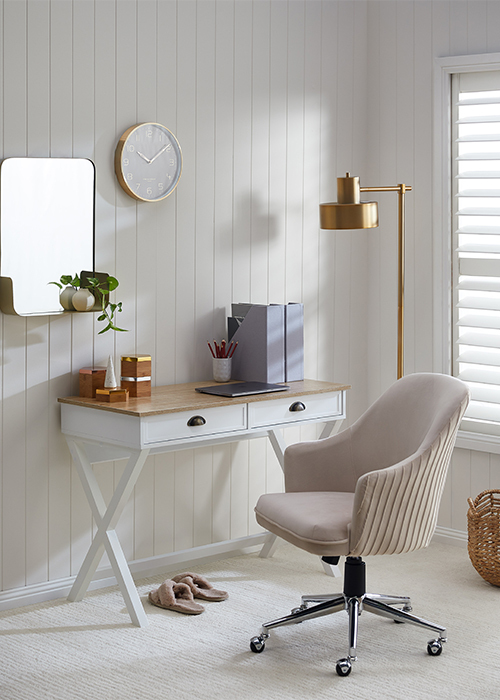 - Energise the room and create warmth and texture with a large patterned
area rug
.
- Liven up an empty wall with an
oversized art
piece that draws on existing colours within the space.
- Be creative with storage furniture and use a
bar cart
so you can wheel it around as required.
- Make your workspace less formal and more conducive to creative brainstorming with comfy
sofas
,
hanging chairs
and
bean bags
.
- Make your home office versatile for the whole family, so when you're done for the day, the kids can use it for homework or craft while you organise dinner in the kitchen.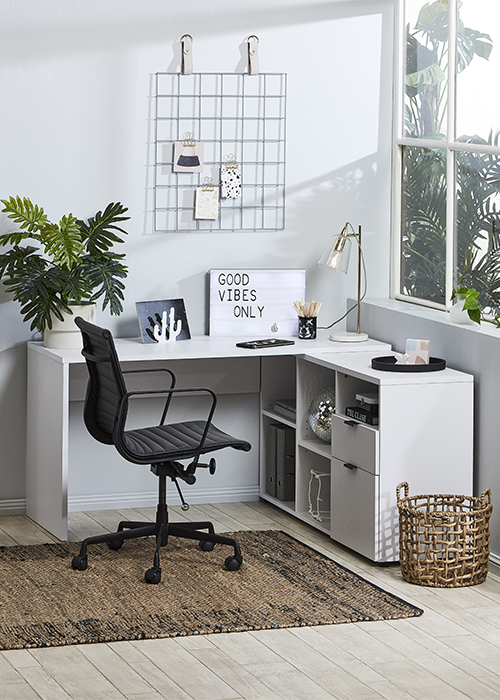 Also, check out our tips on
organising your home office
for maximum productivity.