Whether you have a built-in cupboard in a rental or a luxurious walk-in wardrobe in your dream home, we could all do with some help when it comes to organising our clothes. Here, we share organising methods and storage ideas to make your
wardrobe
more functional, accessible and tidy.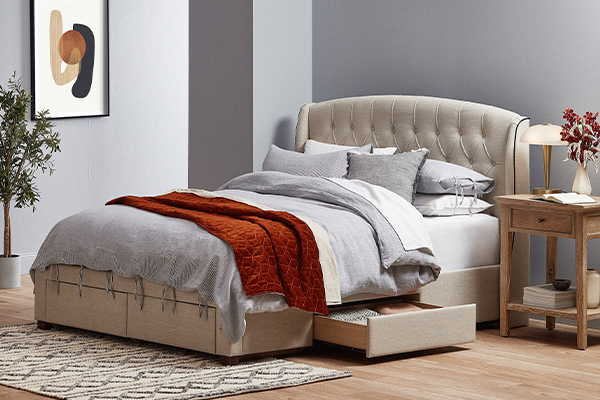 Declutter your wardrobe
Yes, Marie Kondo-ing is required for the job. First thing's first: get rid of old and unworn clothes. Set up three boxes; one for donating, one for the
rubbish bin
, and one for seasonal wear. Don't be precious about it either; if you haven't worn something in the last 12 months, the likelihood is you won't be wearing it in the near future, so it's time to bid these items farewell. Store out-of-season clothing in a
storage ottoman
or
storage bed
if you have one. Alternatively, use a
box
or
suitcase
and store that under your bed or above the wardrobe. Better still, if you have a storage room or attic, get it out of your bedroom entirely.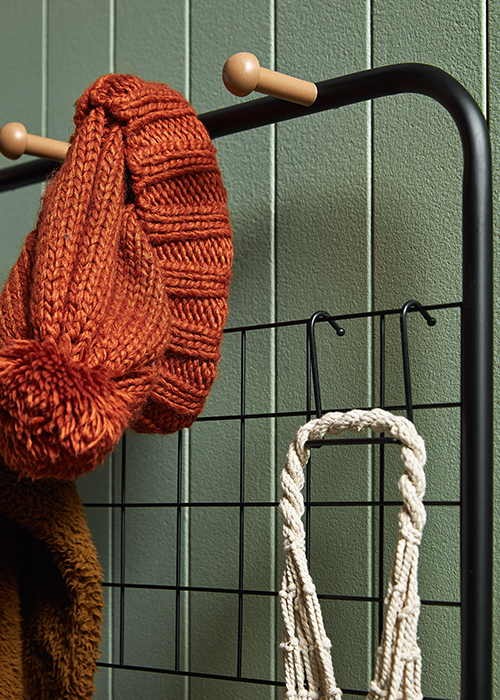 Maximise your vertical storage space
Try and hang as much as you can as this makes it easier to see everything at a glance. If you have limited hanging space, opt for slimline velvet hangers, tiered hangers that allow you to hang up to four pairs of pants, or
cascading hangers
to hang multiple tops. Also, don't forget to make the most of your
cupboard
's inner walls, doors, top shelves and any dead space between the floor and the hems of your dresses. Use
wall hooks and racks
, or consider adding an extra rod for more hanging space.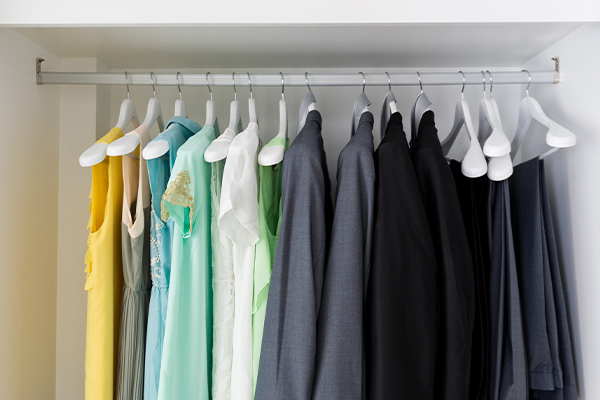 Create an order to what you hang
To make your clothes easier to find, create an order to how you hang everything. Everyone has a different preference, but the most popular is by colour and by type (i.e. tops together in one section, pants in another etc). Coordinating hangers for different clothing types can also help you distinguish each section.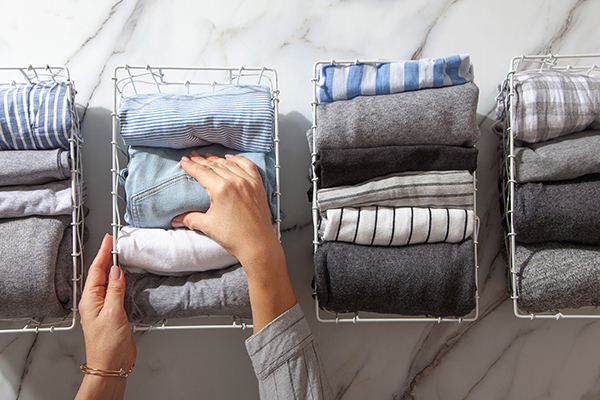 Fold your way to more space
While the KonMari Folding technique of reducing garments into itty bitty rectangles might seem tedious, it really does do wonders when it comes to packing more into your
chest of drawers
or storage boxes. To master the
KonMari Fold
basics, check out this
video
and get your fold on.
​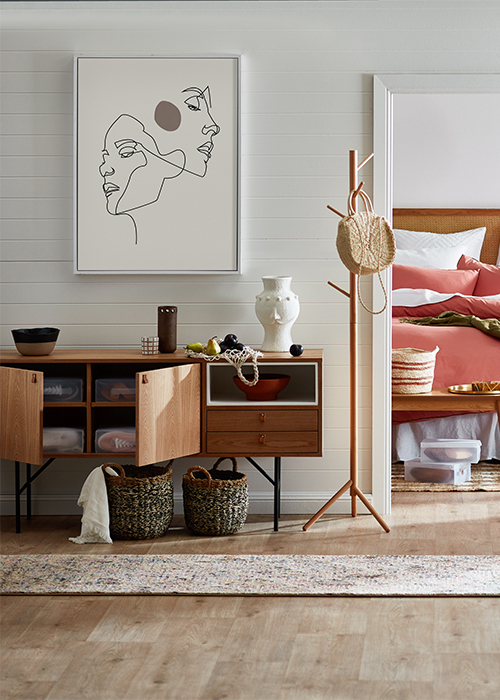 Put your shoes away
Hanging fabric shoe holders may suit smaller shoe collections, but a larger
shoe rack or shoe cabinet
is far more practical to store footwear; not only will you be able to see everything, but your shoes are also less likely to get damaged.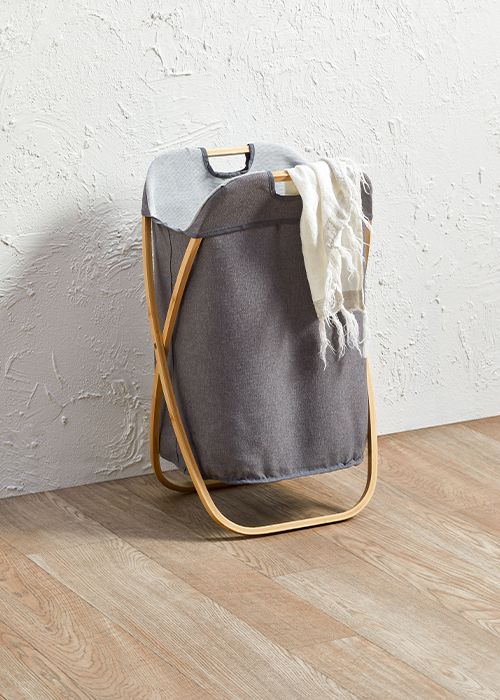 Don't forget laundry storage
Don't let dirty laundry pile up on the floor. Place a stylish cane
laundry basket
or
laundry hamper
in the corner of your bedroom or bathroom. If you have a smaller space, hang a laundry bag off a hook on the back of your door.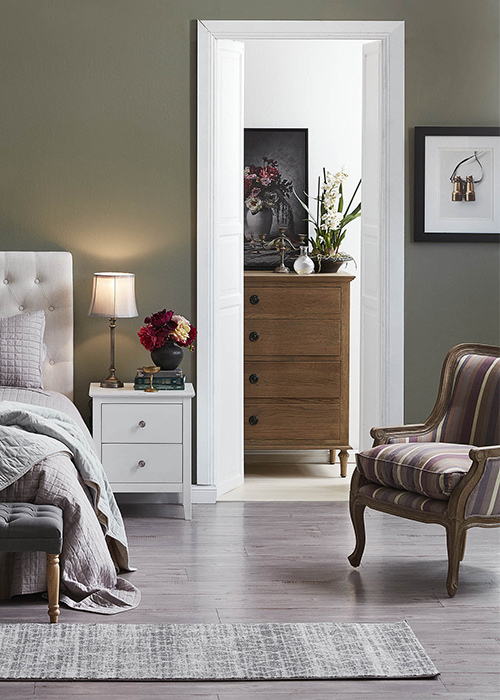 ​
Use a chair in your bedroom
While having an
armchair
in your bedroom could potentially lead to clutter, it can also be very useful for parking any 'not ready to wash' clothing. Not all of us hang our clothes back up immediately so it's a handy storing spot, plus having used clothes in plain sight is a good reminder for you to wear them again.
​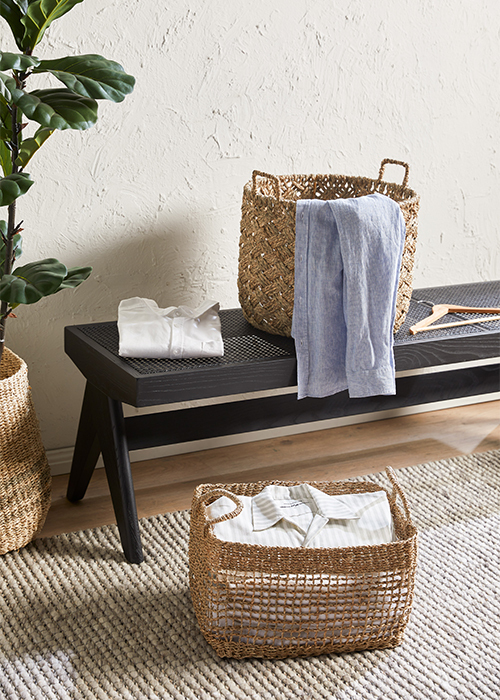 Make the most of baskets
Baskets
are a great way to make the most of the high shelves of your wardrobes. Invest in matching basket sets to separate accessories such as scarves, gloves and hats, or larger baskets to hold clothes for dry cleaning or mending.