When it comes to kitchens, years of use and outdated trends can leave them looking a little worn and worse for wear over time. The good news is, it doesn't take all that much to give it a bit of TLC and a well-deserved spruce up. We take you through some of the simple ways you can update your kitchen without having to spring for a reno.
​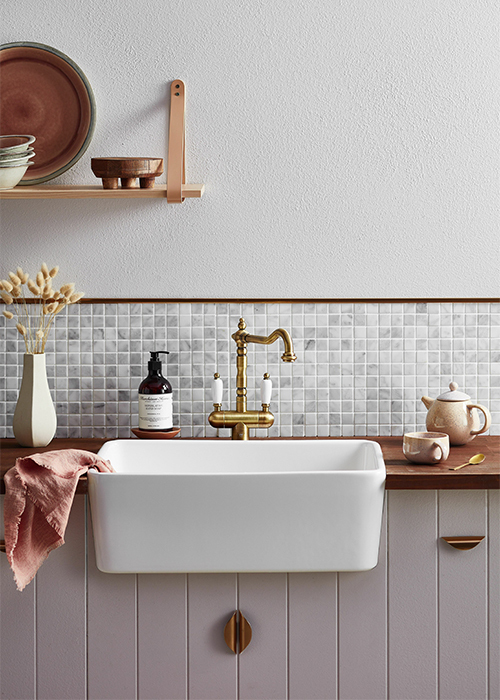 Swap out hardware
The
cabinet hardware
and
kitchen taps
are quick and easy to update and instantly lift the room. Think of these things as jewellery for your space; let them shine and create visual interest, giving the impression that you've installed whole new cupboards or a sink. They're also a quick fix to keep up with trends, you can swap between brushed gold metal handles or sleek silver tapware as you see fit.
​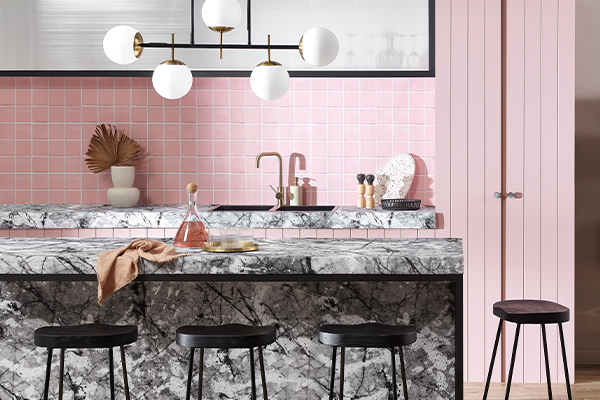 Paint the walls or cupboard doors
Most of the time, walls and cupboards become dull simply because of food stains or steam and a fresh coat of
paint
is sometimes all you need to have them gleaming again. A classic white will brighten everything else in the room up, or, be bold and paint them a vibrant or eclectic colour that'll be sure to have your guests saying 'wow' when they walk in.
​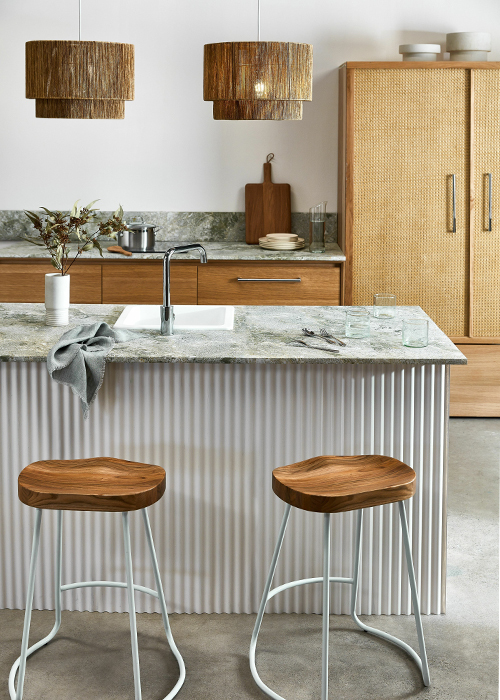 Add pendant lights
Downlights
are a common installation in older kitchens. They're practical and cover a lot of ground, but they tend to leave the top half of the room feeling bare and bland. Consider adding in some
pendant lights
that draw the eye up and create your desired feeling. For example, rattan and wicker pendants work seamlessly in a coastal or resort style area, whereas a contemporary metal and glass pendant will suit a modern kitchen effortlessly.
​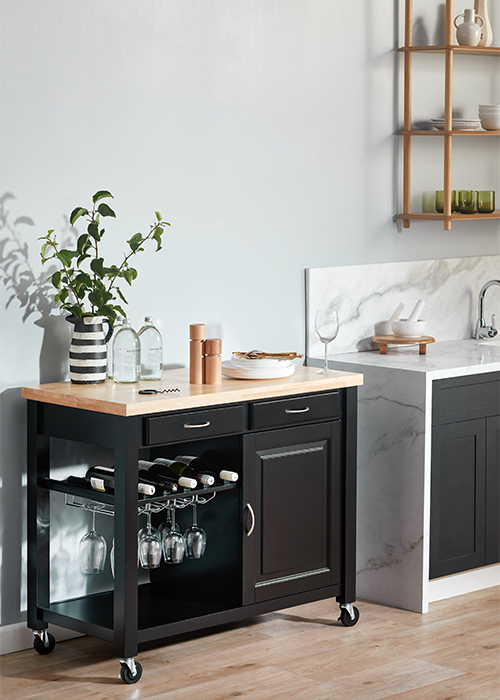 Make more counter space with a kitchen trolley
There's nothing worse than running out of bench space when you're cooking and often small-space kitchens only have limited built-in surfaces. Instead of getting the contractors in, grab a
kitchen island or chopping block
that can be easily wheeled away once you're finished with it. They not only up your surface area but often have storage options like a wine rack, shelving or cupboards.
​​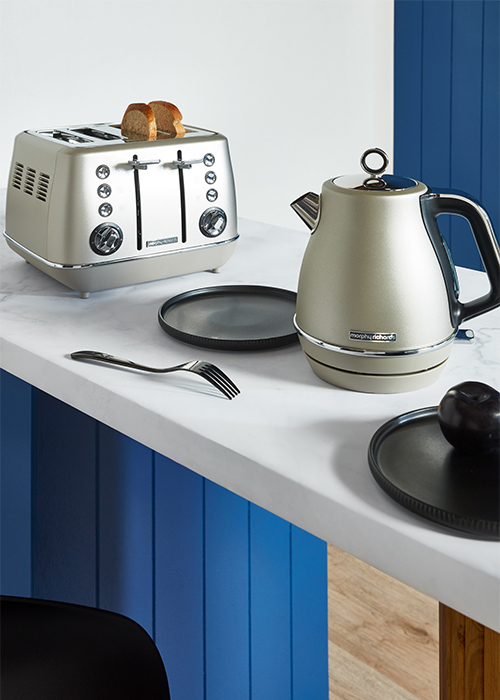 Invest in statement appliances for the counter
While your old
kettle
may be 'fine' and the
toaster
probably needs the lever held down 'but it still works', updating to
appliances
that are going to stand the test of time really makes a difference. They'll not only give your kitchen a little shiny face-lift, you can rest easy knowing you won't have to replace them in another 6 months.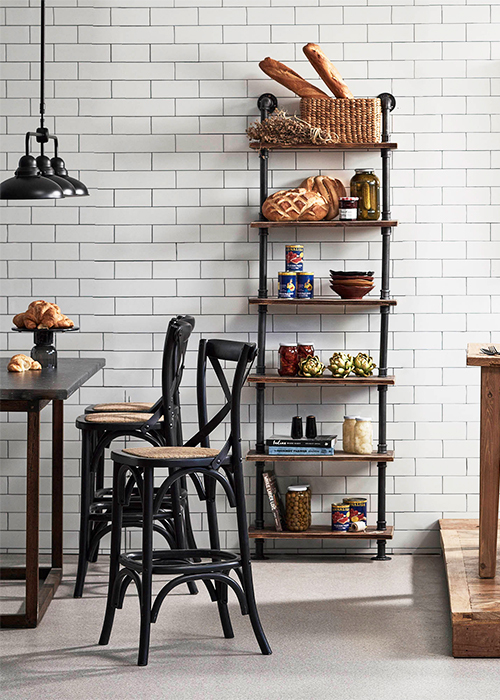 Create more storage with a display cabinet, open shelving or a sideboard
If your cupboards are overflowing, sometimes the easiest and most beautiful option is to create a separate storage section outside of the kitchen cabinets. Use a
sideboard
, open
wall shelving
or
display cabinet
to house your
glassware
,
plates and bowls
or
tea towels
and
table linens
, always within easy reach but far enough so they don't clutter the space. You can even use it to extend your pantry, artistically arranging cans and jars of preserves as well as freshly baked goods.
​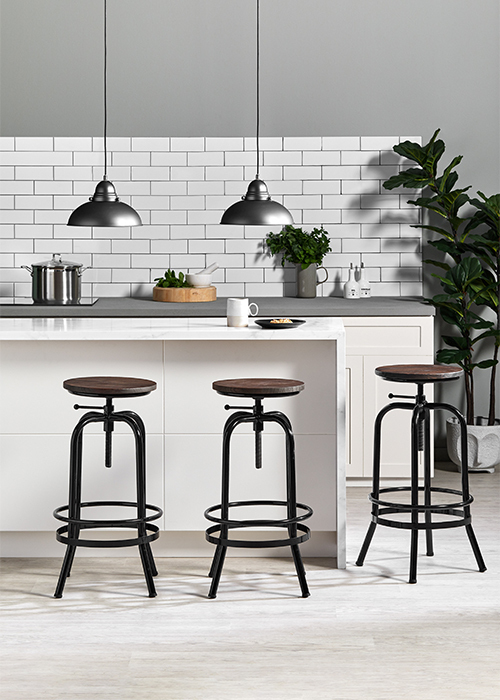 Update your counter stools if you have a kitchen counter
After a few years of wear and tear,
counter stools
can start to look a bit banged up with dinged legs, scuff marks or stains. Swap them out for a new set to refresh your space and create a new atmosphere.
​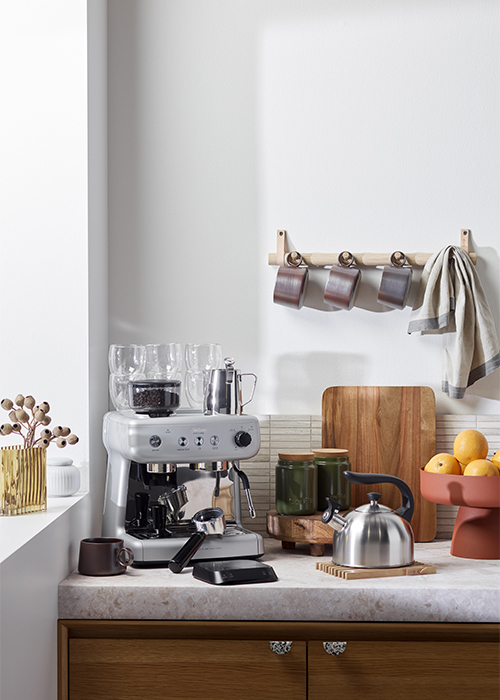 Display stylish canisters
Giving your kitchen an update can be as simple as decanting your regularly used ingredients, like sugar and salt, into easy to reach, matching
jars or canisters
(just remember to label them, there's nothing worse than salt in your tea!). Line them up next to the stovetop or kettle for a cohesive, clean look.
​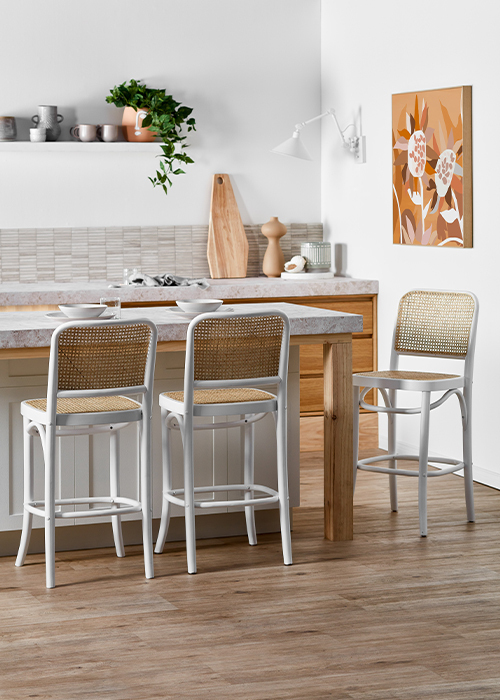 Add beautiful artwork and a vase of fresh flowers
The final details like a freshly cut bouquet (or even a
faux plant
) in a gorgeous
vase
and a new
artwork
can really transform a space. They're easily changeable if your taste shifts and can really bring a room together when colours and shapes are considered for either a contrasting or complementary look.