With so many beautiful
dining chairs
available, our styling team is frequently asked how to choose the right style. Our advice? Embrace the eclectic furniture trend! Mixing different seating options allows flexibility and adds personality. Avoid visual chaos and curate your collection with our helpful tips below.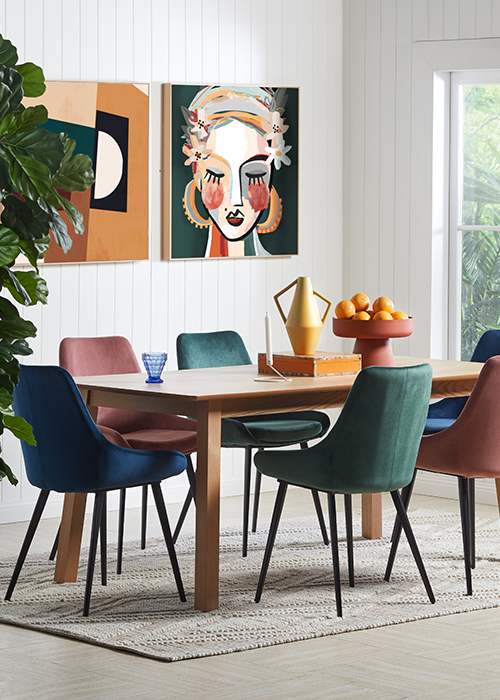 Combine different dining chair colours
Loving a particular chair style but not sure which colour to go for? Be bold and select contrasting colours in the same style for an animated and playful statement. Combine rich jewel tones with
velvet d
ining chairs
for drama or mix harmonising hues with
faux leather
dining chairs
. Sticking with the same chair design unifies the look without compromising on aesthetics.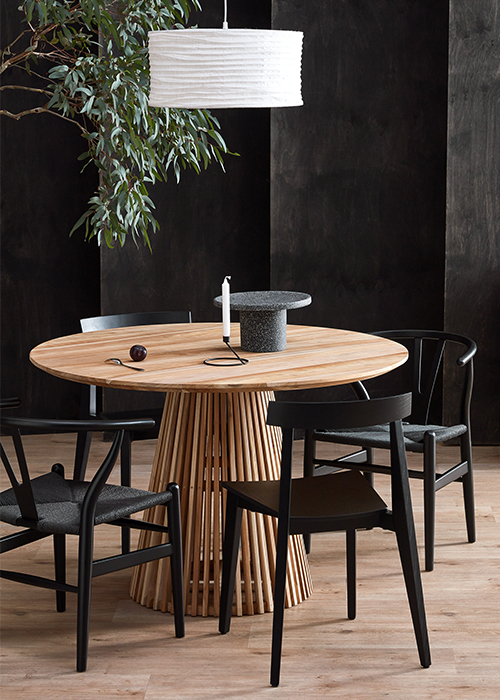 Use the same colour with different styles
Neutrals are the easiest colours to mingle around your dining table. For foolproof styling, choose
black
dining chairs
,
white
dining chairs
or similarly toned
medium wood dining chairs
in assorted designs. Varying chair height and shape adds authentic charm, but select uniform seating heights to ensure easy conversation.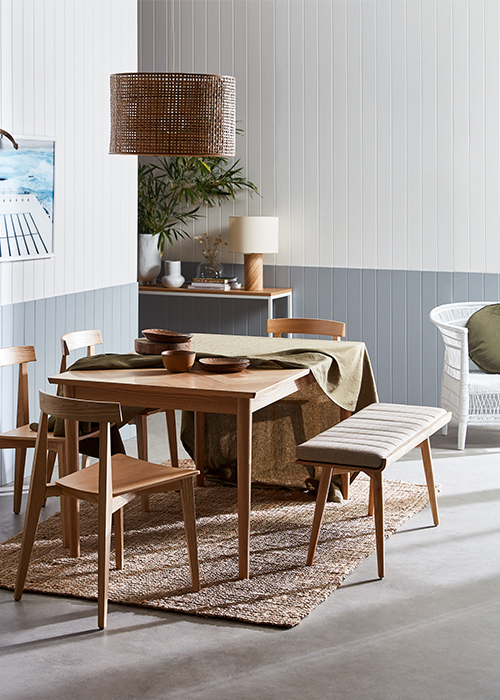 Add a bench to your dining setting
Fostering an open and casual energy,
dining
benches
instantly change the landscape of your dining room. Backless options are unobtrusive and visually declutter any space, working well with both
round dining tables
and
rectangular dining tables
alike. Benches also double as extra seating should you need to squeeze more people around for dinner.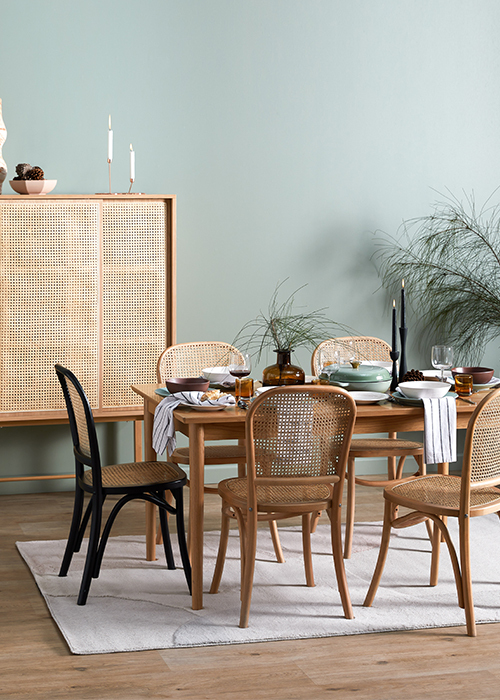 Mismatch rattan finishes
Rattan
dining chairs
work beautifully because its woven pattern comfortably flexes upon sitting and encourages an airy feel. While too much rattan can feel repetitive, selecting an accent finish within the set delightfully punctuates the look. Black and timber options pair perfectly for an eclectic but unified scheme.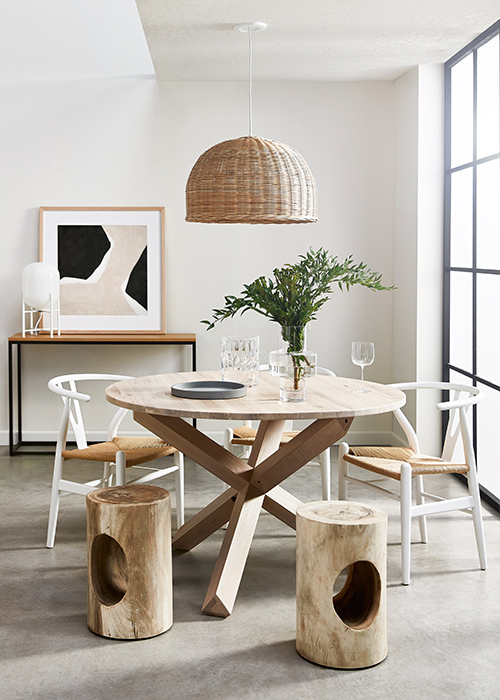 Select low stools to vary seating
Add a contemporary vibe by swapping dining chairs for low stools. Shapely
timber
stools and drum tables
add interest and dynamism, while maintaining casual flair. Not quite convinced? Combining one style of stool with one style of dining chair will assure your styling success.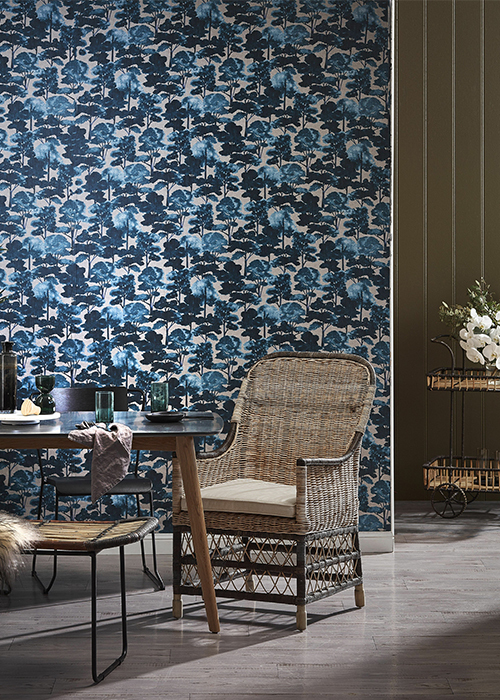 Bookend your dining table with an armchair
Comfort is key, especially when dining! Placing an
armchair
at each table end creates symmetry and looks deliberate, resulting in artful cohesion. Choose an armchair style with armrests low enough to sit under the dining table, allowing for optimum tucking in.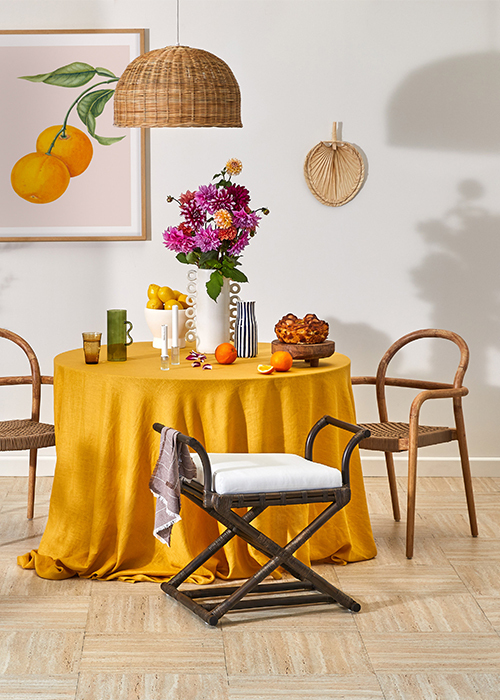 Add an accent ottoman
Eclecticism embraces any seating arrangement, including options traditionally used in other rooms such as
ottomans
. Oozing comfort with plush upholstery seating, ottomans inject rhythm and character around your dining table by remaining backless. Opt for an accent velvet ottoman to add luxury or a colonial-style bamboo option for a relaxed holiday feel.

"Dining chairs don't need to match, but your collection should still feel cohesive and inviting. Think of your dining chairs as conversing rather than competing with each other by picking out a unifying element."
Shop our
dining chairs
now to build your collection.