The relaxed and elegant coastal look of the Hamptons has long been a popular summer aesthetic in Australia, but what happens when the temperature drops? Do you pack away your whites and rattan? We show you how to update the Hamptons look for winter with some strategic accessorising and a few colour tweaks.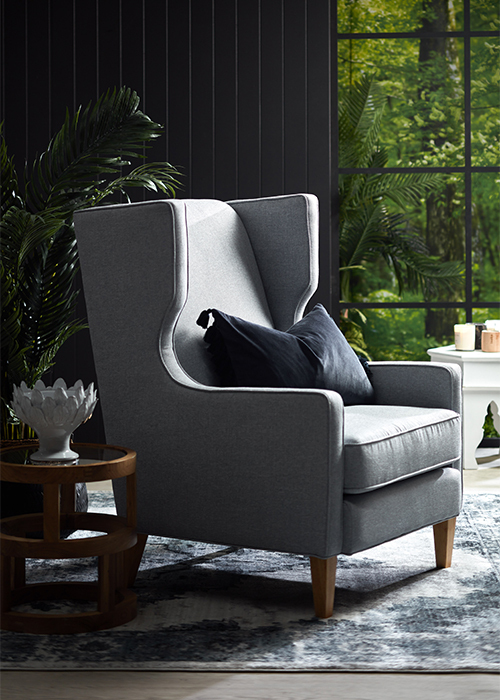 Easy on the white
While a crisp, whitewashed look is a defining feature of the Hamptons style, come winter, you can afford to tone this down. If you fancy a change or don't find the extreme whiteness of the Hamptons style very appealing, why not flip the balance and, instead of white walls and dark floors, try dark walls and lighter floors. This will immediately make a space feel more cosy and enveloping.
Alternatively, retain your wall and floor colours, and adjust some of your decor colours, taking away lighter creams and blues, and adding pops of navy, inky blues and stormy greys to enhance the wintry mood.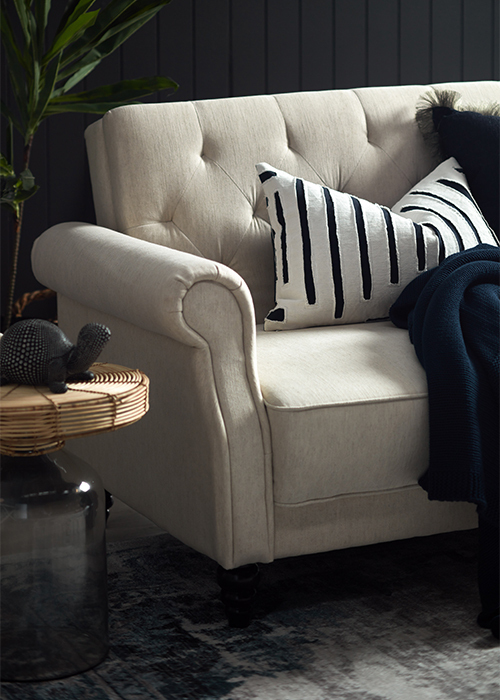 Layer on texture
Got a great
cream or beige sofa
to work with? Simply layer it with
faux fur cushions
, chunky
throws
and tactile
cowhides
in darker hues as suggested above. The chill starts from the ground up, so don't forget the
rugs
and
runners
too. Swap out any
jute or sisal rugs
and replace them with a
wool rug
or
shag rug
, or simply add a softer, warm-toned rug over your existing rug to create extra plushness and warmth.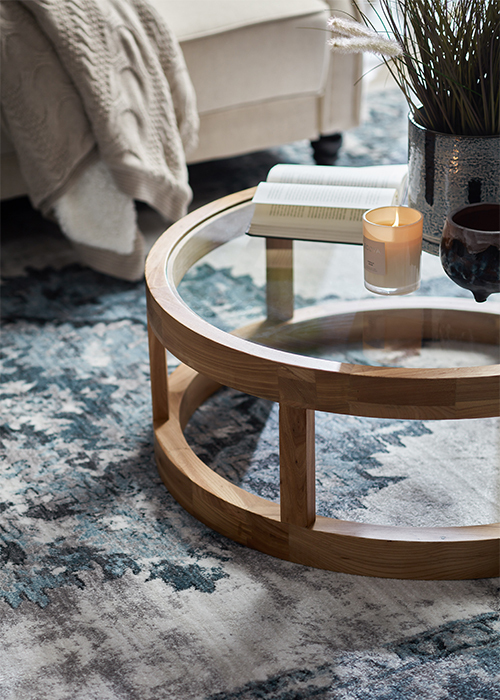 Create a cosy glow
Lighting is everything when it comes to warmth and cosiness, so ditch the overhead lights and turn on the
table lamps
and
floor lamps
, and get the
candles
going come dusk.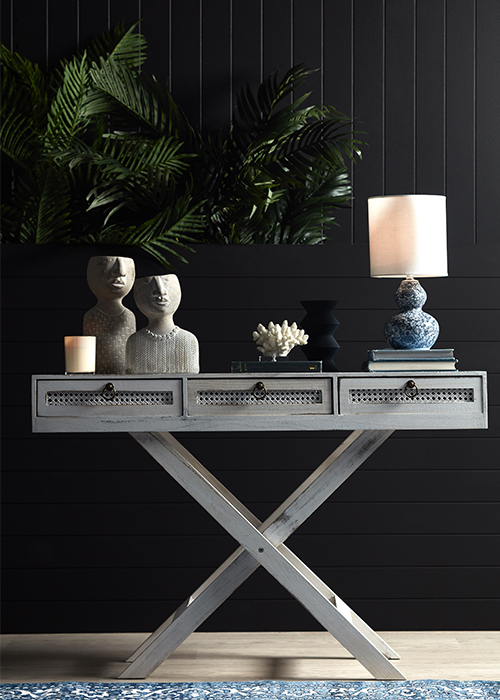 Accessorise the rattan and timber
Rattan and timber are fantastic for evoking a relaxed coastal holiday vibe, and is such an essential component of the Hamptons style. You don't have to stow away these pieces in winter. Simply layer them with cosy textures: layer a
rattan chair
with a dusty blue blanket or sheepskin; add a tray with candles to a
rattan side table
, or dress a
timber console
with warm stone decor and a lamp.
Balance the blue and white decor
Balance your existing collection of blue and white
vases
, ginger jars, lamps with porcelain bases and throw cushions with ticking stripes and floral patterns with a few more simpler
ornaments
in darker colours, and don't be afraid to add charcoal and black to the mix.