Creating a kids room that ticks every box for both you and your mini can be a challenging process. Whether your child is graduating from a nursery to a more grown-up bedroom or you want to create a teenage retreat that will stay stylish for years to come, read on for our formula for creating a room that will truly grow with your child and shop our cool kids collection now.
Step 1: Choose furniture that does double duty
In kids rooms, it pays to choose furniture that will go the distance. Consider what functions you need performed and don't restrict yourself to child-specific pieces. In need of a nursery change table? Consider a
dressing table
or
sideboard
which you can lay a changing pad on in the early days, but use as clothes storage later. Try a
bookcase
that can be used for storage and display, but also for high school study essentials or in an adult's office space down the track. Choose a
bed
in a neutral colour like
the one we've chosen here
, that includes under bed storage, in a size that works for small children through to teenagers. Kids can be hard on furniture! The more you invest in quality pieces that cater for future needs, the less you'll need to replace down the track.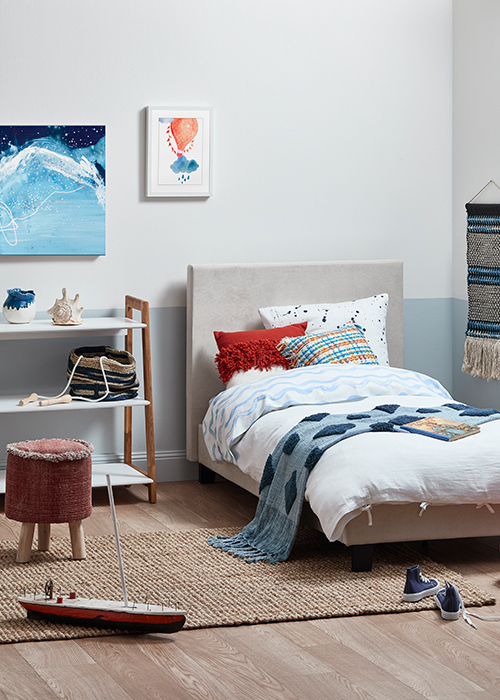 ​
Step 2: Incorporate your child's interests
Children's rooms should be their safe-haven, a place that reflects their personality and interests. The key to striking the perfect balance between stylish-interior and the latest cartoon craze is to involve kids in the decorating process. While it's a good idea to keep furniture and wall colour neutral so you don't need to replace these every year,
accessories
,
artwork
and
lighting
are a great way to add personality. Use your child's favourite colour as a starting point. Do they love green? Choose a
rug
or artwork in that shade. Dinosaurs the latest obsession? Create a display with Jurassic toys, themed decor or even your child's artwork. Kids change their minds a lot, so this approach makes a room that stays stylish but can be easily changed to reflect their latest love.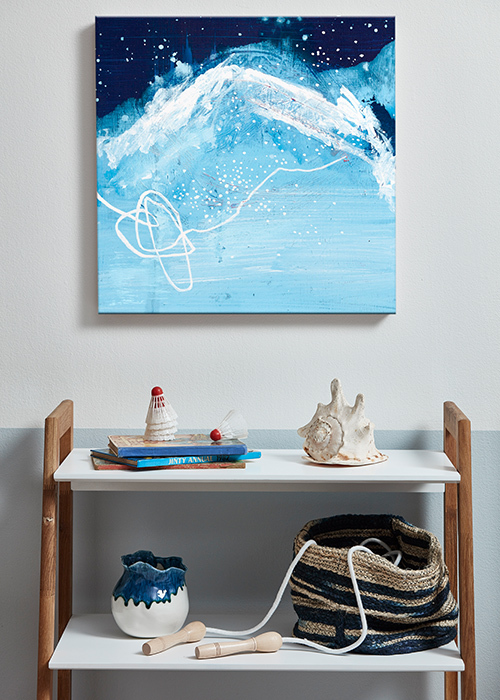 Step 3: Create fun and wonder with colours and patterns
Scrolling Pinterest, there are a million whimsical children's rooms that are beautiful but seem impossible to create without endless time and budget. Creating a sense of wonder for little imaginations is part of the fun, but you can achieve this without elaborate wall murals, we promise. Introducing colour and pattern makes kids rooms look beautifully styled but also brings back the fun. Choose one area to focus colour and pattern so you don't overdo it - we went with the bed. A
splatter cushion
with
squiggle
and
polka dot
bedding and some texture in a palette of white, blue and red create a bright but cohesive effect. Adding complimentary artwork finishes the look - is
the blue piece
the wild rolling ocean? Stars in a night sky? The possibilities for imaginative play are endless!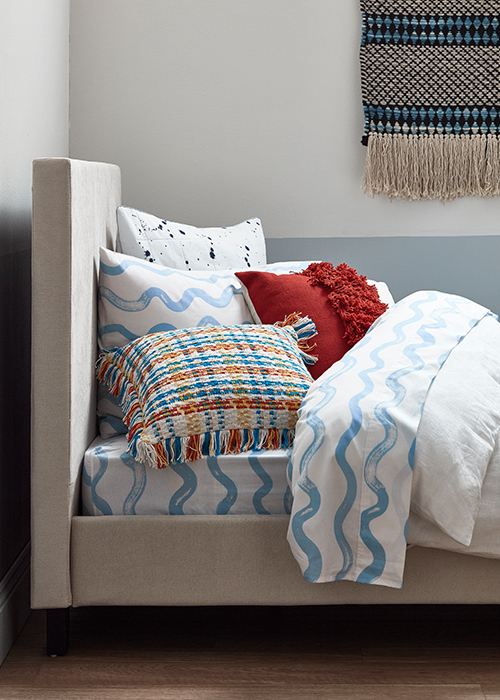 ​Step 4: Add clever storage solutions
The final piece in the perfect children's room puzzle is making sure there's adequate storage to keep the space looking (at least somewhat!) tidy. A great tip when it comes to kids is to once again, get them involved in creating interactive storage solutions to instil a sense of ownership of their space and its upkeep. As touched on earlier, investing in storage furniture is always a winning idea, but for toys, shoes, books and everything else that needs a home,
baskets
and
shelving
at child-height are your best friend. Try labelling each basket with what lives within, to make it easy to teach little ones what goes where after playtime, and make each packup session a race or a game and you'll have kids who take pride in tidying their rooms in no time!
Get inspiration for your very own
kids
room makeover and shop our cool
kids
sale on site now.