Whether you're styling your first home or your
dining chairs
are in need of an upgrade, it can be hard to navigate the array of types out there. Before you can even think about what works with your
dining table
, you need to understand the basics of dining chairs. We take you through the styles and shapes, as well as tips on how to best narrow down your search.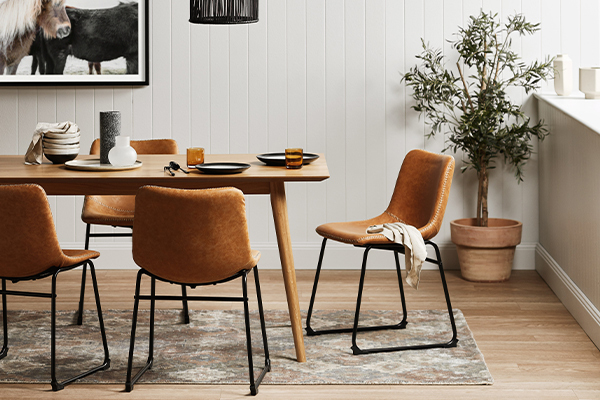 Filtering your search
To save you the trouble of scrolling through endless chairs in search of 'the one', Temple & Webster's handy filters allow you to shop by specific features. From the menu down the left-hand side of the page, you can select your preferred colour, material and style, as well as type, which specifies if the chair has arms or not. You can also look for additional features such as footpads included, foldable, adjustable seat height or reclining if these are must-haves for your purchase.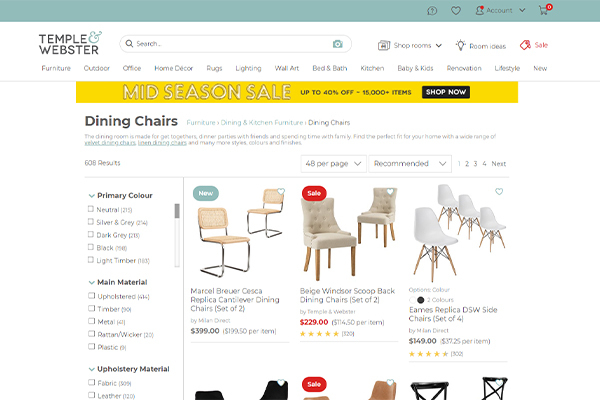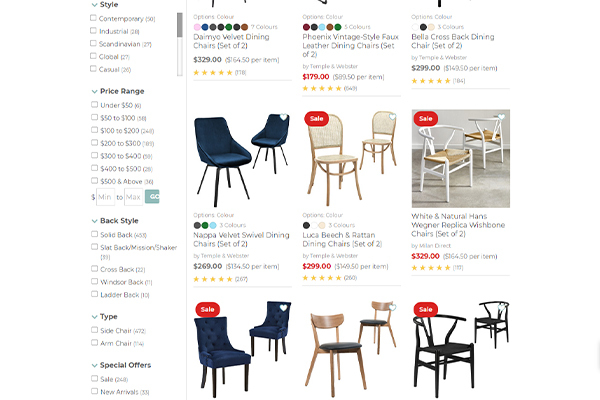 Use this tool to search for the chairs that will best suit the style of your home or space. There are plenty of options, from contemporary, Mid-Century and Scandi, to luxe, classic and coastal. If you can't pick just one style, don't be scared to
mix and match your dining chairs
to create your signature look.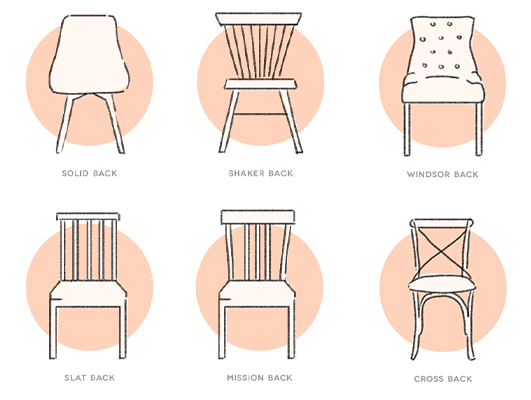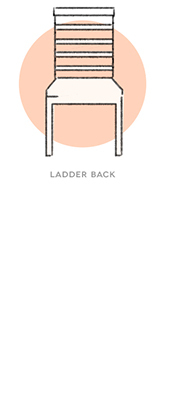 Dining chair backs
Knowing how to differentiate between the different types of dining chair backs will allow you to pick the best chair for your space and style. Depending on what you go for, you can allow more light into your dining area or instill a more formal feel.
Solid back -
The classic choice, the solid back is an unbroken slab of material (wood, upholstery, metal etc.).
Slat back (also known as Mission/ Shaker) -
Evenly spaced vertical slats that give a laid-back look.
Windsor back
- A rounded back with vertical slat or rod, inspired by early English designs.
Cross back -
Features an 'X' shape in the frame of the back for a cafe-style, light and airy feel.
Ladder back chair -
Features horizontal slats, usually made of wood, for a rustic and traditional look.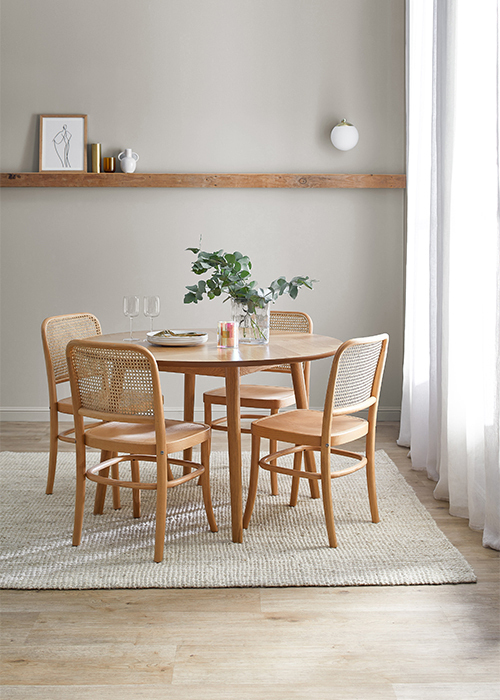 Popular dining chair styles
Dining chair design through the ages has seen the creation of a few cult followings. They're popular for a reason and elevate any dining setting.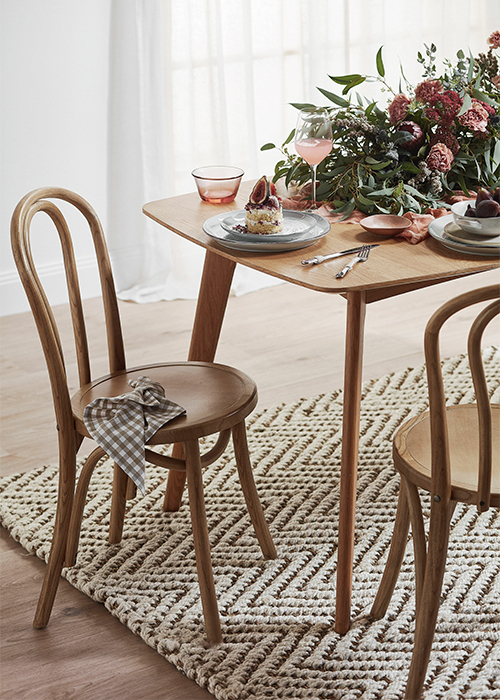 The Bentwood
Key features -
A single piece of wood creating both the rear legs and the frame of the chair back,
bent into a smooth curve
, with a second smaller piece of curved wood within it to form the backrest.
Most likely to -
Be extremely lightweight and moveable, perfect for casual dining and making space for guests.
Fun fact -
In July 1842, Michael Thonet was granted the right to use his bentwood method on 'any type of wood' by the Austrian court. Before then, it was not legal to do so.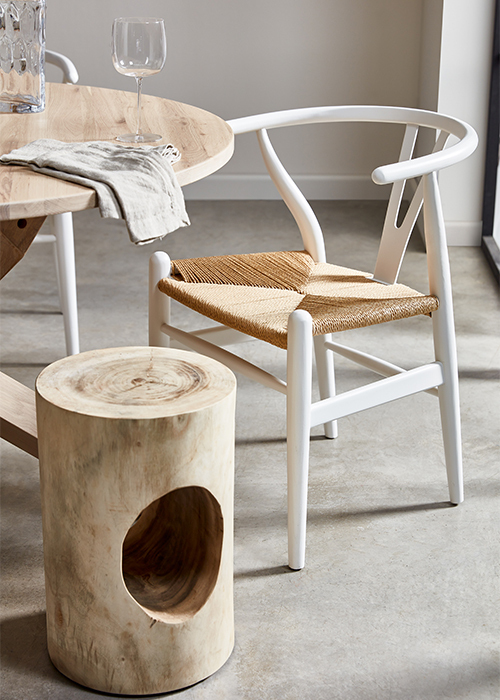 The Wishbone
Key features -
One curved piece that forms the two armrests and top of the back, a forked piece of wood creating the backrest, and a woven paper-cord seat.
Most likely to -
Give your dining setting a Scandi feel
but limit the amount of chairs able to fit around a table.
Fun fact -
More than 100 steps are required to make a Wishbone Chair, and most of these are done by hand.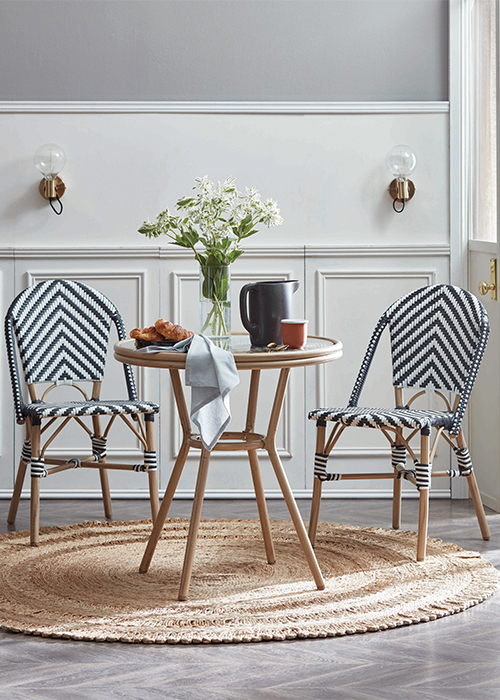 The French Bistro
Key features -
Woven back and seat, usually in bright colours or patterns.
Most likely to -
Suit casual dining or an outside setting, after all, they're the original people-watching chair.
Fun fact -
They were originally woven from rattan
, which was a fashionable French colonial import of the early 1900s, but today are mostly made of rilsan, a biobased but more resistant substance.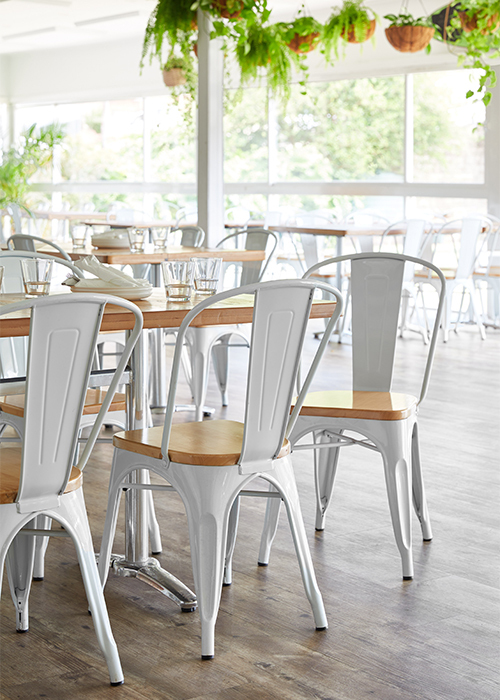 The Industrial Cafe
Key features -
A wrought, rounded metal frame with a single sheet panel backrest and chunky legs.
Most likely to -
Scrape across hardwood floors, so be sure to grab some footpads.
Fun fact -
It was originally designed and made by the French furniture maker Xavier Pauchard in the Burgundy region of France.​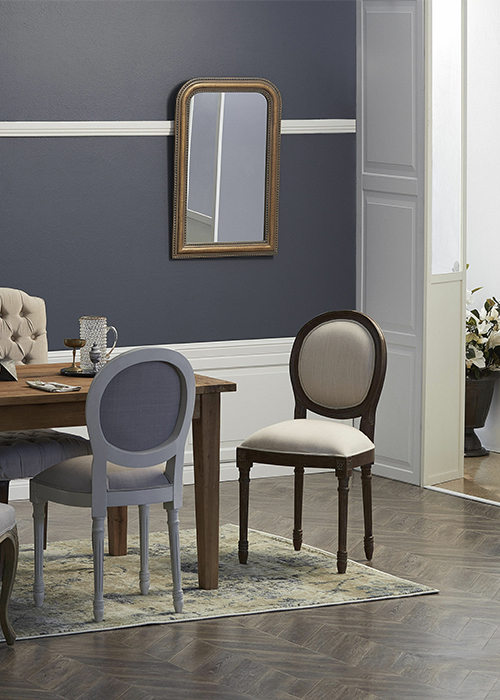 The French Provincial
Key features -
A plush, upholstered seat and back, usually with wood detailing around the frame.
Most likely to -
Let you sink in and enjoy your meal how the French do, full of conversation and at a leisurely pace.
Fun fact -
Natural materials are heroes in French provincial furniture as they weather with age to give the pieces a distressed, lived-in feel. ​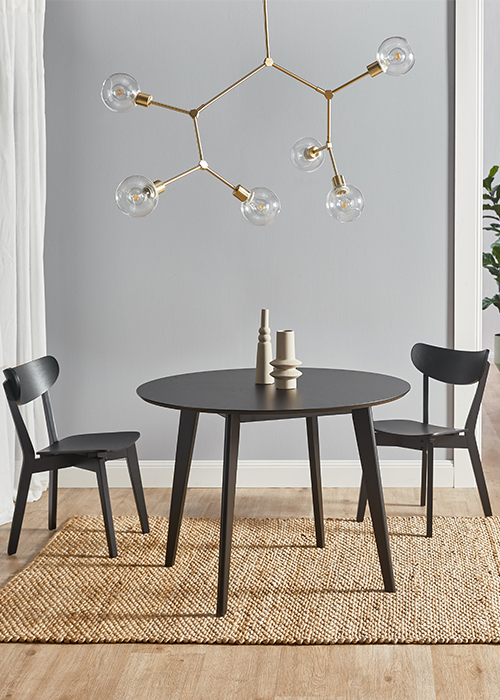 The Mid-Century
Key features -
Clean lines and a 'floating' back or art-deco cut out in the back.
Most likely to -
Be lower than other types of chairs with a more reclined back.
Fun fact -
The term "mid-century modern" was coined by author Cara Greenberg for the title of her 1984 book Mid-Century Modern: Furniture of the 1950s.