The sheer amount of things to consider when shopping for a quilt (or doona or duvet, depending on what you call it) can be pretty daunting and there are often things you don't even know you should be thinking about. 'What is loft?' you might be thinking, or 'What's the difference between baffle box and box stitched?' you may wonder. We've done the work for you and are here to take you through the finer details of quilt selection.
​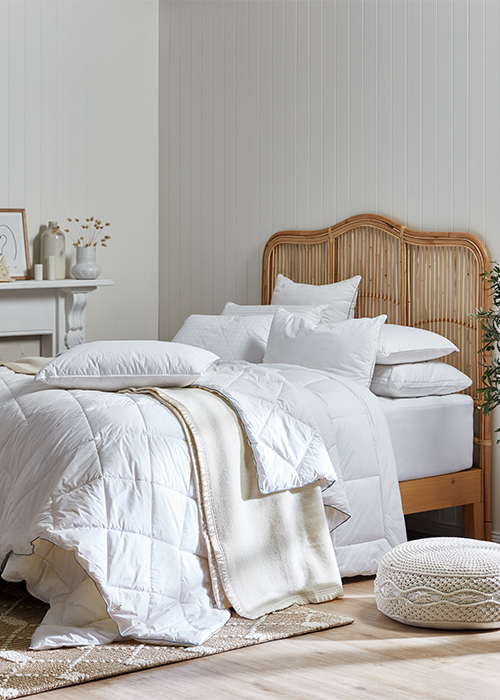 Decoding quilt terminology
Size
In Australia, quilt sizes are pretty self-explanatory: if you have a queen-sized bed, you would usually look for a queen-sized quilt (unless you want it oversized for a cosier bed, then you'd want to consider a king-sized quilt). Use this guide to find the correct dimensions for the look you want.

Fill weight
Quilt filling is measured in grams per square meter (GSM). This will directly affect how warm the quilt is, so ideally, you'll want a quilt with 150-250 GSM for summer, 300-350 GSM for autumn/spring and 500+ GSM for winter, of course, depending on how warm you get at night.
Stitching
Baffle box
means that a thin strip of fabric has been sewn between the two covers to create a three-dimensional box inside the quilt. This allows the filling to be evenly distributed and allows the quilt to reach its full loft.
Box stitched
quilts have the two covers sewn together to create square pockets where the fill is held.
Diamond stitch
is very similar to box stitch, but the diamonds are generally much smaller in size, creating many more pockets.
Cloud stitch
is slightly different again, in that the two covers are stitched together in wavy lines, creating long pockets from one side to the other where the fill is held.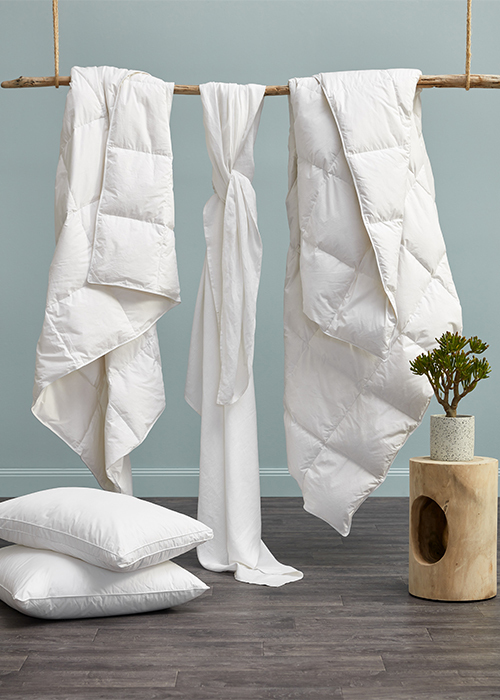 Loft
Loft isn't important for the warmth or weight of the quilt, but is useful for determining the aesthetics. It describes the height of the quilt, or how thick it looks when resting on a bed. For a more luxurious look, you'll want a high loft.
Thread count
This refers to the thread count of the encasing material. Any quilt that has a 220 thread count is considered 'down proof', which means that the tiny plumage won't escape through the fabric. It's also important to be aware of the fabric material, as it will factor into the temperature regulating properties of the quilt.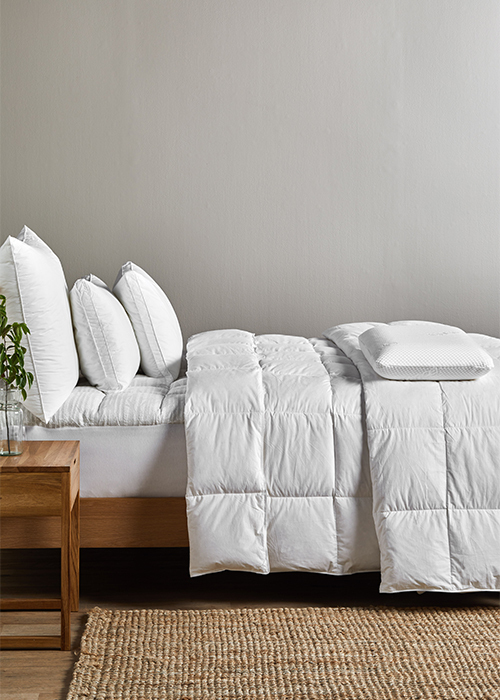 The difference in materials and season appropriateness
All-season
Down
Down is a natural insulator and has the best thermal properties of any fibre. It will keep your body temperature even and draw away excess moisture, without being heavy. The best quality down comes from the mature geese of Europe and North America. They're known to have the highest fill power, meaning a loftier, fluffier quilt. They are, however, the more costly choice and can become allergenic if not washed regularly.
Feather
Feather is similar to down but is more cost-effective and slightly heavier, giving you that cosy 'tucked in' feeling. It will keep you warm without overheating and is suitable for people with allergies as the feathers are examined for impurities.
Wool
Being a natural, biodegradable and breathable fibre, wool is well known for its temperature regulating qualities. It will draw moisture away from the body at night and eliminate humidity in summer, while trapping air to keep you warm in winter, making it a great option for couples with different sleep temperature needs. It's a great option for people with allergies as it prevents bacteria, mould, dust mites and other allergens from developing. It's also easy to clean and maintain, making it durable and long-lasting, though it doesn't have a high loft.
Silk
Silk is considered to be the healthiest choice for quilt material as it wicks away moisture, regulates body temperature and will contour to your body shape, preventing cold spots. It's soft and light without being suffocating and can last up to 20 years if maintained properly. Just be sure to go for mulberry for the best quality, because it's naturally hypoallergenic, resistant to dust mites and highly recommended for people with allergies.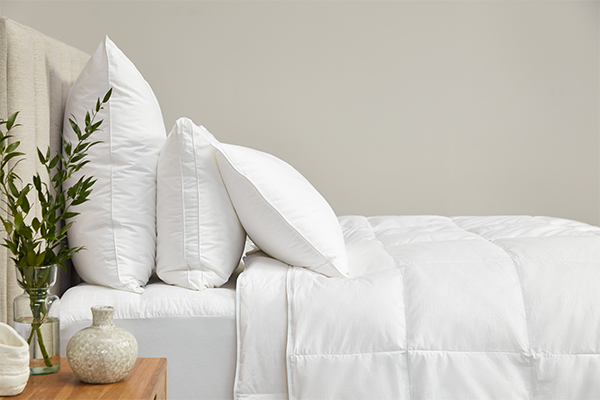 Summer
Cotton
Being a natural fibre, cotton is good for people with allergies. It's a breathable, lightweight material that makes it great for the hotter months. Cotton is valued for its quality, comfort, durability and softness.
Bamboo
Bamboo is a natural and highly sustainable fibre, making it the most eco-friendly choice. While it doesn't have much loft, it is ultra-light, breathable and will wick away moisture. It gives you warmth without the bulk and is inherently resistant to mould, bacteria and odours.
Winter
Polyester
Polyester is easy to care for being machine washable and can mimic the warmth and feel of more expensive materials such as feather and down. It's efficient at retaining heat, is lightweight and durable, and can be coated with antibacterial and antimicrobial treatments, making it a good option for people with allergies and asthma.
Microfibre
This synthetic material is lightweight, hypoallergenic, warm and has a plush loft, giving the comfort value of feathers.It is also available in different weights and is machine washable, making it very versatile and easy to care for.
Tencel
Tencel is a natural eucalyptus fibre that has hypoallergenic and antibacterial properties, making it ideal for those with allergies and asthma. Being a natural material, it's very eco-friendly and is very good at retaining warmth.
Shop our range of quilts and duvets to find the perfect one for you.