We've all been envious at some point of that
ah-mazing
home. You know, one of those Kyal and Kara reno jobs or some swoon-worthy property on
Open Homes Australia
. Not all of us have a chunk of change lying around to give our living rooms a total facelift, but that doesn't mean we can't aspire to make it look and feel as luxurious and high-end as a five-star retreat. Check out our simple and affordable style tips to make your living room look more expensive.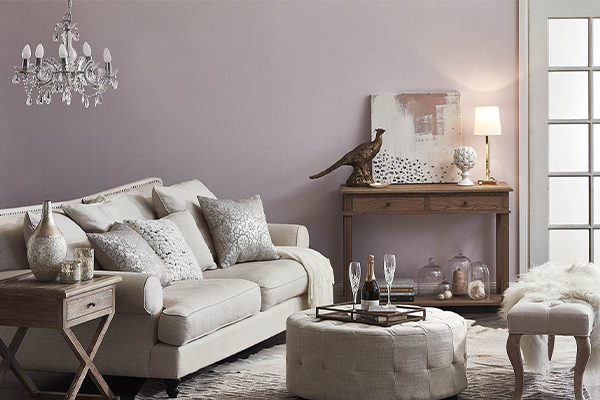 Rearrange your furniture
Here's a style tip that doesn't cost you a cent: reconsider the layout of your living room. Many of us tend to push all our furniture against the wall which can make a space feel dull and sterile. Moving furniture deeper into a room and setting up zones for conversation will immediately make your living room feel more inviting. Don't forget to also leave sufficient space for people to move between furniture. Also, consider the focal point of the room and, if it is the TV like in so many living rooms, consider using your
entertainment unit
or
shelving
where the TV is housed to display other interesting objects to give your space more personality.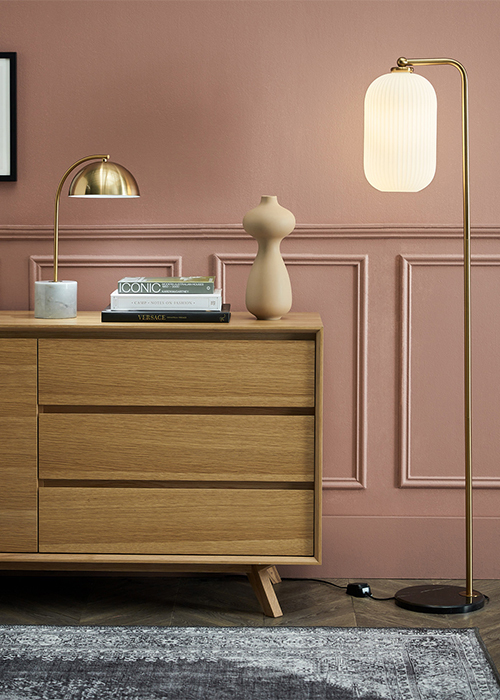 Create a lighting scheme
Mix different lighting sources to create different lighting levels and functions. Add high-level lighting with a dramatic
chandelier
or
pendant light
to illuminate the entire space and to create a central focal point. Mid-level lighting can be achieved with
wall lighting
such as sconces or recessed lights and can be used to highlight artwork or accentuate interesting architectural features, while low-level lighting through
floor lamps
and
table lamps
add layers of illumination around seating. Don't forget to play with colour, shape, scale and texture to add visual interest, speaking of which...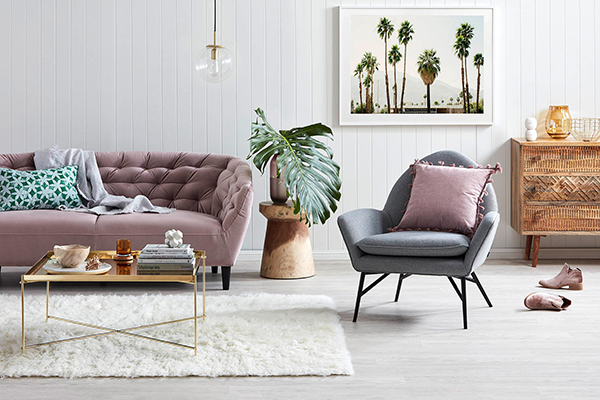 Layer different textures
Using the same texture in a space makes it look flat and dull. Instead, mix furniture and decor in a variety of different textures. Perhaps combine a metal
coffee table
with a velvet
sofa
and a glass
pendant light
.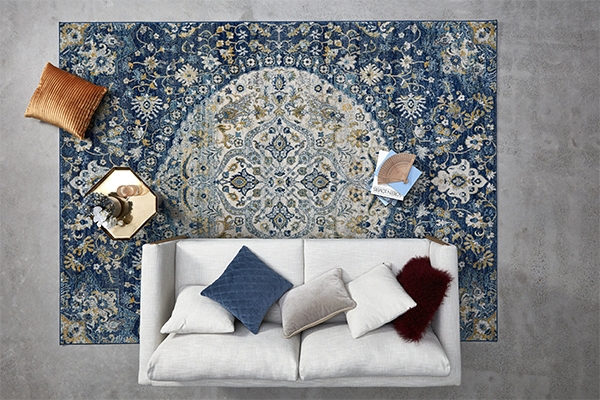 Lay down the largest rug possible
Rugs
that are too small makes a space feel disjointed and uninviting. Buy the biggest rug possible for your living room and you'll make it instantly feel more spacious, yet cosy and warm.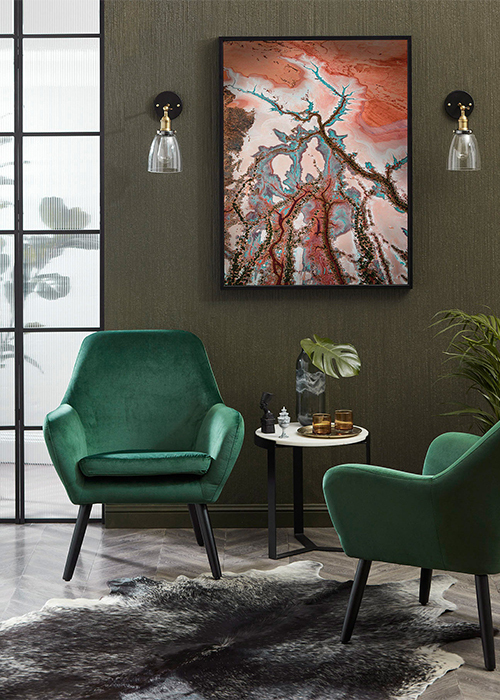 Display large-scale artwork
You don't need to have an original
artwork
to make your living room look like a million dollars. Simply choose a large print that you love, put it in an elegant
frame
and let it have pride of place on one of your walls. Ensure that it is hung at eye level (the centre of the artwork should be around 160cm from the floor) to be fully appreciated and to have maximum impact in your living room.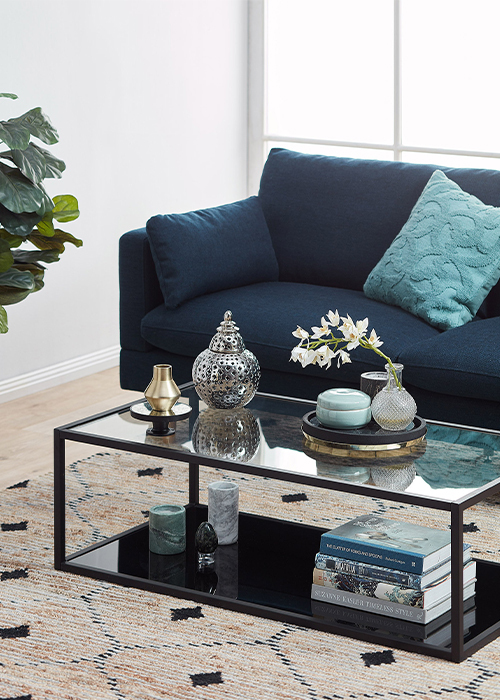 Create considered vignettes
'Considered' is the operative word here. An over-accessorised living room can appear messy and unsophisticated. Whittle down
ornaments
and personal mementos to just a few loved pieces (you can always store the rest and rotate your decor by season), then make interesting arrangements on coffee tables, console tables and shelving. Don't underestimate the impact of fresh flowers too; even something as simple as a snip of leafy foliage in a
vase
can elevate the look of your living room.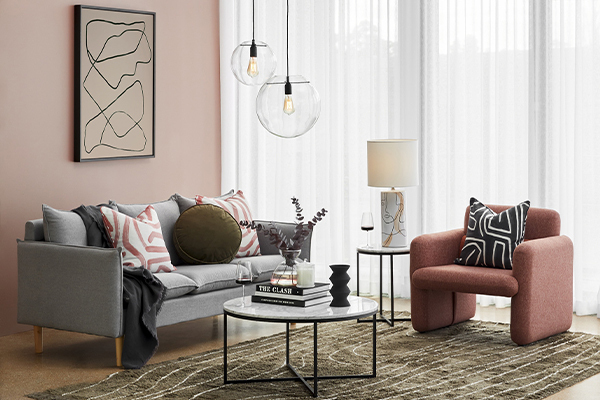 Dress up your windows
Don't forget to decorate the windows in your living room.
Venetian blinds
create depth to a space and are practical too. If you prefer
curtains
, ensure you hang them as close to the ceiling as possible to draw eyes upward and to make your room appear taller than it actually is. Who needs soaring ceilings when you can rely on visual trickery?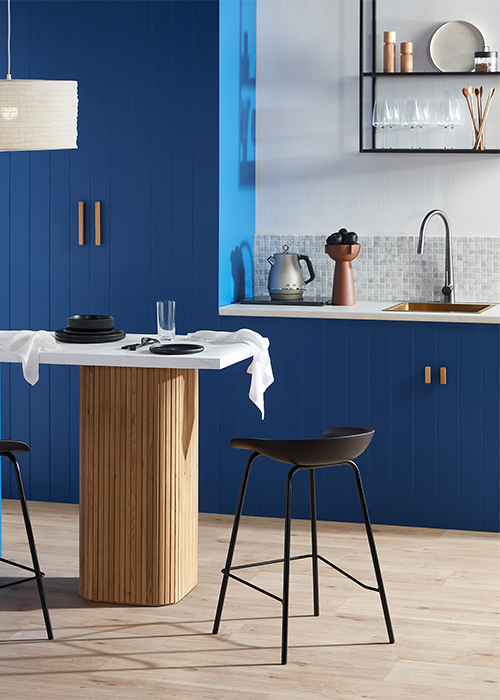 Do some minor DIY
If you have a large open-plan living area, perhaps you may want to consider making one of the walls a feature wall with a different
paint
colour or some statement
wallpaper
. Painting ceilings, dooors and trimmings can also make a world of difference. Is your kitchen part of your living room too? Instead of a completely new fit-out, replace your
cabinet hardware
with a new set of knobs or handles for a stylish touch.