Have you ever wondered how our stylists create the beautiful Room Ideas we share with you? Here, Drew Lewis shares the inspiration behind his bright summery bedroom, plus a clever idea for displaying artwork.
​
What was your inspiration for this look?
I wanted to create a sanctuary that was harking back to memories of summer, which was what inspired this colour palette.
How did you go about pulling all the elements together?
I went onto the website and created a Favourites board, curating everything that I would love to use in the shoot. I knew linen would be a feature. All my bedding at home is linen. It has a beautiful texture, it falls really nicely, and when you're layering a bed, that's what it's all about: creating that plushness.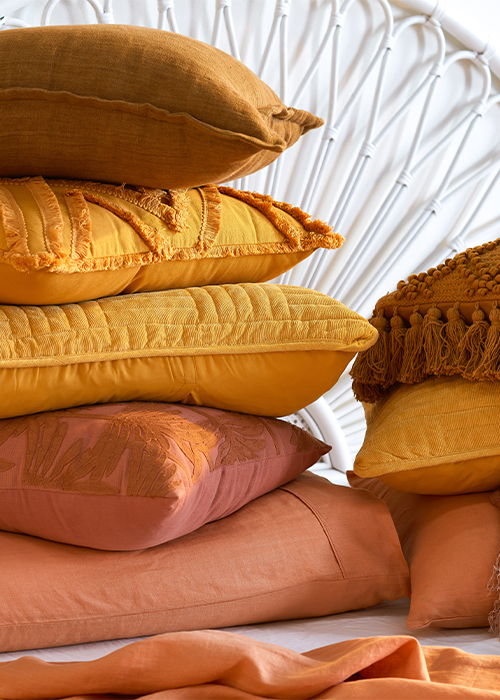 ​Tell us about your styling process.
Firstly, I started with the bed head and a plain white linen sheet, and then I built it from there. I used a burnt melon sheet that contrasts well with a frayed-edge linen quilt cover. The coverlet is a beautiful colour in turmeric that has a '70s feel. It has a really fine cord, so it's not too heavy and it adds a really nice layer to the bed. Fringing was obviously huge in the '70s, so that's why I chose the throw. It has a beautiful burnt rose colour and it reminded me of a sunset. The rug was an easy choice. I love the vintage feel of its neutral base with the burnt orange. It adds a stark contrast with the poppy colours on the wall.
How have you displayed the artwork?
The idea to display artwork within wall-painted frames came from an amazing hotel in Barcelona where I stayed last year. They did something similar in the rooms and I wanted to recreate that and take the look of this bedroom from retro to modern.
Tell us about the decor in this space.
When it comes to styling bedside tables, think about layers. You want to create little vignettes with different heights and textures. The palm tree ornaments were an easy choice for this look. Not only does it reference summer, but its antique-gold finish complements the vintage feel of the rug.
Sum up this look in one sentence.
This look has a beautiful nostalgic summer vibe and is an easy way to inject lots of colour and texture into your bedroom.