Inspired by all the hand-crafted textiles and decor pieces in today's sale events, we asked Kathy Bruce, the founder of Water Tiger, to share some of her images from India. Kathy travels to India several times each year sourcing items for Water Tiger but never tires of the incredible colours, textures and contrasts the country offers.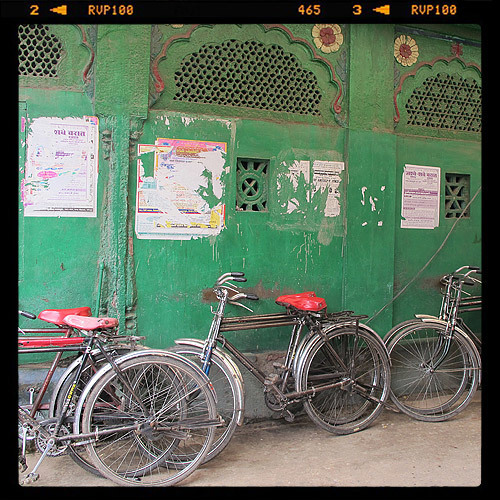 On my first trip to Jodhpur I spent the first 4 days in massive dusty concrete factories and showrooms collecting amazing items, so on my last day I wanted to see what the city was all about. With my trusty camera I walked and discovered the most amazing imagery on every corner. Green is my favourite colour, so I love this shot.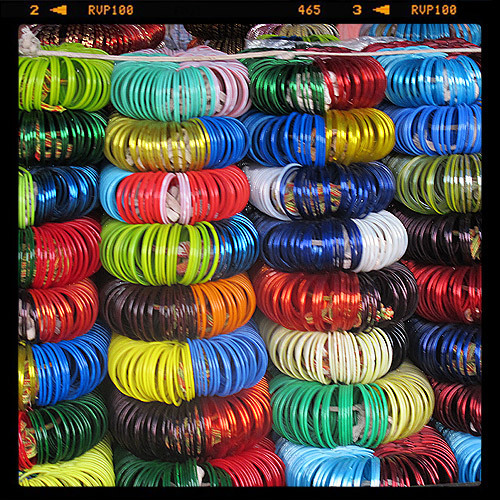 I found this lady selling plastic bangles for cents, all too small of course for me but I thought this totally represented India and all its colours.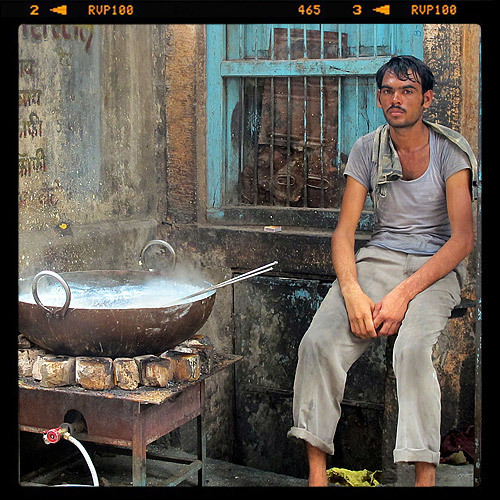 I was with one of my suppliers and we were walking some small lanes in Jodhpur, we came across this chai wallah, or tea seller. It was explained to me that he was very fortunate to have such a great job; maybe he was yet to realise that.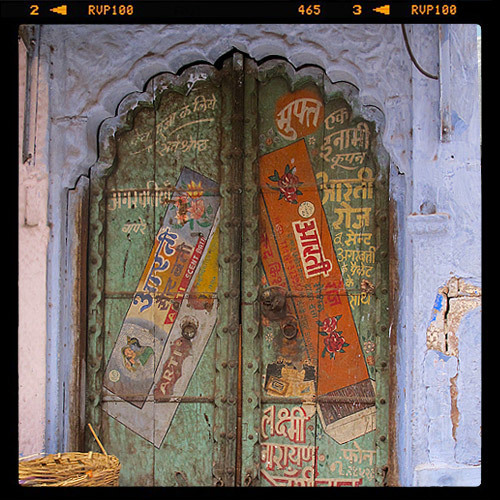 These doors were in spied in Delhi. I was hoping to find the owner so I could buy them from him, stickers and all. So much beauty in something so practical.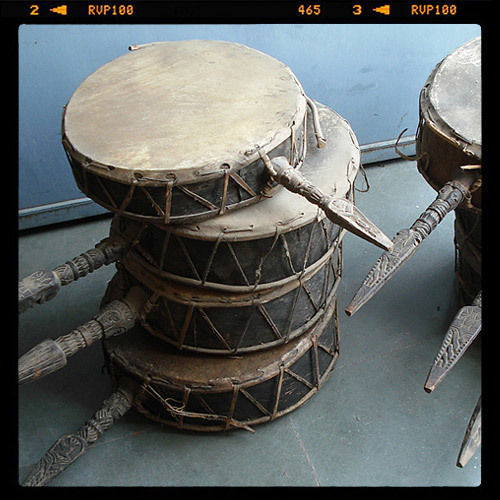 These are amazing drums from Nepal. I met a great supplier in Delhi; he was exhibiting in a small stand at a trade fair and persuaded me to come to his warehouse. After 45 minutes of driving I was praying it was worth it. His factory revealed the most amazing things from Nepal and Nagaland. I could not help my self and loaded a container's worth of goods, they arrive February.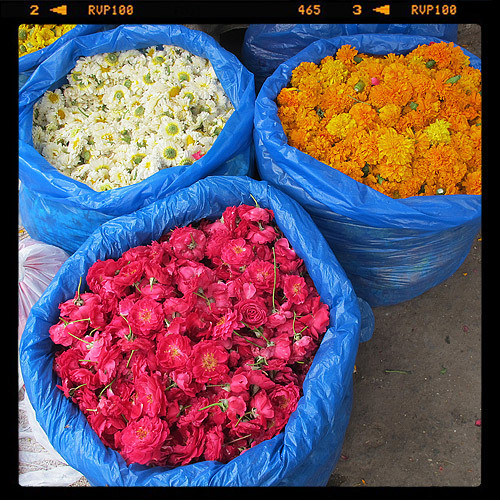 On any street in India you walk along and there are bags full of beautiful flowers that they use to make garlands with.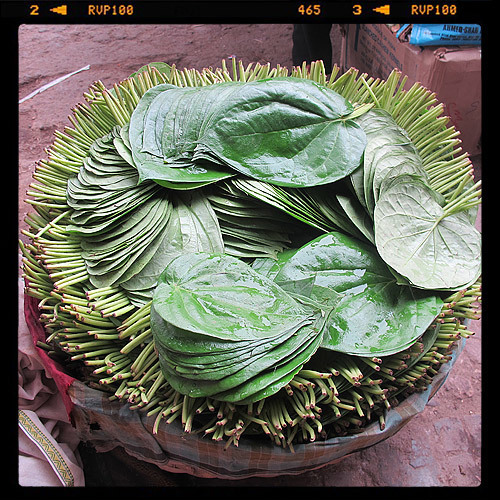 I don't see fresh produce displayed like this at Coles!. These are leaves they used to roll betel nut in; the symmetry alone deserved a photo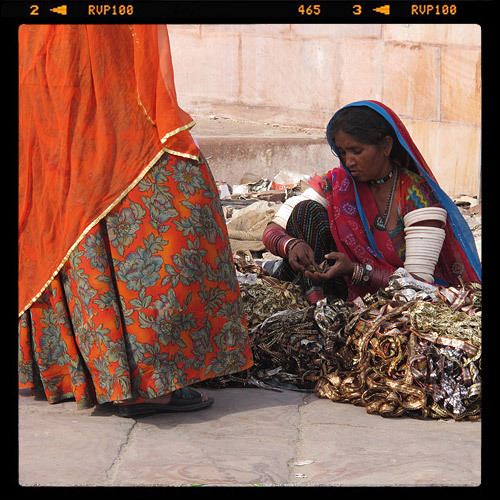 Everywhere in India people find ways to reuse and recycle, we should learn from them. This lady was untangling ribbons and threads to sell .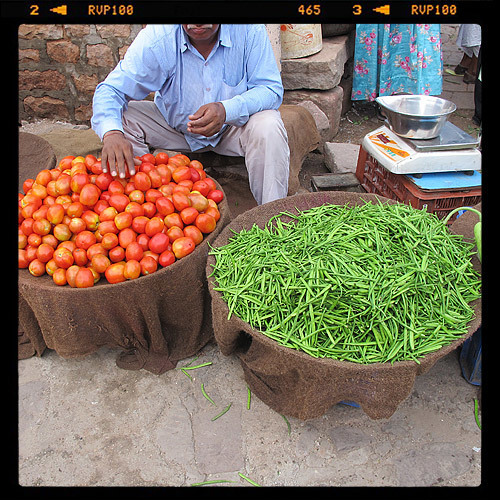 The produce in the markets in Jodhpur was beautiful and the colours were so intense. Each day you could walk to the markets to select everything you needed for the day. What a great way to exist.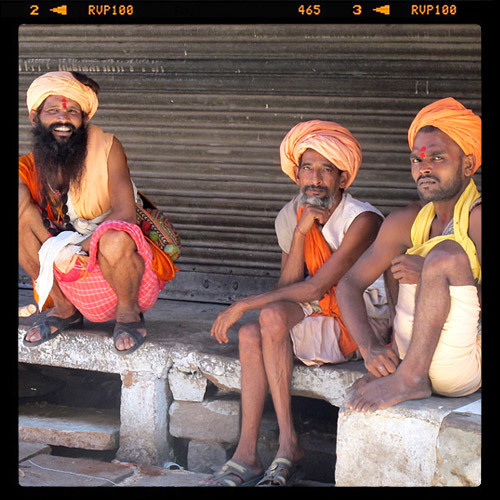 This is my favourite photo so far that I've taken in India, These three priests were just sitting in a small laneway chatting amongst themselves. I asked if I could take their photo, they indicated yes. After I took a few shots one of them blessed me, it was a pretty amazing moment in India for me.
Inspired by India? Visit the Water Tiger sale event now to see some of the treasures from Kathy's travels.