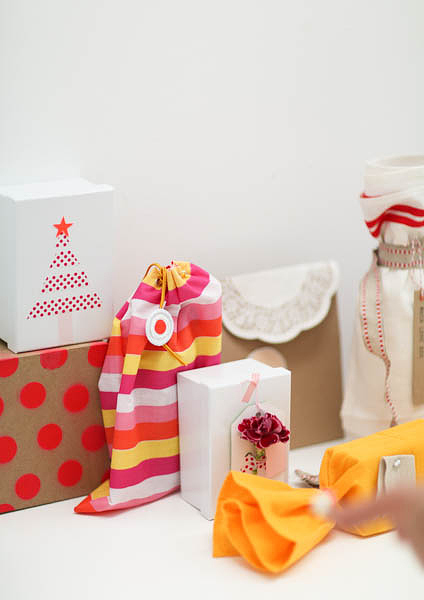 Our guest blogger today is stylist and craft advocate Megan Morton, who has created 5 clever and super easy ideas for gift wrapping with a difference this Christmas. If you love craft, check out the amazing range of classes at Megan's The School next year - everything from block printing and tassel garlands to pineapple pinatas!
The highlight of Christmas for me is working out what colours I will do in my tree and gift corner! This year I am stuck as I loved making all of these and feel totally spoilt for choice. Sometimes the gift dressing can be as joyous as the what's inside, especially as this year you might find yourself buying less. Show your love through our lovely, fool-proof and super easy wrapping ideas. Get that craft cupboard open and operational.
Flowers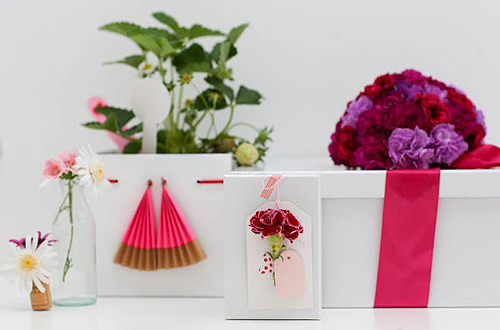 A living gift is perfect for teachers and neighbours. Here, convenience store flowers (carnations, strawberry plants) are made into flower gift toppers, living cards and seasonal small bouquets. The best thing about these flower ideas is that they can all be managed by your children. The carnation flower bomb gift topper is made by cutting an oasis ball (tennis ball size) into halves and placing in 2 bunches worth carnations whose tips are cut at 45 angle and stuck into the oasis.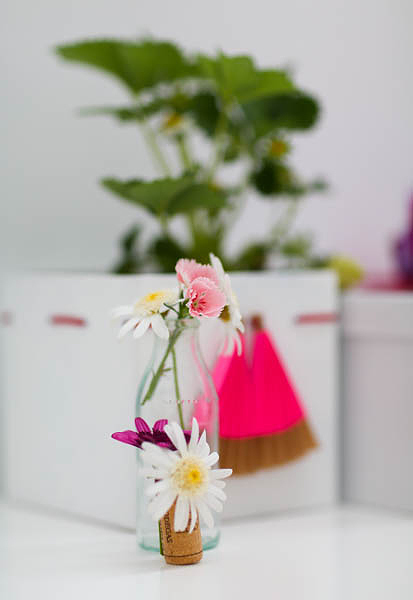 To make individual corsages (perfect as place settings) hammer a medium size nail into a cork and place in a bud flower that has been dipped in water (the cork will retain some water and makes for a perfect mini vase).
Lace and Doily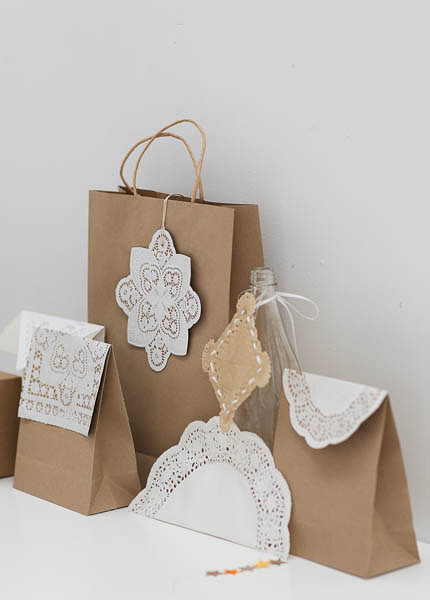 A doily made by hand has to be one of them most cherished yet all-too-forgotten pieces of handicraft. For the gift tags, we have painted them both sides with Liquid Gloss glue (or use a similar product) and once dried, strung them with ribbon to make instant gift tags.
The poorer cousin, the paper doily, is used as a template to spray laser-cut like patterns onto store bought boxes and cards, or easily stuck down to existing paper and gift bags. The doily makes for a sensational gift pouch for smaller items when sewn together and can be nuzzled into your Christmas tree branches.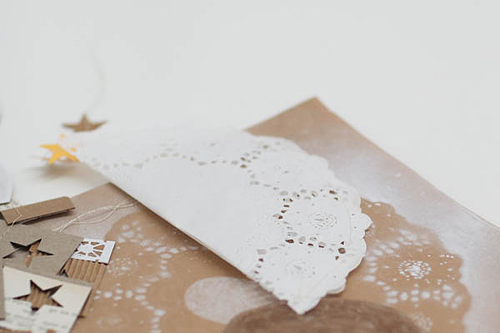 Select a doily whose pattern you like and paint (or spray for a more softer effect) directly onto the gift box or bag. For lovely home made lacy wrapping paper, keep moving the doily around the paper.
Recycled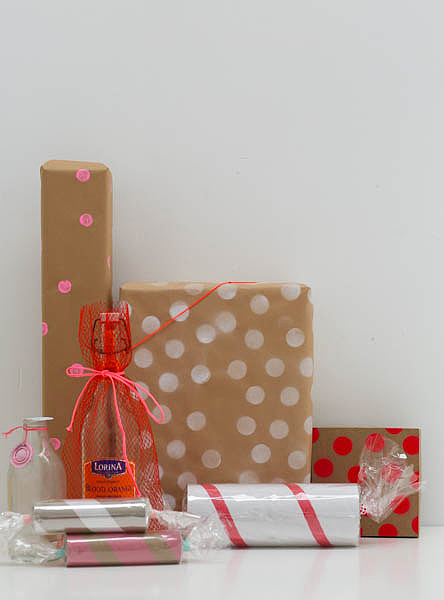 Orange bags, bottle tops and paper you're likely to have at home all make for perfect wrapping cues. Wine or bottled gourmet gifts are ideal placed in orange bags whose open necks are easily laced with string. We have made bottle top gift tags and painted them with initials and festive pictures by hammering out bottle tops flat (use a wooden bread board underneath!) A drill makes a small hole ready for stringing.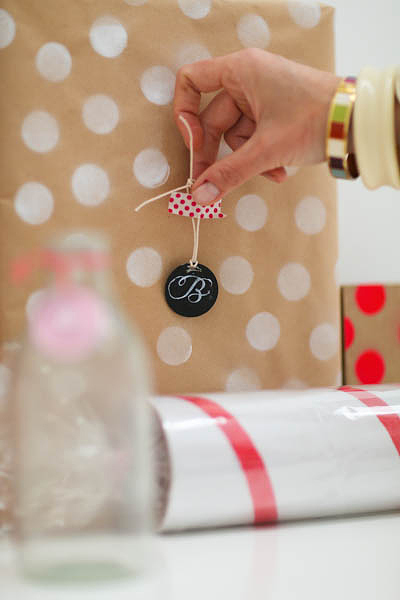 Making spot (or any shape) paper is easily achieved by potato stamping principles. We have used the end of a piece of balsa wood for the smaller pink dots and the larger ones have been achieved by painted spots made by a dot paper cutter. Cardboard shapes, potato stamps or balsa wood are all perfect tools for this and the shape and colour combinations are endless. The end of a balsa length gives you the ideal `hand made' looking dot.
Stickers and Tape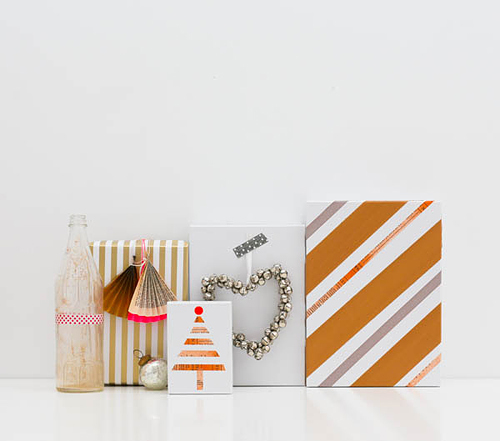 Washi tape is a great wrapping aid. Source from
Table Tonic
or most paper stores. Simply cut into star shapes, simplistic Christmas trees or initials (E, F, H, I, K, L, M, N, T, V, W,Y and Z are ideal letters for this).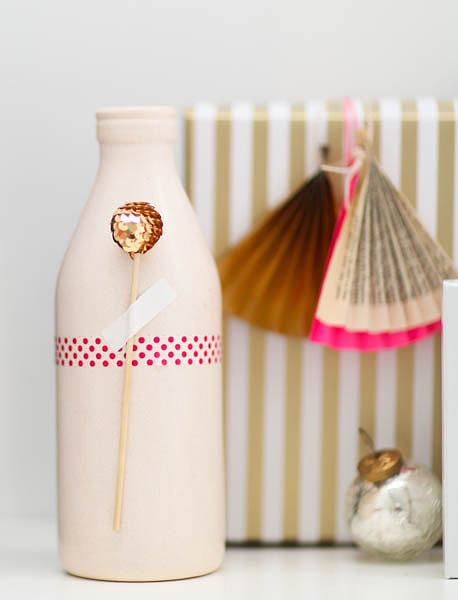 We have used a combination of thin washi tape and hardware store gaffa and electrical tape to create high impact, diagonal stripes, ideal for larger flat boxes.
Fabric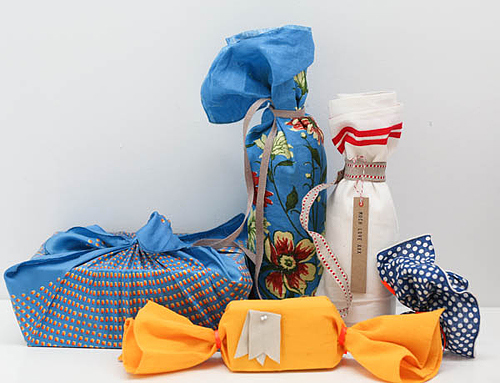 Tea towels make lovely gifts but can look mean as the only gift. Use them to wrap bottles or gourmet goodies. In the same way, handkerchiefs are ideal for smaller items, tied swag style with ribbon or secured with an elastic band.
Napkins make great wrap on brick size items and smaller lapel style tags stitched or pinned in add flair.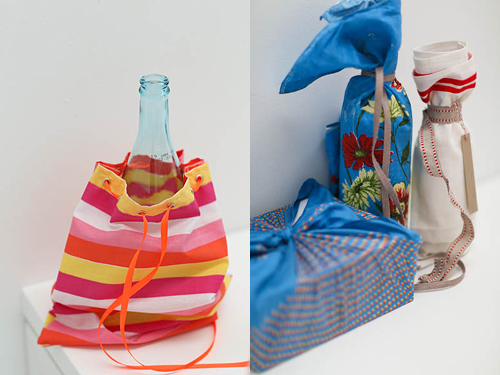 An eyelet maker is indispensable for creating bags or pouches. A hammer is all that is needed to create a series of finished rounds for ribbon or trim to be threaded through. It's like fabric's version of sticky tape to secure down any material. Alternatively, take a more Japanese approach and use a vintage scarf to wrap a gift, picnic box style, like we have done here with a silk scarf we found on
etsy
.
All photos by Maya Vidulich.