Dying eggs is a simple DIY that's perfect for Easter, and the ideal school-holiday activity. Add pre-prepared hardboiled eggs to a pot of very hot water (bring water to the boil and then remove from the heat for the dying process) followed by 1-2 tablespoons of white vinegar and your food colouring of choice - we mixed pink and blue to create purple. Leave eggs in the dye bath for 2-10 minutes, the longer you leave them, the deeper the colour! As a finishing touch, Allira created bunny ear crowns for each egg by twisting 20cm lengths of gold jewellery wire into a bunny ear shape.
Have fun with Easter-themed decor
Whether you want to add a decorative touch for Easter lunch, or simply get into the holiday spirit with the kids, these next two DIY ideas are perfect. Create cute bunny bunting by finding a rabbit template on the internet, then using your paper of choice (we used pages from an old book) to cut out 10 bunny shapes (you can add more or less depending on your desired bunting length). Some ruffled fabric or simple cotton balls become perfect bunny tails, attached with PVA glue. Punch a hole in each bunny ear before threading on to some kitchen twine or ribbon.
An Easter wreath is another simple but effective idea for your front door, sideboard or Easter table. We took a Temple & Webster Christmas wreath leftover from December and gave it a new lease on life by attaching some faux eggs and feathers (both found at the craft store) with a hot glue gun, before threading some baby's breath through the wreath.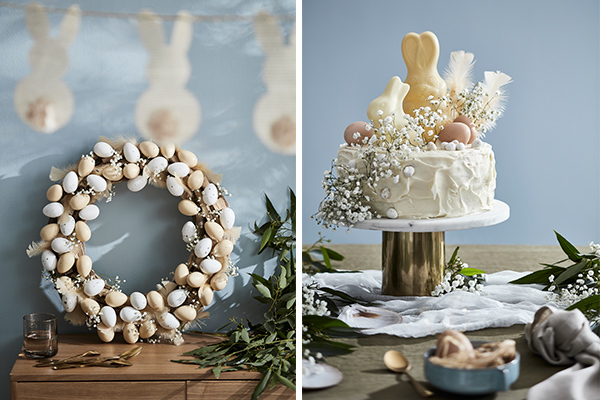 Complete the table with a festive cake
No Easter would be complete without sugar and chocolate, so we created this statement cake as a table centrepiece. Starting with two stacked cakes, ice generously (we used store-bought icing, the perfect timesaving hack!) Allira chose a neutral colour palette. "We've all got chocolate around the house at Easter, so I've chosen two white bunnies in different sizes as my starting point," Allira says."Place these asymmetrically on top of your cake, then add some hardboiled eggs (make sure to tell people these aren't chocolate!) and smaller white chocolate eggs for interest, before finishing the cake with some baby's breath or flowers of your choice to match your table and add texture."