Whether you're dreaming of a weekend retreat or looking for tips on how to do small-space living in style, you'll find inspiration in stylist and photographer duo Deb McLean and Colin Doswell's newly renovated studio Shelter Coastal Retreat on Victoria's Mornington Peninsula. Here Deb talks us through the space and her favourite spots to visit in the area.
Tell us a little about the property?
The studio was an existing building in the grounds of our holiday home in St Andrews Beach, with its own private garden area. We moved in to the main house two years ago when we sold in Melbourne, and began the studio revamp as the first step in a bigger house renovation. When we first bought it, it was a really daggy 1980s house with red-tinted wood panelling. The studio should have taken one or two months, but it dragged on over six as we did almost all the work ourselves.
What was your creative inspiration?
I'd call it refined rustic, Australian meets Scandi. It's very simple, light and airy, with the garden beyond the French doors a focal point. In my own home, white and black are the only colours I use, with a little green. I work with so much colour the rest of the time, I need a restful space. So we painted the exterior in
Resene
Blackjack and the interior in my go-to-white, Resene Rice Cake. It's the most fabulous tone, not too blue or grey.
The studio's very open, with the sleeping, sitting and bath area all sharing a space. What tips can you share about styling and defining small spaces?
We added small nib walls to visually separate the spaces. And the modern four-poster bed helps to contain the bedroom area. The sitting area next to the French doors relates to the deck, which acts as a second living space.
You've managed to create a feeling of simple luxury, any tips for doing this on a budget?
I spent more on the bed and the bathtub as statement pieces, while sourcing other affordable pieces such as linen bedding from H&M and chairs from Ikea.
What do you think makes the ultimate holiday house?
There has to be a great music player, luxe bedlinen and beautiful surroundings. The aesthetic is always important to me when looking for a holiday rental. We also had plenty of friends visit and give their feedback before we opened up Shelter for public rental.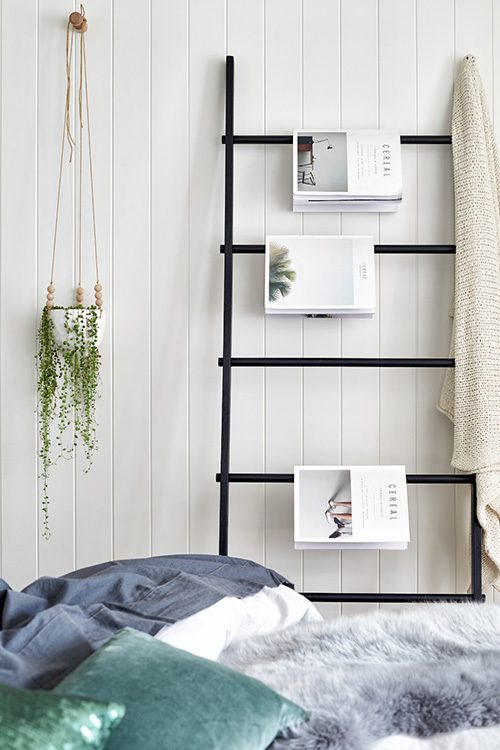 Where's the best holiday home you've stayed in? Chateau de Massillon
near Avignon in the south of France, a royal hunting lodge built in 1555 and transformed by renowned designer owners Birgit Israel and Peter Wylly.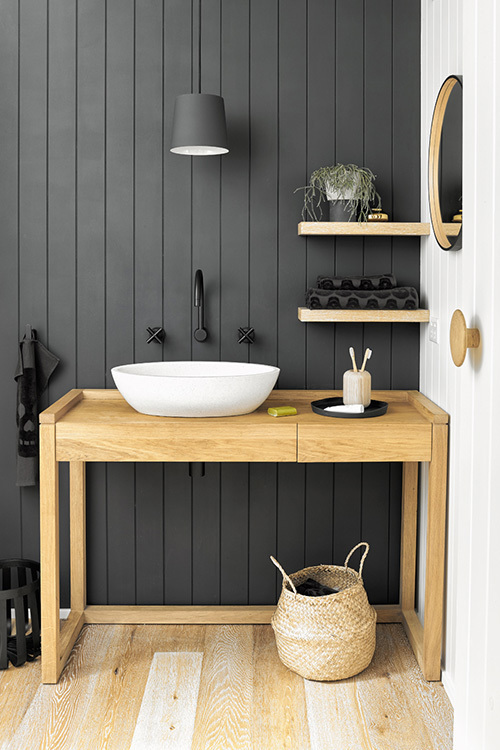 Tell us a little about your neighbourhood in St Andrews beach, any must-visits for guests at Shelter Beach House?
For interiors shopping I love
Coastal Living
in Rosebud and Sorrento. Sorrento is also home to
Sandarne, a
s well as some great places to eat like new vegetarian bar and restaurant Carla,
Cakes & Ale
, and
Sciclunas
for food shopping.