Home renovation expert and The Living Room regular Cherie Barber is back with a new book, Renovating for Profit, packed with her invaluable tips and tricks for turning dated and drab properties into masterpieces - on a budget. In this preview, Cherie shares her best advice for making over your living room with just a few clever colour and furniture choices, without breaking the bank. Shop everything you need for a beautiful living room makeover on Temple & Webster now.
Colour me happy
Because the living area is a room where lots of people with different tastes will spend time together, you need to stick to a safe colour scheme. My absolute favourites are neutrals like stone shades, greys, whites and tans. I really hold back on the colours for all my rooms and then add in texture and pattern through the smaller, decorative pieces such as ornaments and soft furnishings.
I know it's a trend at the moment, but I usually would not do dark walls in a living space, unless it was very large. Generally, it messes with the light in the room, for one, and secondly, it makes it feel less spacious. Always remember that your objective when renovating internally is to lighten and brighten your rooms, not make them darker!
You also need to keep in mind that the room will have to accommodate a lot of hard- working furniture. Sofas, armchairs, coffee tables, TVs, storage units – it's all got to fit somewhere! Make sure your pieces are scaled to fit perfectly with the size of your room. If you have a large space, a three-seater sofa will look great, as opposed to a two-seater that might seem too insignificant for the space and vice versa.
Furniture tips
For a room to really work, you need clever pieces that don't absorb light and space. The key is to not clutter your space. Your first decision is where to put the TV. The rest of your pieces will fall in line from there. Ideally, you'll have a windowless internal wall to set it on, then the couch can sit opposite it.
I also like a lower-backed sofa, which increases the sense of space. Grandma and grandpa's big fat plush sofas are not the way to go (though they are super comfy to sit on). Another great idea is to have a sofa that sits off the ground on legs, rather than a hard solid lounge that goes all the way to the floor. Again, it adds a feeling of airiness to your room.
Opt for open furniture. Enclosed coffee tables are far too heavy, so go for one that has thin open legs. Glass coffee tables look great too, and are perfect for increasing the sense of space in a small living room. You can ditch the armchair if you don't have space, or go for something very minimal.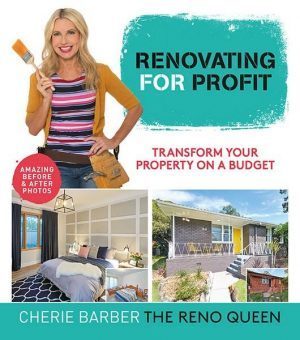 This is an edited extract of Renovating for Profit by Cherie Barber, published 19 October 2017 by Hardie Grant Books, RRP $39.99 and available in stores nationally.