Whether it's for practical reasons (leather is easier to maintain than fabric) or aesthetic ones (you want the look of a modern loft), you've decided on a leather sofa for your living room. Here's what you need to know in terms of real leather versus faux leather, leather look and feel, leather sofa styling, and leather sofa maintenance.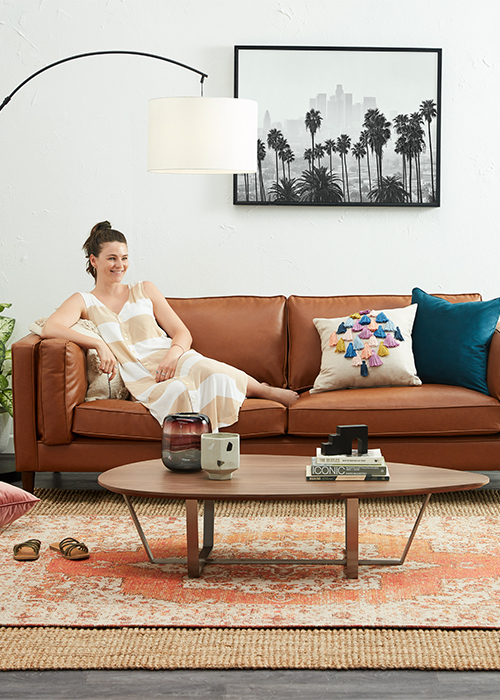 Real leather versus faux leather
There is nothing like the smell and feel of real leather. While more expensive than faux leather sofas,
genuine leather sofas
have unique natural characteristics, are strong yet soft, and become more comfortable as the leather ages. There are different types of leather that affect its thickness and look. For sofas, real leather is generally divided into the following categories: pigmented, semi aniline and pure aniline.
Pigmented leather
Pigmented leather is first dyed in a base colour, then again in an additional colour and finished with a polymer coating to give it maximum protection. This process covers many of the hide's natural markings and gives the leather an extra-firm feel. You'll find a wider selection of colours when you opt for this type of leather. It's also an ideal choice if you want maximum stain and sun resistance.
Semi-aniline leather
Semi-aniline leather is first dyed with an aniline dye, then dyed again with a light colour, and finally given a top protective coating, which also makes the dye more even across the hide. This leather tends to be softer than pigmented leather, and is a good choice if you're not a fan of the uneven appearance of natural hide.
Pure aniline leather
Pure aniline leather tends to be reserved for the most premium hides. This involves a tumbling process, which enhances the natural grain and gives the leather extra softness. While this type of leather is the most delicate and less resistant to spills and scratches, it is the most natural looking and can fade beautifully.
Faux leather
Faux leather makes a great alternative for animal-lovers, vegans and the cost-conscious. It will, however, feel stiffer and not age as well as real leather, but it's a fantastic choice if you don't like your sofa cracking or fading. Faux leather or
vinyl sofas and lounges
tend to be mostly made from either applying polyurethane (PU) or polyvinyl chloride (PVC) to a base material.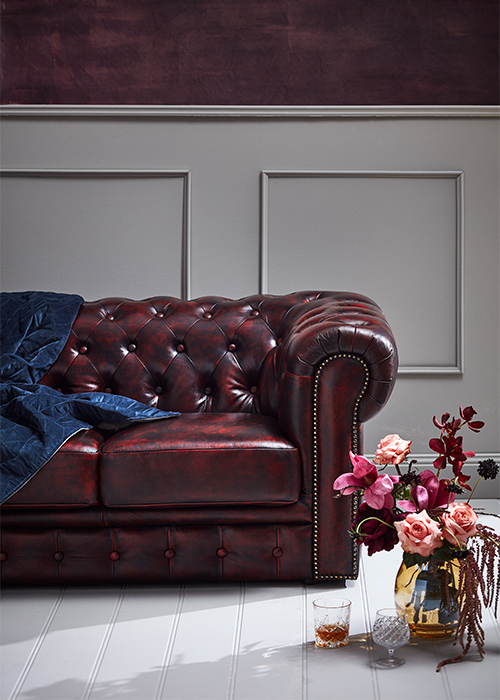 How to decide on colour for leather sofas
Leather sofas, particularly those made from pigmented leather, come in all sorts of colours these days. Having said that, if you've already decided on buying a leather sofa, chances are that you're probably keen on tan or brown for a more 'authentic' leather look. As to how dark you go, that's a matter of personal preference. Dark brown antique-style leather sofas are a sophisticated choice that will never go out of fashion, while light tan leather sofas are fresh, contemporary and work beautifully with bright colours. Also, have a think about what will contrast well with your floor and wall colour, and whether you want your leather sofa to blend in or stand out.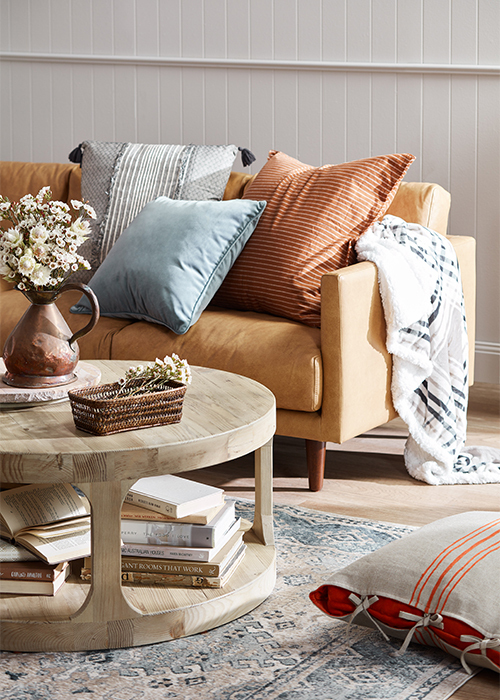 ​
How to style a leather sofa
Leather sofas are fantastic base pieces to work with and can be used to create different moods, from cosy and homey, to formal and luxurious. As many leather sofas come in dark colours, they can appear heavy in a living room. To lighten things up, pair with light coloured soft textiles in the way of
cushions
,
throws
,
rugs
and
curtains
. To balance the weightiness of a leather sofa, make sure you also don't underscale the other things in your living room. Consider a big
mirror
, a
bookcase
or large
floor lamp
to even things out.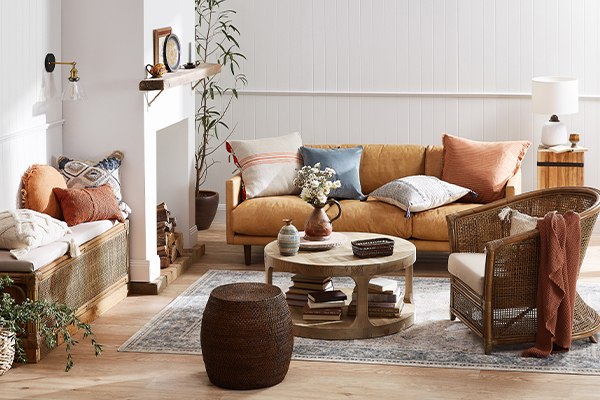 Plush cushions instantly make leather sofas more inviting; draw from colours in the surrounding decor for a cohesive look, and avoid cushions with sateen finishes as these tend to slip out of place on leather sofas. To soften the look of a conservative-looking leather sofa such as a chesterfield, throw a small
sheepskin rug
over its back or arm.
​
How to maintain leather sofas
Avoid positioning your leather sofa in direct sunlight, as prolonged exposure to the sun will cause fading and discolouration. Plump the cushions and rotate them if one side of the sofa is used more often, to ensure even wear.
You will need to condition a leather sofa every six months to keep the finish soft and to prevent it from cracking, but day-to-day spills and mess can usually be cleaned away with a wipe of a damp cloth. Spills will need to be attended to straight away, before they sink into the surface and make a permanent mark.
​
Dust mites and pet dander don't settle into leather as readily as they do on fabric, so leather can be great for pet owners, however, keep an eye on sharp claws as deep scratches are often irreparable.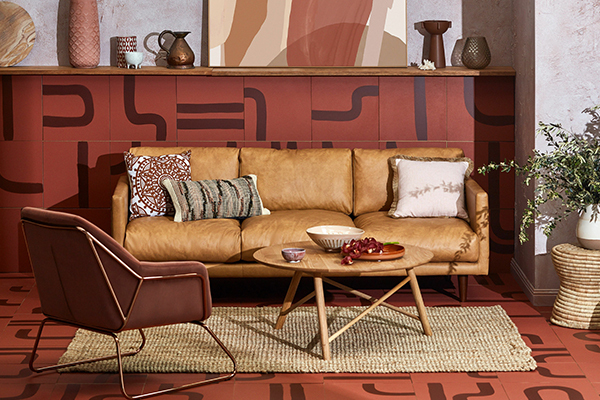 Shop our
genuine leather sofas
and
faux leather sofas
now.