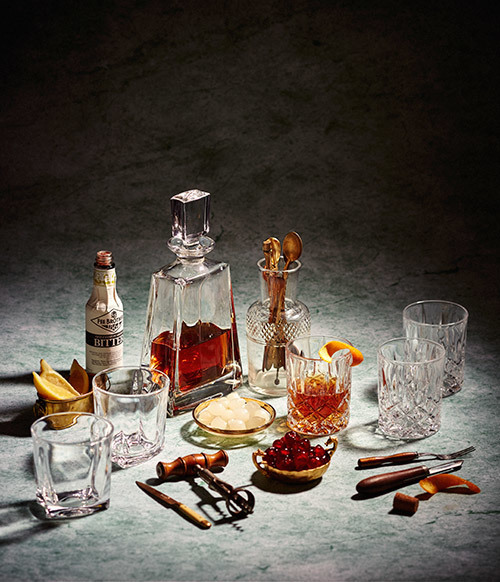 We've said it before, we'll say it again. Bring back cocktail hour! Jono Fleming perfects two traditional cocktails that are perfect for winter, with help from the crystal glassware in this week's sale event.
In the last decade, Mad Men influenced the world of design like no other piece of media. All of a sudden, people were scrambling to grab their family's 1960's teak arm chairs and shop for all things mid-century. Besides the fashion and the interiors, the other thing that stood out for everyone was the endless day drinking the characters seemed to get away with. Every office at Sterling Cooper Draper Pryce was equipped with a whiskey decanter and tumblers. The drinks became characters themselves. You would see Betty Draper sipping a vodka gimlet, or Roger Sterling chugging down a dirty martini but the real stand out star was the whisky. I went back to the classics with the Old Fashioned and the Whisky Sour - unlike Don Draper, they've stood the test of time.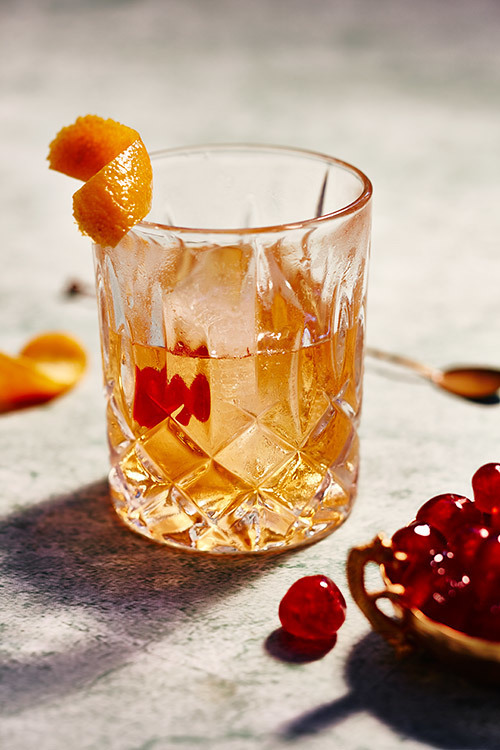 Old Fashioned
(1 serve)
1 tsp caster sugar
2 dashes of Angostura bitters
2 standard shots of rye or bourbon whisky
ice for stirring
orange peel (for garnish)
large ice cube
maraschino, glacé cherry (optional)
In a tall glass, for mixing, add the sugar and 2 dashes of bitters. Mix well with a spoon until the sugar is dissolved. Add the 2 shots of whiskey and add some ice cubes. Stir until well mixed.
In a chilled whisky glass, add a large ice cube. I froze my ice cubes in a muffin tray beforehand; it's said the large ice cubes will melt slower and therefore won't dilute the drink too much whilst still keeping it chilled.
Pour the cocktail and twist a sliced orange peel over the glass, allowing the natural oils from the peel to disperse into the cocktail. Serve with a twist of orange and a maraschino cherry.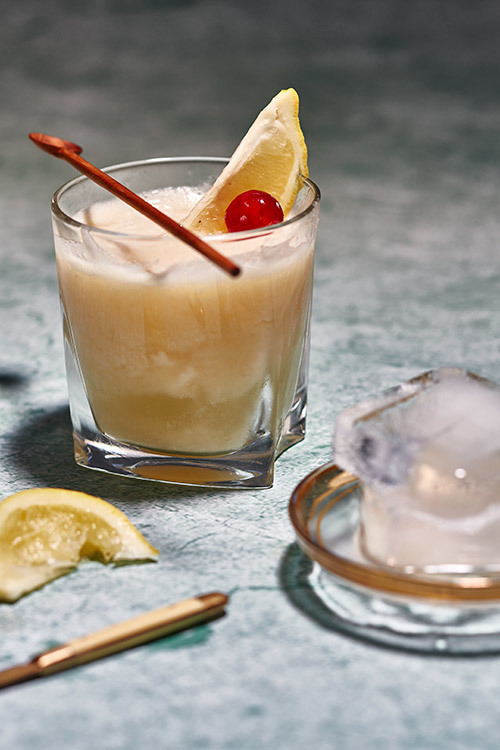 Whisky Sour
(1 serve)
2 tsp caster sugar
1 standard shot of lemon juice
2 standard shots of rye or bourbon whisky
1 egg white
large ice cube
In a cocktail shaker, add the sugar, lemon juice, whisky and egg white. (Worried about egg white?
Make your decision here
.) Do not add ice to the shaker at this stage.
After a couple of shakes, the mixture should be pale and foamy. Add a few ice cubes and give it a few more shakes. In a whisky tumbler, add the large ice cube (I used a square baking tin for this one) and strain the cocktail over the top. This cocktail has a nice sour kick and a beautiful texture.