Karen McCartney writes about enchanting emerald. Shop our Emerald Green Collection this week or follow our Going Green Pinterest board for inspiring interiors, including this Sydney apartment shot by Prue Ruscoe and styled by Steve Cordony for Belle.
What is it about certain colours? One minute we wouldn't dream of giving them the time of day and then, suddenly, they are everywhere – like a rash. Take yellow. It started with a bentwood chair here, a geometric cushion there, and before you knew it no self-respecting interior was complete without a substantial hit of this cheery shade.
Well, as the sun goes down on yellow, its equally positive cousin emerald green is in the ascendant. I know this because I have seen photographs of Cameron Diaz's kitchen, created by the queen of interiors Kelly Wearstler, with its cabinetry of custom lacquer in a rich emerald green.
Now I am a tonal person myself, as noted by a friend of my young daughter. "Your house is so, ummm, brown," she said. It is actually many and varied textural shades from stone to chocolate, but no matter. So while I approach colour with caution, I find myself somewhat seduced by this shade.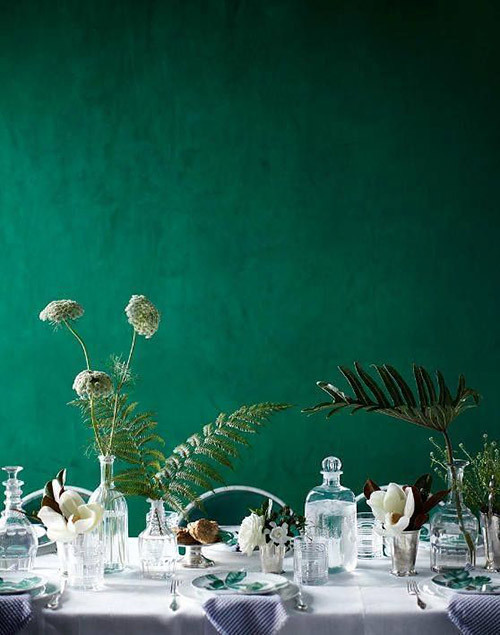 Image via Pinterest
Its most impactful use is a painted wall, and Rowena Judd from Murobond Paints explains its effect: "Emerald is intense and inviting. While most suitable for those confident with colour, given the right shade – in a slightly greyed-off emerald, such as The Society Inc. Oceanforest, it can create the perfect back drop for a neutral decorating palette."
My one item in emerald green is a velvet bed throw with a reverse in ecru linen. It was bought from
Edit
, a store belonging to ex-Vogue Living editor Sharyn Storrier-Lyneham, so when it comes out in winter it makes me feel adventurous and, now, up-to-date.
It is also a colour to be used judiciously to 'lift' a room rather than for a complete fit out. A deep pile velvet armchair, a malachite slab as a decorative feature (very now), a feature wall of plates or a series of patterned cushions will do the trick. If there is greenery outside your window it has the effect of visually linking the indoor and outdoor space.
Now, move over yellow.