Why artist Kristyna Dostalova loves calling Australia home
It's been ten years since
Kristyna Dostalova
brought her vibrant artistic practice to Australia, and our country's diverse landscape has provided plenty of inspiration in return. Now living and working out of Melbourne, the
Czech-born artist
was Sydney based until earlier this year, and much of her
recent work
showcases her time spent by the beautiful Sydney shoreline - but as Kristyna reveals below, nature in any form is guaranteed to get her creative juices flowing.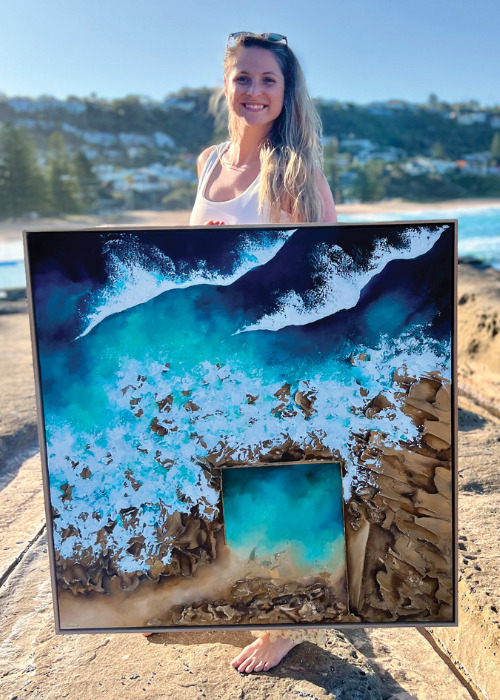 Artist Kristyna Dostalova's recent work reflects her time living by the beautiful Sydney beaches
Talk us through your artistic journey.
I grew up in the Czech Republic in a small town that was rather depressing, and I found solace in creating colourful
pieces of art
as a way to escape the dreariness of my surroundings. I continued to paint recreationally as a teenager - though I never thought I would pursue it as a professional career. When I moved to Australia in 2013, everything changed. I was inspired by the colours and beauty of this amazing country - the rich landscapes, vibrant flora, and diverse fauna - and began to pour this inspiration onto canvas. It's as if being in Australia finally permitted me to fully embrace my passion for art.
How would you describe your artistic style?
I love to paint anything that inspires me, but my style is likely described as abstract. I love that there are no rules with abstract art; it's the freedom to follow my hand.
What is your favourite colour?
My favourite colour is blue; it makes me feel calm and at peace. I also love how it can pair with gold to create a serene and soothing atmosphere.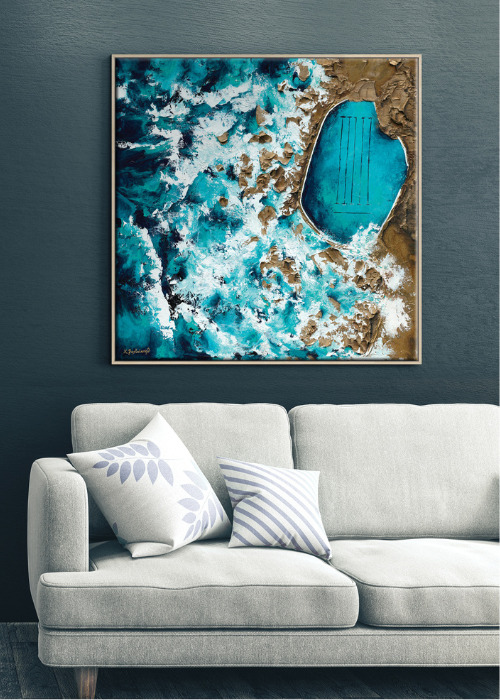 What inspires you to be creative?
My passion for nature walks, hikes, and adventure is probably my greatest creative inspiration. I love mountains and deep tropical forests, but after living in Sydney, I have grown to love the ocean and its diverse marine life even more. Being in the natural world, surrounded by the beauty and diversity of the environment, sparks my creativity and allows me to tap into my imagination.
How has immersing yourself in the Australian environment influenced your art?
The unique and diverse landscape of Australia, from the rugged beauty of the outback to the vibrant colours of the Great Barrier Reef, has provided a constant source of inspiration for my work. The Australian culture is also very open-minded and laid back, which has allowed me to be more free and expressive in
my art
.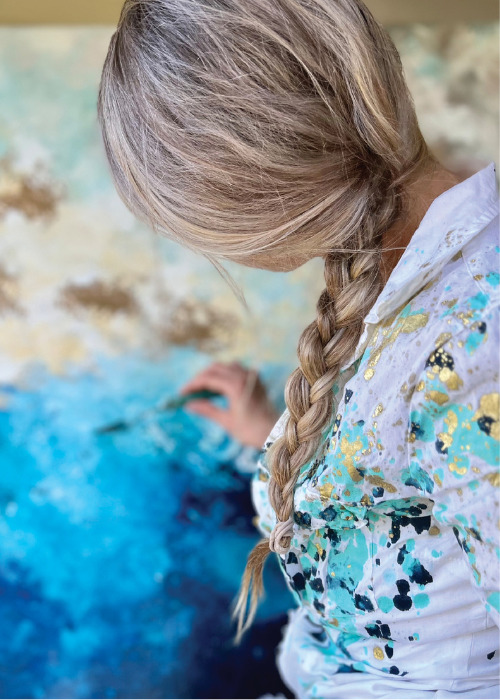 Kristyna loves pairing blue and gold to create a serene, soothing atmosphere
Are there any artists that influence you?
Artists that are brave and create art that is true to themselves. I also look up to contemporary artists who push the boundaries of their genre to create something truly unique.
If you had a chance to live during a different artistic movement, which would you choose?
The Impressionist movement of the late 19th Century: Monet, Renoir, and Degas have always inspired me. Their ability to capture light and play with colour masterfully using the technology and techniques available at the time is truly awe-inspiring. The use of loose brushstrokes and an emphasis on capturing the momentary effect of light are elements I incorporate into my art today.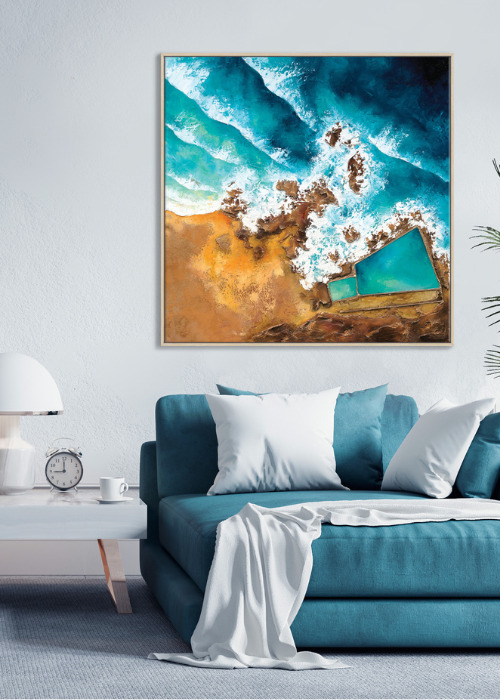 What is the most valuable lesson you have learned as an artist?
To listen to my feelings and follow them. I have also learned the importance of being true to myself and creating what makes me happy rather than following trends. Ultimately, I have learned it is important to be proud of my work and to create pieces that align with my values and aesthetic.
Discover the entire Kristyna Dostalova Collection