How to choose tiles
Whether you're ready to kick start a bathroom
renovation
or keen to update your kitchen backsplash, beautiful
tiles
work hard to transform even the most functional rooms into elevated interior spaces. And while aesthetics are important, selecting suitable
tile
materials, styles, and finishes will ensure your tiles stand the test of time. Here, we help you navigate the process.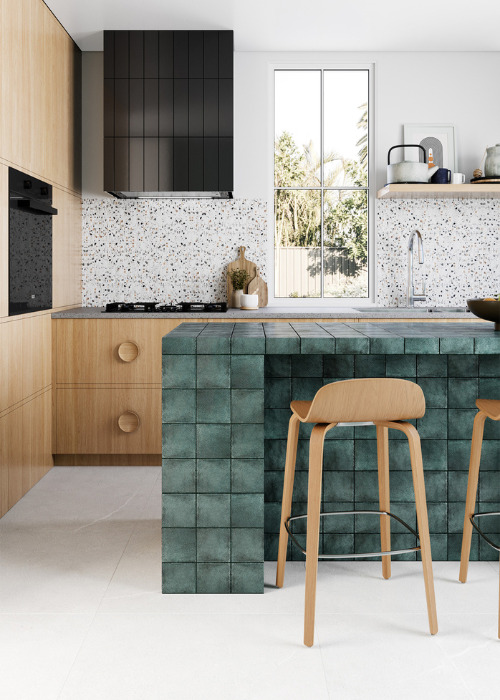 How to pick the right tile material for your space?
It's essential to consider different
tile
materials as each boasts unique characteristics that suit different applications.
Porcelain tiles
and
ceramic tiles
are most commonly used thanks to their longevity and versatility, though plenty more materials are available.
Porcelain:
Porcelain tiles
are renowned for their exceptional durability and water resistance. Ideal for both indoor and outdoor spaces, they can withstand heavy foot traffic, making them a perfect choice for floors, including hallways and living areas. The sleek and smooth surface of porcelain tiles is easy to clean, which also makes them a practical option for busy households.
Ceramic:
Highly resistant to impacts, cracking and scratching,
ceramic tiles
are a classic choice that will last a lifetime. Like
porcelain tiles
, ceramic tiles are made from a clay mixture fired in a kiln; however, because ceramic clay isn't as dense as porcelain, ceramic tiles are a more affordable option better suited to moderate foot traffic areas, walls and backsplashes.
Marble:
Love a luxury bathroom look? Consider that each
marble tile
is uniquely veined, creating a stunning visual impact that's popular for updating
vanity
designs to kitchen countertops. Marble is a hardy material that can also be used across floors and walls, but keep in mind that the luxe look comes with a high-end price tag, and marble requires regular sealing and maintenance to preserve its beauty.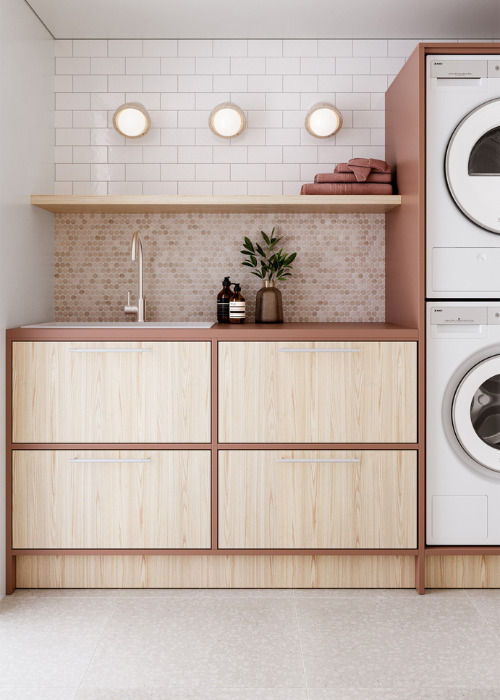 Stone:
Bring the outdoors in with
stone tiles
, ideal for adding character to feature walls, floors, pathways and patios. Stone is highly resilient, and its rocky qualities offer a unique natural appearance that is often slip-resistant, too.
Glass:
If you're after a modern tile design,
glass tiles
are an excellent choice. Their reflective surfaces add depth to small spaces, making them perfect for feature walls, small bathroom layouts and kitchen backsplashes.
Terracotta:
Terracotta or 'baked earth' tiles
deliver a rustic feel to indoor and outdoor areas. Naturally resistant to mould and bacteria, terracotta is a clever choice for wet spaces like bathrooms - though proper sealing is required to protect the tiles from moisture.
Terrazzo:
Terrazzo is a composite material that blends marble, quartz, granite, or glass chips with cement or epoxy resin, creating a stunning mosaic-like surface. With its durability and artistic appeal,
terrazzo tiles
are excellent across floors, countertops, and feature walls.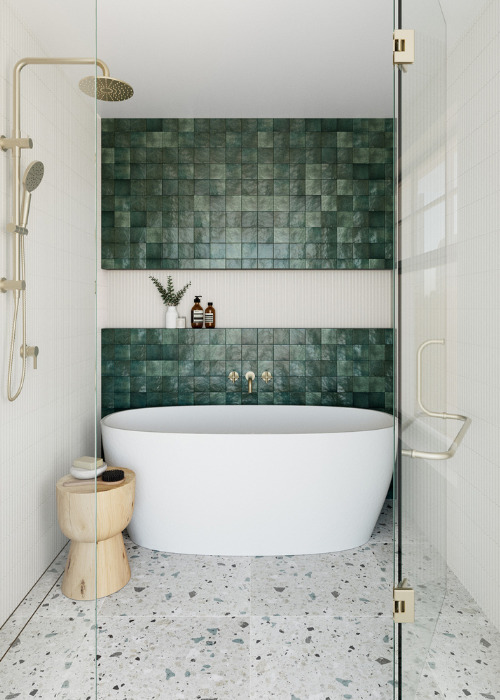 How to Select A Tile Style: Mosaic vs. Single
Choosing between
mosaic tiles
and
single tiles
depends on the look and feel you wish to achieve - and whether you'd prefer to allocate a larger portion of your budget to tiles or labour.

Mosaic Tiles
Mosaic tiles
are many small tiles mounted on a sheet - usually mesh - to create intricate designs (think
fish scale
to
penny round
) that transform your space into a work of art. Mosaic tiles can be made of ceramic, porcelain or stone and are generally more expensive than
single tiles
- but more cost-effective in terms of labour as they are laid in sheets rather than individually.

Single Tiles
Single tiles
, on the other hand, offer a more streamlined look and the perfect canvas for your
furniture
and
home decor
to shine. Square and rectangular shapes that easily sit together are the most common loose tile configurations - though many single tiles make up for it with their vibrant designs.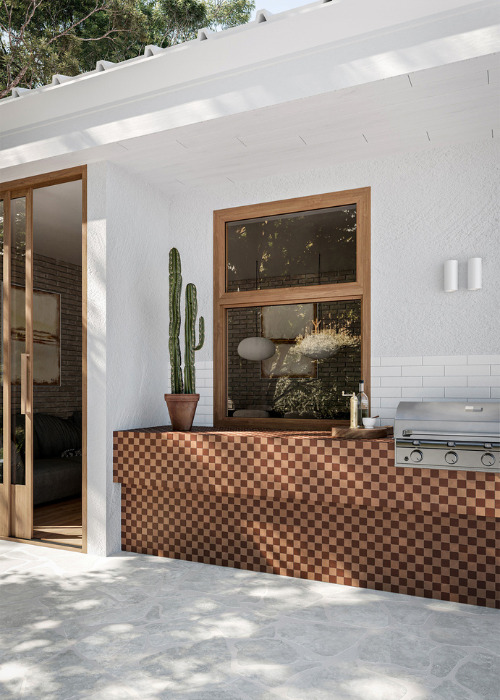 Which tile finish is best?
The finish of your tiles can significantly impact the look and feel of your space, allowing your personal style to shine through.
Gloss:
Gloss tiles
boast a shiny and highly reflective glaze that enhances the brightness and vibrancy of any room. This finish is easy to clean and can bring a sense of openness and spaciousness to smaller spaces or areas with limited natural light.
Polished:
Polished tiles
pass through a polishing wheel before being sealed to create a smooth surface that adds a touch of sophistication to any room. Their reflective nature can make spaces appear brighter.
Matt:
A
matt finish on tiles
offers a soft and subtle appearance with a non-reflective surface that is popular for floors, as
matt tiles
don't show as much dirt, are less slippery, and provide an elegant backdrop for interior design elements.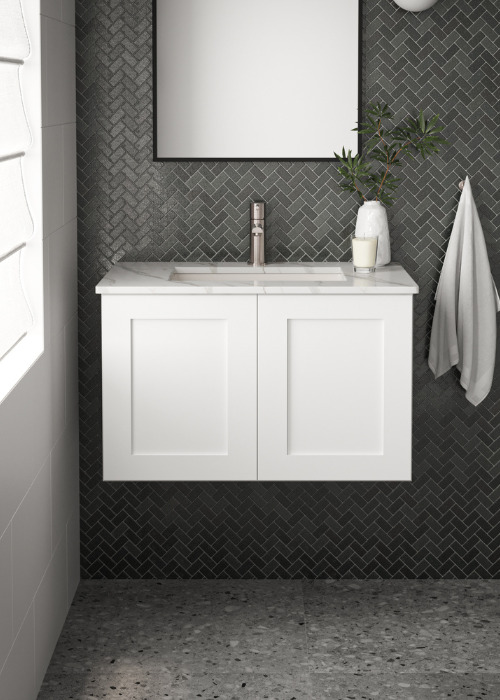 Textured:
Textured tiles
offer a tactile experience, providing visual interest and enhanced slip resistance. They are ideal for areas where you want to add depth and a sense of dimension.
Crackle Glaze:
The glaze on
crackle glaze
tiles
is carefully crafted to shatter in a controlled way as it cools, creating fine lines that exude vintage charm.
Tumbled:
Tumbled tiles
are carefully distressed to wear down their edges and soften their finish to achieve an aged appearance reminiscent of ancient architecture.
Honed:
Honed tiles
utilise a sanding technique to create a consistent, smooth and velvety surface that is neither glossy nor reflective.