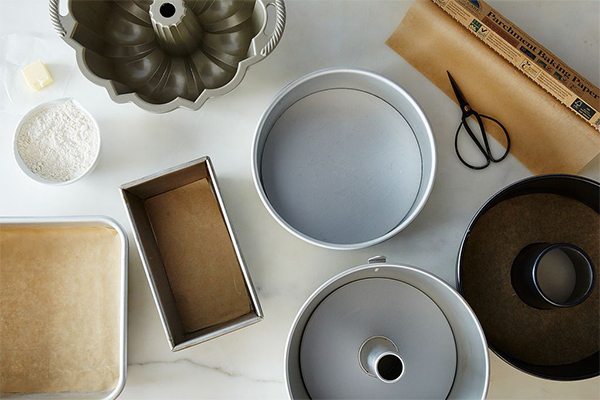 Image via Food52
Sure, most of us can follow a recipe and measure a cake tin, but what about all those different shapes of cake pans out there? Some have sloped sides, others have straight. Some are deep with a hole in the middle like a doughnut, while others are shallow and flat. While presentation does play a role in different shapes of pans, specific cake tins and moulds are also designed to yield specific types of cake. Here, we give you the lowdown on cake types and explain why a particular shape of pan is required.
Angel food cake
Named after its heavenly light texture, this cake relies purely on the air that's whipped into its egg-white batter to rise, rather than bicarb or baking powder. The batter needs to be able to cling to the sides of the pan as it bakes, so
angel cake pans
have straight sides and an uncoated finish. Angel cake pans are also extra tall to give the cake room to rise. Traditional recipes call for a ring pan or tube pan. The purpose of the tube is to help conduct heat and help these tall cakes bake faster. It also helps to release the cake more easily when it's inverted.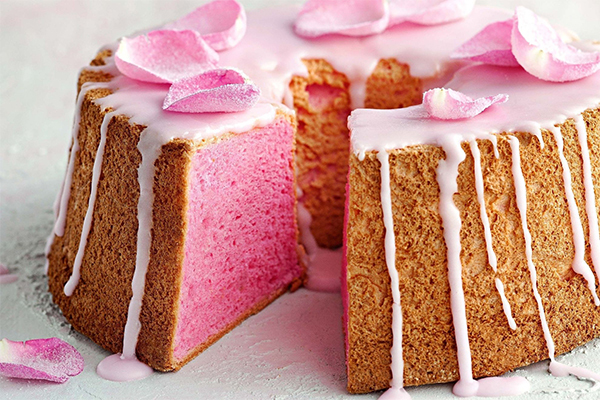 Image via taste.com.au
The pans also have little metal 'feet' at the top so that the baked cake can be cooled upside-down on a
cooling rack
. This is why you should never grease the pan or use a non-stick pan for angel food cakes. You can't turn the cake pan upside-down to cool if it's non-stick or it's been greased as the cake will slide out! It's also important that the cake isn't turned out until it has completely cooled in the pan and its spongy structure has fully set. Try this gloriously pretty
pink angel food cake
above.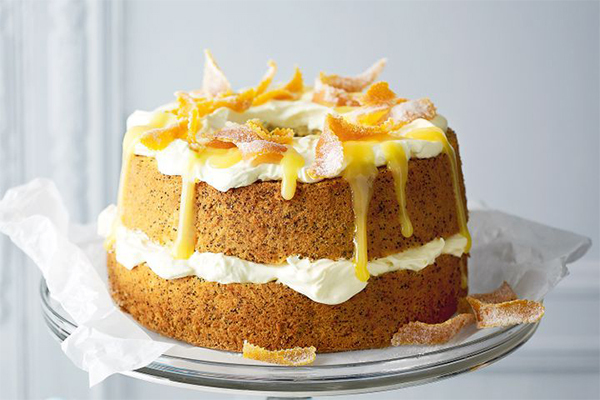 Image via taste.com.auChiffon cake
Chiffon cake is like butter cake in that it contains baking powder and fat, albeit oil, but it has a texture that's lighter, similar to sponge cake. The eggs are separated and the whites are stiffly beaten, then folded into the batter, creating extra lightness helping it to rise. Similar to angel food cake, chiffon cake requires a tall tube pan with straight sides. Use an
angel cake pan
or chiffon cake mould. Try this luscious
orange and poppyseed chiffon cake
(above) or make this fragrant
pineapple and star anise chiffon cake
(below) from the fabulous
Sweet
cookbook by Yotam Ottolengi and Helen Goh.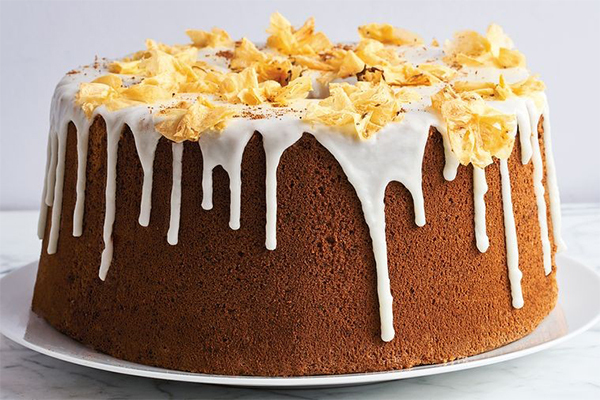 ​Image via delicious.com.auGenoise
Named after its origin in Genoa, Italy, this light and airy cake is similar to sponge, but less sweet and richer. It's made using a unique technique of beating whole eggs with sugar over a pan of simmering water to dissolve the sugar and to make the mixture extra thick. It's then whipped again using a
mixer
until tripled in volume and billowy like whipped cream, before flour is folded in gently. Like regular sponge, you just need a round cake pan or sandwich tin for this cake. The baked result is quite dry, but genoise is either soaked with a flavoured syrup; split into layers and filled with cream or fruit; or used as a component for other elaborate desserts. Try
Genoise Victoria sponge
style for a decadent afternoon tea.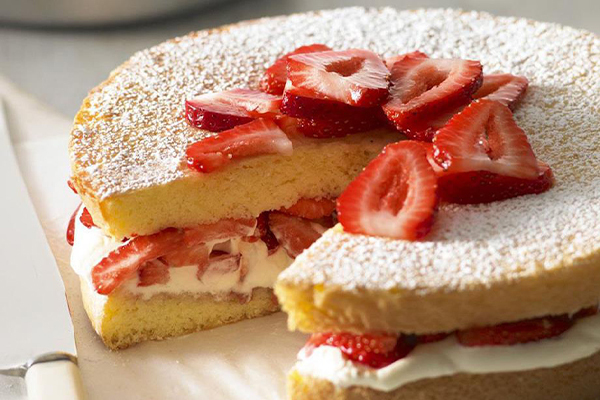 Image via Women's Weekly FoodSavarin​
Savarin is a type of dough that's made with flour, yeast, eggs and lots of butter, resulting in something that's similar to a dry brioche. While that may not sound appealing, savarins are often soaked in alcoholic syrups after they're baked which is what gives them their delicious heady appeal. Whole savarins are baked in a ring mould known as a
savarin mould
, but they can also be baked as individual cakes shaped like champagne corks known as 'babas'. Unlike other ring pans, savarin moulds are not as deep, and because it's not so much a cake as a dough, it doesn't need the support of a taller pan. Try this
rum savarin
or, for a citrusy twist, give this
boozy orange savarin
(below) a whirl.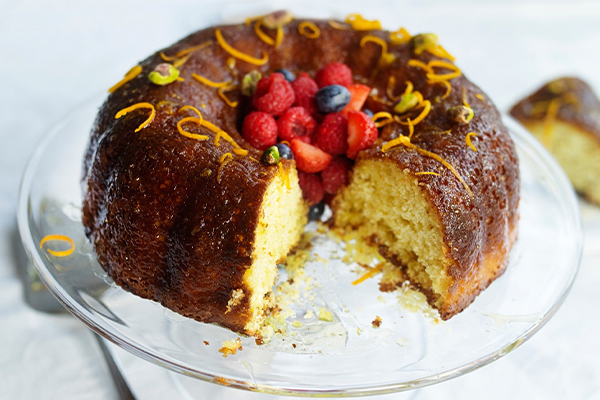 Image via Real Food Tesco

Banner image via ​TheKitchn.com