Karen McCartney explores a collaboration which marries ancient Japanese technique with up-to-date digital printing.
There is definitely something in the air (decoratively speaking) that relates to the revival of traditional techniques reimagined for our very modern times. We want to know the story of the maker of our ceramic bowl, the craftsman who created the stool, and the designer who knitted the throw. We can, in fact, follow them on Instagram and become part of their world. A world that isn't just about mass production but becomes about connection and appreciation of a craft or skill that makes the object more meaningful in our lives.
It is therefore exciting to see a traditional Japanese technique such as shibori (meaning to wring, squeeze and press) come under the design spotlight alongside Australia's most accomplished practitioners, Pepa Martin and Karen Davis of the aptly named company
Shibori
. While the technique might be ancient, Pepa and Karen's approach is without boundaries and their work embraces treating leather, a hot air balloon, creating
fabric inlaid surfboards for McTavish and Sibella Court
and designing a
wallpaper range
. Not to mention the book they have written on the subject,
'Shibori Recreated: shibori in the 21st century'
.
So when it came to collaborating with
Sparkk
to design a
collection of cushion covers
, their ownership of the subject was pretty well established. Shibori, as with many traditional Japanese arts, is about precision rather than chance, and so patterns are created in this resist dyeing technique through pleating, clamping, binding, twisting or folding, to achieve different results. Karen and Pepa use their design knowledge in tandem with what they have learnt through years of application to design a series of cushions that have the mark of the maker married with the resonance of tradition.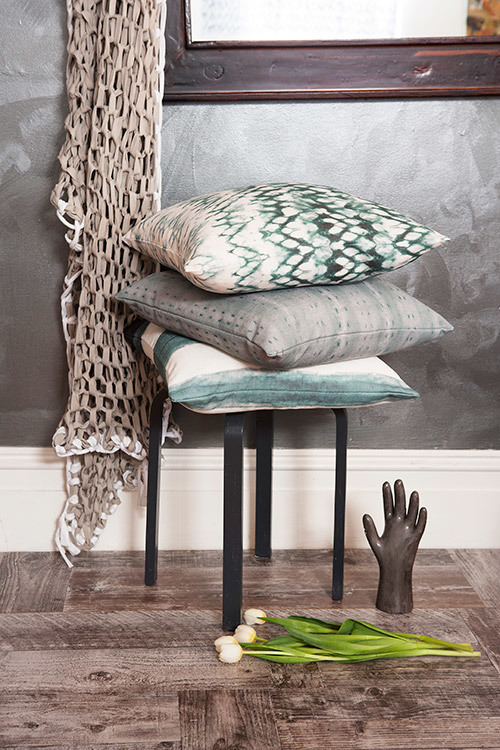 Originally shibori was exclusively created with indigo dye but for
this contemporary range
they have introduced a
soft dusty pink and a sage green
, which open up the decorative possibilities, allowing the range to work back with greys, and creams as well as darker colours.
'Collaborating with Sparkk has not only made our products more accessible, but has also allowed us to produce what were once only small, 'one off' pieces into a
whole collection
with multiple colourways and diverse fabric options', says Pepa.
Visit www.shibori.com.au to learn more about workshops, or follow them on Instagram @shibori_textiles.